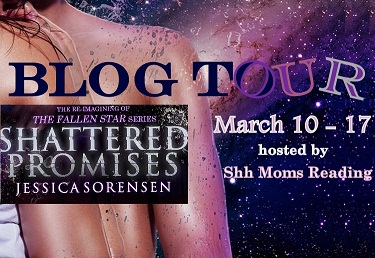 Today, we welcome Jessica Sorensen to our blog as she celebrates her new release Shattered Promises.
Enter using Rafflecopter below for some amazing prizes!!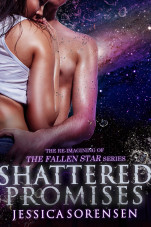 4.5 STARS!!!
Summary
**Mature Content Warning** 17+ for language and sexual content.
(A re-imagining of The Fallen Star told as a New Adult Paranormal)
For twenty-one year-old Gemma, life has never been normal. She knows nothing about her past and has been haunted by the same monsters in her nightmares for the last few months. Unemotional and numb to life, she feels disconnected from everyone. Until the very first day she cries. After that, nothing in her life is the same.
Her emotions slowly surface and she starts experiencing love, happiness, and anger, feelings she never knew existed. But they leave her confused and she doesn't know whether to embrace them or run away from them.
Her life only gets more complicated when she meets Alex. Sexy, arrogant, and secretive, Alex can get under Gemma's skin like no one can. Yet she's drawn to him by an invisible connection she has no control over. She's also seen him before. In her nightmares.
Every part of Gemma's mind is screaming at her to stay away from Alex, but every other part of her is begging to get close to him. But the closer she gets, the more she realizes Alex knows more about her than he originally let on.
As secrets about her past unravel, Gemma's life becomes threatened. She needs to figure out what's going on, before she winds up dead. But the only person she can turn to for answers is the one person she isn't sure she can trust.
Christine's Review
I have been a paranormal fan for some time and when I heard that this was mixed with some fantasy, I was a bit reluctant at first.  But I love Ms. Sorensen as a writer and decided to give it a try and BOY am I glad that I did!!!  This is a wonderful story of how feeling any kind of emotion  – whether it be love or sadness is to truly live life.
Why have I never felt anything?  Am I broken?  Crazy?  Or, are there just some people who go through life like me – peacefully disconnected?
The prologue instantly captivates me and I am left wondering who this girl is, what she is and I shiver in anticipation and excitement as I delve into this book and don't want to put it down until it's done!
Gemma is a senior in college and is beautiful with her brown hair, pale skin and violet colored eyes.  Her parents died in a car accident when she was a child and she was raised by her grandparents who ignored her and never loved her.  I feel sadness in my heart for Gemma as she has always felt unwanted, unloved and alone but all of that changes one day when she touches her face and feels tears for the first time.
She meets Alex Avery in her astronomy class and feels an instant connection with him that causes a prickly intense feeling within her.  Alex is gorgeous with his tousled brown hair and green eyes.  When Gemma is with him, she sees flashes of their life together.  But how can that be when they have just met – is this real?  Does he feel it too?  Some days Alex is sweet and other days such a complete ass!  I just wanted to shake some sense into him and yell at him for playing with her emotions and heart!!
Without giving anything away of the story, there is mystery and suspense, sadness and love that surround this cast of characters.  When we find out who Gemma is and the power that is hidden within her, I can't help but feel sorry for her that she has to carry such a heavy burden and responsibility at such a young age.  It's worth mentioning that the secondary characters are just as intriguing and you will love Alex's sister, Aislin, and the sexy vampire Laylen.
Will Gemma ever be able to put her trust in anyone or will she always be left alone?  What are the secrets to why she has never felt any emotions?  And what game is Alex playing – who is he really?  Can she trust him or is he another person lying to her?  What will happen to Alex and Gemma??
This is a book with a cliffhanger so I need to make you aware of that ahead of time.  But this book is SO good that you will anxiously await for book 2, Fractured Souls to come out, like I am!  For now, here is a teaser from Fractured Souls – enjoy!
Book 2 – Fractured Souls Teaser
We walk into the house, tired and exhausted. There's blood on our clothes and I'm fairly certain one of the witches burnt a chunk of my hair off.
"So that was fun," Alex remarks, closing the door behind us. He clicks each lock and then jiggles the doorknob.
I slip of my jacket, wincing from a sharp pain in the center of my back. "How do you think they knew we were going to be there?"
He shakes his head and shuts the curtain in the living room window, blocking out the florescent glow of Vegas. "I'm not sure."
I let my jacket fall to the floor and reach around to my back, touching the tender area beneath my shirt. "Do you think maybe it was just a coincidence?"
He shakes his head. The bottom of his shirt is torn and I can see a hint of his lower abs. His hair is a mess and he has a tiny bruise on his cheek. "I think they knew about you and that's why they showed up there."
I crane my neck to try and see my back so I can see what's causing the pain. "So the words spreading?"
"Yeah, I think the words spreading."
There's some blood on my shirt and a small hole in it. "What the hell happened there?" I mutter to myself.
"Did you hurt yourself?" His voice is close and I jump, my head snapping forward and we nearly smack foreheads. He doesn't bother moving back, instead leaning closer to look over my shoulder at my back.
He smells like cologne and sweat and fire, probably because the witches tried to burn us alive. There's also static radiating off him and I have to work really hard not to run my fingers down his chest, up his arms, through his hair.
"I'm still not sure if I can trust you," I find the need to say.
He laughs as he moves back and his eyebrow arches up "Oh really."
I nod. "Yeah, really."
He laughs again and then shakes his head. "You have a little burn on your back. Is it from the fire or did one of their spells hit you?"
I shrug. "I don't know. What does it feel like when I spell hits you."
"Depends on the spell," he says and the traces his finger down my cheek bone. "Can you still see okay?"
I nod, digging my fingers into my palms, resisting the urge to shiver. "Yeah."
He traces his finger down to my jawline. "You're still breathing okay?"
I nod, refusing to look away from him. "My lungs feel fine."
His finger traces down my neck to the top of my chest. "You're hearts beating really fast," he says in a low voice that sends vibrations all over my body.
I pretend to be calm, even though his touch is driving my body crazy. But as he leans forward, moving his mouth toward mine, my emotions snap and take over my body. I end up meeting him half way and crush my lips to his.
Character Inspirations
About the Author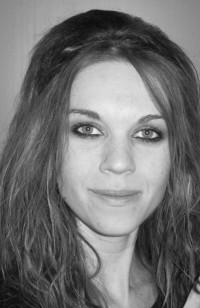 The New York Times and USA Today bestselling author, Jessica Sorensen, lives in the snowy mountains of Wyoming. When she's not writing, she spends her time reading and hanging out with her family.