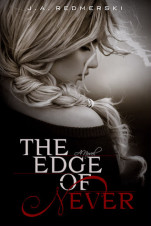 Today, we are pleased to welcome J.A Redmerski as she promotes her new release The Edge of Never!
Enter for a chance to win a signed paperback, an ebook or a sterling silver custom book pendant necklace using Rafflecopter below!  Good luck!
---
5 STARS!!!
Summary
Twenty-year-old Camryn Bennett had always been one to think out-of-the-box, who knew she wanted something more in life than following the same repetitive patterns and growing old with the same repetitive life story. And she thought that her life was going in the right direction until everything fell apart.
Determined not to dwell on the negative and push forward, Camryn is set to move in with her best friend and plans to start a new job. But after an unexpected night at the hottest club in downtown Raleigh, North Carolina, she makes the ultimate decision to leave the only life she's ever known, far behind.
With a purse, a cell phone and a small bag with a few necessities, Camryn, with absolutely no direction or purpose boards a Greyhound bus alone and sets out to find herself. What she finds is a guy named Andrew Parrish, someone not so very different from her and who harbors his own dark secrets. But Camryn swore never to let down her walls again. And she vowed never to fall in love.
But with Andrew, Camryn finds herself doing a lot of things she never thought she'd do. He shows her what it's really like to live out-of-the-box and to give in to her deepest, darkest desires. On their sporadic road-trip he becomes the center of her exciting and daring new life, pulling love and lust and emotion out of her in ways she never imagined possible. But will Andrew's dark secret push them inseparably together, or tear them completely apart?
Due to sexual content and language, this book is recommended for 17+ – Adult Contemporary Women's – New Adult Fiction
Excerpt
We head over to the medicines and there's a middle-aged couple standing in front of the cough syrup, reading the labels.
Andrew says casually, without lowering his voice, "Babe, did you find that yeast infection stuff?"
My eyes spring open and I freeze in front of the Tylenol.
He removes a small box of Advil from the shelf.
The couple pretends not to have heard what he said, but I know they heard him.
"I mean are you even sure that's what's causing the itch?" he goes on and I'm literally melting from the heat in my face.
The couple does glance over this time, covertly.
Andrew is grinning his ass off at me from the side, pretending to be reading labels.
I want to smack him, but instead, I play him at his own game.
"Yeah, baby I found it," I say as casually as he had, "what about you? Did you see if they have extra-small sized condoms?"
The woman turns her head and looks right at him, up and down, and then she eyes me before going back to reading labels.
Andrew doesn't break; somehow I knew he wouldn't. He just smiles over at me, enjoying every second of this.
"One size fits all, baby," he says, "I told you they fill out better when you can actually make it hard."
A spitting noise bursts from between my lips followed by laughter.
The couple leaves the aisle.
Denise's Review
Camryn Bennett is a young woman who never felt like she fit in the box.  She did want to live her life planned out and this struggle against the norm along with traumatic events in her life has her walking around in fog; a fog that even her best friend recognizes as depression.
When Camryn clashes with her one anchor, her best friend Natalie, she decides she has had enough.  She departs on a Grey Hound bus to nowhere…..
Well this is when the story gets good – Cam meets Andrew Parrish.  The author does a wonderful job developing the relationship between Andrew and Cam.  You slowly start to see how much they share in common and how they truly are kindred spirits. The journey they undertake is one that brings Cam out of her shell and witnessing her learning to live in her own skin is something that is truly magical.
We have all read about boys and their tattoos – I have to say the use of Andrew's ink is one of the best I have read.  Ms. Redmerski uses it to allow you a glimpse into his soul and in the end a tie that binds. No, I am not giving away anymore you will have to read the book to find out.
Andrew's ability to bring Cam out of her shell is breathtaking and at times his desire for her is tangible.  He knows early on that he "has" this woman – he will want to own her and those are the only terms he will find acceptable.
The question becomes when Andrew's dark secret unravels,  will there be a place for their love??
I will definitely not tell you that part … I will simply say the end of this book was crazy good, from tears to a smile to heartwarming to soul touching – in just a few short turns of the page or in my case taps on my Kindle.
Congrats! to Ms. Redmerski for writing a book that causes such a wonderfully powerful range of emotions.
About the Author
J.A. Redmerski is the author of THE EDGE OF NEVER, THE DARKWOODS TRILOGY and DIRTY EDEN. She's a werewolf & zombie fanatic, book addict and a happy hermit obsessed with the Universe and AMC's The Walking Dead. She lives in North Little Rock, Arkansas with her three children and a Maltese.
Twitter JRedmerski
Website http://jessicaredmerski.com/
Facebook www.facebook.com/J.A.Redmerski
Goodreads http://www.goodreads.com/author/show/5437976.J_A_Redmerski
---