Today we welcome Shantel Tessier to our blog as she celebrates her new book UNBEARABLE which released on December 10th.
Enter for a chance to win some amazing giveaways using Rafflecopter below!
---
4 STARS!!!
Synopsis
Grief.
How do you survive the loss of a mother you thought didn't love you…until it was too late?
Forgiveness.
How do you forgive the person who hurt you the most?
Fear.
How do you survive the person who won't let you go?
Jealousy.
How can your heart continue to trust the person you thought you knew?
Betrayal.
How many secrets are too many?
Lust.
How can you say no, when your body screams yes?
Passion.
How can you deny a love that has no boundaries?
Slade and Samantha's story continues…
Jen's Review
Thanks to the girls at Shh…Mom's Reading for the opportunity to guest review on Unbearable by Shantel Tessier. This is Book #2 in the Undescribable Series, and you definitely need to read the first book (same name as series) to keep up with the story!
The beginning of this story finds Samantha "Angel" and Slade dealing with the loss of her Mother. Feelings that Samantha thought she had dealt long ago in regards to her Mother, and her family, begin to resurface, and she is faced with guilt. There will be secrets that will become known, and some of these secrets begin to drive a wedge between Angel and Slade. Add to that Jealousy, and there's a recipe for a story!
I was thinking Unbearable would have been Josh and Courtney's story, but was glad to see it was Slade and Samantha's story continued, those two characters have amazing chemistry as a couple! Their passion really comes through when you are reading throughout the book! I adore all of the characters in this series, they are relatable, funny, and definitely sexy!
Ms. Tessier's books have just the right amount of juicy scenes, coupled with fantastic writing, and I really enjoyed the alternating POV. Don't want to give too much away, but I would highly recommend this series to others! The ending of this book was absolutely perfect!! That being said, the start of this story took me a bit longer than book #1 Undescrible to get into, that along with the need for Slade to call Samantha "Angel" all the time, kept this from being a 5 Star read. Unbearable should be on your TBR list!
Favorite Quotes:
"That is my heartbeat. It only beats for you, Angel. It has always only ever beat for you. I only breathe for you. All I think about is my forever with you. Believe me, I am not going anywhere."
"Don't apologize, baby, just show me. Show me that you believe me. All I've ever needed was you. I can survive anything if I have you ."
"You saved me. I Never knew I was lost, but from the moment I heard your sweet voice over the phone, I just knew you were special."
About the Author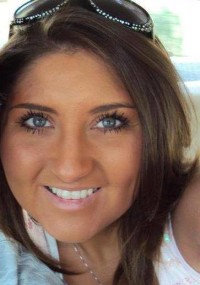 Shantel is a Texas born girl who now lives in Tulsa, Oklahoma with her high school sweetheart, and their three year old little princess. She considers herself extremely lucky to be a stay at home wife and mother. When she's not reading or writing, she spends her time with family and friends.