Today we welcome Rebecca Shea to our blog as she celebrates her debut novel Unbreakable which released on July 23rd.
Read a teaser from a spin off from a secondary character in this book – if you have NOT read this book – this may contain spoilers so proceed at your own RISK! The title for the spin off book is Undone and has no release date set yet but as soon as we know – you will know too!!!
Enter for a chance to win some amazing giveaways using Rafflecopter below!
---
4.5 STARS!!!
Synopsis
Jessica Harper is the epitome of perfection. She's a good daughter, makes excellent grades, and always strays on the safe side of life. The last thing she thought would ever happen was falling in love with her best friend's brother. But sometimes fate just has a way of bringing two people together.
Wide receiver for the University of Arizona, Gabe Garcia, seems to have it all. When his feelings for Jessica come to surface, Gabe will give up everything to be with her.
But what happens when a tragedy abruptly changes the course of your life? For Jessica and Gabe, everything they thought they knew about each other will be questioned. Sometimes, there are scars in life that are cut too deep to completely heal.
Will their love prove to be unbreakable, or will it shatter and prove fate is just another lie?
*This book contains mature subject matter and is not intended for those under 17 years of age.*
Christine's Review
Wow!  What an unbelievable debut novel for Rebecca Shea!  I was ecstatic when Becca contacted me to help her with her blog tour and am just so honored to be writing this review for her.  I started Unbreakable on a 10-hour road trip and finished halfway through the drive. I will admit to crying silently in the car in fear that my children would think that something was wrong with me lol!  Rebecca evoked so many emotions in me and as a first time writer I think this speaks volumes to her talent and I am SO looking forward to what she has in store for us in the future.
Jessica (Jess) Harper is a good girl, on the honor roll and was raised by her neighbor's, the Garcia family, ever since her mother passed away.  Since her mother's passing her father put his daughter second as he worked hard to climb the ladder at his fire department to become Chief.  And though missing out on time spent with her father, Jess still grew up in a loving, nurturing and caring home with the Garcia's and her best friend Ava.
Gabriel (Gabe) is Ava's older brother and a wide receiver for the University of Arizona.  Jess has always had a crush on Gabe and when he decides not to return back to school to stay closer to home to become a fireman – what ensues is a sweet, innocent romance between Jess and Gabe and is the beginning of something that I feel in my heart will be so much more.  Gabe is Jess' first love, first everything.  Everything about them is almost TOO perfect and I get a scared feeling as I am reading of something bad that will happen!
And it DOES!  OMG IT'S HORRIBLE!  A parent's worst nightmare – That fateful day that everything changes for them, everything goes downhill and Jess seems to blame Gabe for all that has happened to her.  I can't begin to tell you the heartbreak and pain I feel in my very soul because Jess was pushing away the one amazing constant in her life – the person who loved and supported her the most.  I understand Jess' reactions as she closes herself off from everyone – she is scared, she is hurt and she needs to get away from the memories.  Because of this Jess runs away from her life and takes an internship in North Carolina to start fresh.  No one but her dad knows where she is going as she wants to have time to herself to move past what has happened to her.
She may be leaving, but she will never be able to run from my heart.
"Don't go, " I whisper.  "Love me enough to stay."
Sobbing!  Words can't express how tortured I felt being in Gabe's head.  I wanted to jump into this book and hug him and tell him that everyone would be ok.  Rebecca did this so well – the character development was flawless, the emotions were written so well that I felt like I was there with them, experiencing and living it all.  And I can say honestly that this was the case throughout the book – the writing was spot on and flawless!
Jess builds a life for herself in North Carolina and meets new people – I am a bit nervous about the new man that enters into her life – Officer Landon Christianson.  Can we say HOLY HOTNESS!  Landon is the brother of one of Jess' co-workers and its only natural for them to start building a friendship.  Landon is a player, cocky and sexy but deep down inside seems to be a good guy.  I have to say that I was surprised that Jess would open herself up to Landon and reveal her secrets to him when she could not to Gabe.  I know that Landon cares for her but it hurt me that she could trust him so easily when all Gabe wanted to do was help her and love her and she couldn't open up to him.  Maybe Landon would be the person to mend this broken girl both emotionally and physically?  Maybe Landon was the key to help her heal her broken heart and spirit?
To me, it was always Gabe for Jess.  In my mind he proved himself time and time again with his actions – his mind never straying far from Jess and his hope that they would reunite.  He was strong and though he didn't want to and broke his heart to do so, he was able to step back and give Jess what she needed to work out her issues.
Will Jess ever be able to trust again?  She has built a wall around her heart so high – will she ever be able to let anyone back in?  Or is she doomed to think that she is never again good enough to deserve someone's love?  And ultimately who will Jess choose – the person she has always loved or the new guy who makes her forget and shows her what it could be like to move forward?
You will have to read this amazing book to find out!
This was a full complete read which was so nice after the many series I have read recently.  And there is a happy ending which I LOVED. Yes it was an emotional roller coaster and filled me with such angst and gave me heart palpitations but it was a journey worth taking. This was a beautiful book of new beginnings, new blessings and overall about finding trust and happiness.  I had a huge smile on my face as I closed my kindle.  Rebecca gave us a story of forgiveness and showed us how an amazing girl could pick up the broken pieces to find herself once again, put trust in people again and to ultimately get a chance to love and be loved.  This is a story of an unbreakable love and it warmed my heart through and through. The ending and the epilogue were simply beautiful and really just had me crying all over again for the endless possibilities for this couple.
For me, it was refreshing to see cocky Landon do the right thing and care for someone other than himself.  He made the ultimate sacrifice and I loved that side of him but I was curious about his past and wondered what his story was.  Thankfully the answer to our prayers will be coming soon – check out a teaser from Landon's book below and enjoy!
Thank you Becca for giving us this beautiful story…it is not one that I will forget.  You have created such beauty with your words and it has left such an impact on my heart.  I can't wait to see what you have up your sleeve next!  <3
Favorite Quotes:
"Live so that you may live."
"Never be afraid to feel.  It's the only way to really live.  If you don't feel, there is no way you can love, heal or forgive.  You'll never move forward or get past this.  You have to forgive, Jess."
Teaser from UNDONE
*unedited and subject to change prior to publication*
"Something catch your eye?" He smirks as he follows my fixed eyes on the dark haired beauty.
"When doesn't someone catch my eye?" I nod in the direction of Reagan.
"Good point. Let's go, we have to clear this call and finish up this damn paperwork."
I nod and notice that Matt heads out the door behind me. I stay put and watch Reagan for a bit longer, noticing an older man at the bar hop off his barstool and take her hand while spinning her around to the music. She throws her head back and laughs as he pulls her to him and hugs her before releasing her. My dick twitches as I watch her, smiling, laughing, and talking. There is something about her, something different than most of the women I'm attracted too. I'm intrigued.
"I think we should swing by here tomorrow night for a couple of beers." I toss out to see what Matt will say. He fights a smile but continues filling out paperwork, never stopping to acknowledge what I've said. I keep my eyes fixed on the entrance to the bar, wondering as people filter in and out if maybe I'll catch one last sight of her.
Tossing his paperwork between the front seats, Matt starts the car and drives slowly through the parking lot.
"Never took you for the country music kind of guy," his tone is snarky and a giant smile is spread across his face.
"As of tonight, I fucking love country music," I laugh.
"Alright we'll come back tomorrow night. Just promise me something," Matt's tone is serious.
"I don't make promises, you know that."
Matt sighs and thinks about what he's going to say. "Just try something for me will ya'?"
"I'll try lots of them for ya', but I prefer brunette's."
"Fuck Landon, be serious for a just a goddamn minute, please." He turns his head and fixes his eyes on me.
"Sure, whatever," I respond coldly. I know I'm about to get one of Matt's famous lectures. Every few months he feels the need to lecture me on how unhealthy my causal sex life is, and that a fulfilling relationship is what I need. But damn if the fucker doesn't love my stories, I know he does.
"Just…" he pauses, again choosing his words wisely. "Just, don't try to sleep with her on the first night. Or hell, maybe even the second night…"
I actually bust out laughing, "Okay, that's pushing it."
About the Author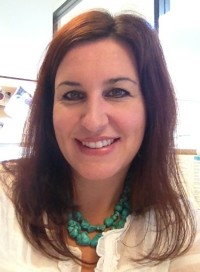 Rebecca Shea lives in Phoenix, Arizona with her family and her first "kid" her beagle, Miles. From the time Rebecca could read she has had a passion for reading and books. Rebecca spends her days working full-time in the financial industry as a marketing manager. Born and raised in Minnesota, Rebecca moved to Arizona in 1999 to escape the bitter winters. When not working or writing, she can be found on the sidelines of her boys football games, or watching her daughter at ballet class. Rebecca
is fueled by insane amounts of coffee, margarita's, Laffy Taffy (except the banana ones), and happily ever after's.