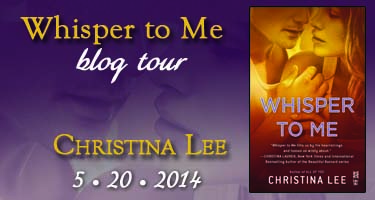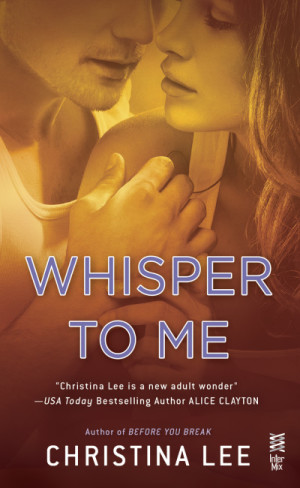 Today we welcome Christine Lee to our blog as she celebrates her new book WHISPER TO ME. Make sure to enter the giveaway below…Good luck!
---

Hot and consuming, this is a New Adult romance about a wayward musician and the one girl who keeps him grounded…
At college, Rachel has a reputation for being a sarcastic flirt with a thing for ripped athletes. No one at college knows her heart was ripped to shreds by her high school boyfriend, who'd driven them both off the side of the road on a borrowed motorcycle. And then subsequently abandoned her. No one really knows Rachel Mattson at all, with one exception…
Ever since he helped nurse his sister's feisty best friend back to health, pierced bass player Kai Nakos has been head over heels in love. But the supposed bad boy can't risk letting Rachel know the truth—especially now that the two of them are back in their hometown for the summer, together for the first time since the months following that horrible night. Never mind that Rachel's ex is also back, groveling for her forgiveness.
Shaken by her ex's return, Rachel finds herself turning to the one guy she knows she can trust. Now that Kai has had a taste of Rachel, he's willing to do anything just to have her touch him again, even hiding his true feelings. After all, she only wants a temporary fling. Until it becomes something more. But perhaps it had been more all along.
I must admit that Whisper to Me is my favorite in the Between Breaths series so far. I was so excited to finally get Rachel's story having met her in the previous books and Christina Lee didn't disappoint with this one.
Whisper to Me is Christina's best work yet – she delivered an emotionally powerful and intense book.  I could feel every emotion, every intense encounter and I loved every minute of it.
This is a beautiful story of a girl remembering who she once was and finding her strength in the boy who always took care of her and never let her down.
Avery and Kai have their vices and their own ways of dealing with things; Kai with drugs and having no confidence or fight to go after the things he believes in thus always settling for 2nd best;  and Avery, the proclaimed "slut" who uses sex and her "likes to have fun" image to feel good about herself and pretend to be someone she's not.  Avery who we learn so much more about in this book and the reasons why she doesn't let anyone get too close to her or her heart.
I have to say that Kai is my favorite male character of all of Christina's characters to date.  Learning the history between these two and seeing what a kind, gentle and compassionate soul he has, made me love him more and more with every turn of the page.  Kai is loyal and has a pure heart of gold. <3
It's a dangerous game that these two play and I enjoyed the intensity and the hot sexual tension between them.  Even more so, I enjoyed the slow building romance between friends turned lovers, making it even more meaningful and heartfelt.
Christina has again written an emotionally captivating story and I loved every moment and recommend it for those who enjoy friends turned into something more complete with a beautifully tattooed, pierced musician with a heart of gold and the girl he has always loved.


Mother, wife, reader, dreamer. Christina lives in the Midwest with her husband and son–her two favorite guys. She's addicted to lip gloss, salted caramel everything, and believes in true love and kissing, so writing romance novels has become a dream job.
Connect with Christina:
---
Series Reading Order
Book 1 – All Of You

Book 2 -Before You Break

Book 3 – Whisper To Me