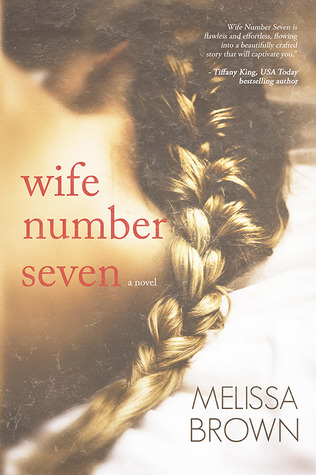 Wife Number Seven

by Melissa Brown
on July 19, 2014
Buy on Amazon
Goodreads


Lipstick. Bright, red lipstick. Nothing but lipstick.
Even though it's against our faith to wear a color that screams of sexual promiscuity and deviant behavior, I'm not allowed to protest.
But, I want to.
So badly.

You see, there's more to me than the braid that spills down my back.
More to me than the layers of heavy fabric that maintain my modesty.
And so much more than the oppressive wedding band that adorns my finger--the same band that each of my sister wives wear.
So much more.
To protest would be sinful.
I must keep sweet, that is my duty.

So I'll wear the lipstick. I'll do as I'm told.
And I'll do my best to silence the resistance within me, to push him from my mind.
If only my heart would do the same.

Rebecca and I were alone in my bedroom. Her children had fallen asleep easily, not entirely grasping their situation. They didn't know they were being reassigned, only that they were at our home for a sleepover. Rebecca was apparently delaying telling them the truth.
She probably didn't want to tell them that our prophet acted according to what he felt was God's will, and no one in our community could question him or what was "revealed" to him by our Lord. It would be difficult to tell them that they'd lost their father, that they would never return to their home, and that their lives had changed forever because the prophet deemed it so.
"I-I understand that this was a revelation, but . . ." Rebecca sat on the edge of my bed, her hand covering her mouth, the skin surrounding her eyes red and puffy. "I love him. I love my husband."
"I know," I whispered, rubbing her back softly with the palm of my hand, attempting to soothe her as best I could. "I could see that you did."
She wiped her nose with a tissue. "He's kind and loving, and . . . and I just can't imagine not being with him."
"I understand."
"You do?"
"I think so." I shrugged. I didn't have children yet. And I could certainly imagine a life without Lehi . . . so did I? Did I really understand her? Perhaps not.
"I don't know Elder Cluff. I don't know him at all. And now . . . he's to be my husband?"
Reluctantly, I nodded and said what I should say. "Lehi's a good man."
She gasped, looking startled. "Have I offended you? I hope I haven't. I just—I don't, I mean—"
"No, no. I promise." I patted her on the shoulder. "I just wanted you to know that you're safe here. That Lehi will take care of you and your children."
She pursed her lips and stared at the carpet beneath our feet. "But I don't love him."
I knew what I was supposed to say. I knew I should tell her that she'd grow to love Lehi, that she'd have a warm and loving relationship with our husband, that she just needed to give it time. But I couldn't.
I spoke the truth.
"Neither do I," I whispered, shaking my head slowly back and forth.

WOW! Refreshingly different, captivating and exhilarating…I LOVED Wife Number Seven – I have only had the privilege of reading one of Melissa's prior books but this one was on a whole different level. My heart was pounding and I literally was feeling anxious throughout my entire read but it was SO WORTH IT! This is my favorite of her books to date!
Have you ever seen that show Sister Wives on TV and wondered how the hell people are ok being in a marriage where there are multiple wives, multiple children all sharing the same man vying for his attention and affection?! I have often wondered how people can be in this situation, knowing that they probably grew up in this lifestyle and know no other way, but have wondered nonetheless what they are thinking, what their life is like on the inside. So I am TOTALLY EXCITED to read this book and get the inside scoop on the inner workings of a polygamist marriage. I will admit that often times I do think that the man is just a disgusting cocky over confident sexist ass and I wonder if this book will prove my assumptions correct (again these are just my beliefs and opinions…this lifestyle may be ok for some, I just know that I could never be in this situation or think that this is ok because I don't like to share :)).
So I will say that I will not reveal too much information other than what is already known in the blurb because THIS BOOK must be experienced fully and completely and I prefer not to ruin the read for you.  Wife Number Seven is the story of Brinley, the 7th wife to Lehi Cluff, who struggles with the society she grew up in, wanting to know real and true love and to experience life outside of her community.  I was scared and nervous for Brinley through a lot of the book because of all the secrets she was hiding, knowing that if she was found out that it could be so, so, so bad for her.  But despite this, she is one of the strongest women I have ever read about and I am so proud of her because for once she is questioning her faith and lifestyle, she is taking risks to find the life she so rightly deserves and wants and because she will prove in this book that she will stop at nothing to find her true self.  A lot of what Brinley feels throughout this book is completely normal in the "real" world and she will have a tough journey to realize this.
There are a couple of people in this book who are constants in her life that will go above and beyond to protect Brinley.  And no, I won't tell you who they are.  I will say however that Brinley will find a true love that was so beautiful to experience, someone who sees her for who she really is, someone who wants her and only her.  This person, though experiencing hardships of his own and having a similar background to Brinley, will prove what true love is and will fill your heart and soul with so much love and warmth.
Things I LOVED….This book is told in multiple POVs adding so many layers to the story and ultimately giving us such a complete experience. The writing and the characters were SO WELL DONE – so thoroughly researched, this to me, was such an accurate portrayal of what it would be like to live in this community and gives you so many things to think about it and then appreciate in your own life.  I truly loved this book – the suspense, the anxiety and all the emotions I felt and overall experiencing Brinley's freedom of choice, freedom to love was a magnificent thing.  This is a book that I will not easily forget and I encourage you to buy and read this book because I think you will feel the same. <3