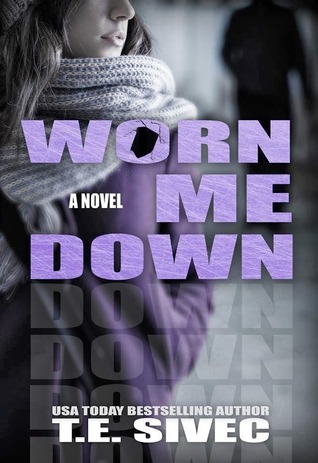 Today we welcome Tara Sivec to our blog as we celebrate the release of her new book WORN ME DOWN which released on January 20th.
Enter for a chance to win an amazing giveaway using Rafflecopter below! Good luck!
---

"Worn me down like a road. I did everything you told. Worn me down to my knees.
I did everything to please."
Austin Conrad has never taken his personal life seriously. As a Navy SEAL, he spends all of his time in dangerous, life-threatening situations. The only way to leave behind the horrors he's seen throughout his career, is to turn it all off when he gets home. He's too much of a playboy to settle down; even if he did find a woman he could stand to be around for more than one night, he would never taint her life with the demons of his past.
When his best friend and SEAL team member, Brady Marshall asks him to keep an eye on his baby sister, Gwen, Austin figures it will be a walk in the park. The only thing Austin likes more than flirting his way under a beautiful woman's skin, is walking away with a smile on his face. Austin never expects that the single mom and her little girl will be the ones getting under his skin.
Gwen Stratford knows all too well about living in a nightmare. After taking her daughter and fleeing from her abusive husband in the middle of the night several months ago, she's worked hard to get her life back on track and forget about the man who tried to break her. Growing up under the iron thumb of her parents and then moving right on with a man who ruled their marriage with his fists, Gwen is finally able to breathe and live her life the way she wants.
When scary, mysterious things begin to happen to Gwen and her daughter, she realizes you can never outrun your past; it always has a way of catching up with you. As she struggles with the desire to keep her newfound independence, she knows she won't be able to protect herself and her child alone. She'll need to lean on the one man who drives her crazy.
Can Gwen really put her trust in a man who thinks life is one big joke, or will he be just another man in her life who tries to wear her down?


Christine's 4.5 STAR Review!!!
I must admit that I have not read any of the prior books in this series and though this book can totally be read as a standalone, I kick myself for not reading the others because I know I am totally missing out!
The prologue immediately captures my attention and from the start I am swept away into this story that was action packed, kept me on the edge of my seat and connected me to a cast of characters that I fell in love with and want to know more about.  That being said, the prior books are on my never ending TBR list and I will hopefully go back to read them!
Austin is a Navy Seal and best friends with Gwen's brother, Brady.  Given the Seals motto of always being there for each other, Austin immediately comes to Gwen's aid when Brady asks him to.  I am beyond excited when Austin walks into the PI office where Gwen and Brady work because I want to see the relationship and sparks that will fly when Gwen realizes that Austin is here to stay to aid and protect her.  And boy do they fly!  I LOVE Austin's arrogant but fun, strong and dedicated personality.  He is a real MAN's MAN and in my mind hot as hell.  Gwen is divorced from her ex husband having an abusive relationship with him causing her to be mistrusting of all men.  Including Austin.  They are the epitome of oil and water.  But I LOVE IT!  I loved them – their bantering, their chemistry – it all worked so well for me!
Austin has a past that Gwen doesn't realize.  He coming from foster homes and not having a true family.  Seeing his interactions with Gwen's daughter Emma had me smiling, laughing out loud and even choking up – because though he feels that he is not ready for a family or will ever be a good dad – his strength and protective nature with Emma contradicts his thoughts.
Tara totally threw me for a loop while I was reading as I had several theories running throughout my mind.  I sat at the edge of my seat biting my nails because I was not only curious as to how it would end but I was scared and nervous too!  And WOW when we finally get the answers to our questions – it caught me completely off guard!
I now have to go back and read this entire series as Tara has again completely captivated me in another book she has written – each so different from the other but proving to us how Tara is a true artist with her words and how she can write almost anything and be truly great at it!
Job well done!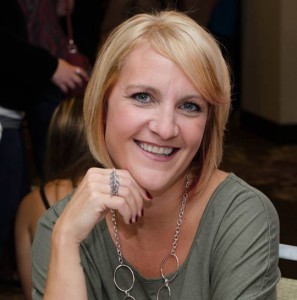 Tara Sivec is a USA Today best-selling author, wife, mother, chauffeur, maid, short-order cook, baby-sitter, and sarcasm expert. She lives in Ohio with her husband and two children and looks forward to the day when they all three of them become adults and move out.
After working in the brokerage business for fourteen years, Tara decided to pick up a pen and write instead of shoving it in her eye out of boredom. She is the author of the Playing with Fire series and the Chocolate Lovers series. Her novel Seduction and Snacks won first place in the Indie Romance Convention Reader's Choice Awards 2013 for Best Indie First Book.
In her spare time, Tara loves to dream about all of the baking she'll do and naps she'll take when she ever gets spare time.
Tara also writes under the pen name T.E. Sivec.
Series Reading Order
Book 1 – A Beautiful Lie

Book 2 – Because of You

Book 3 – Worn Me Down