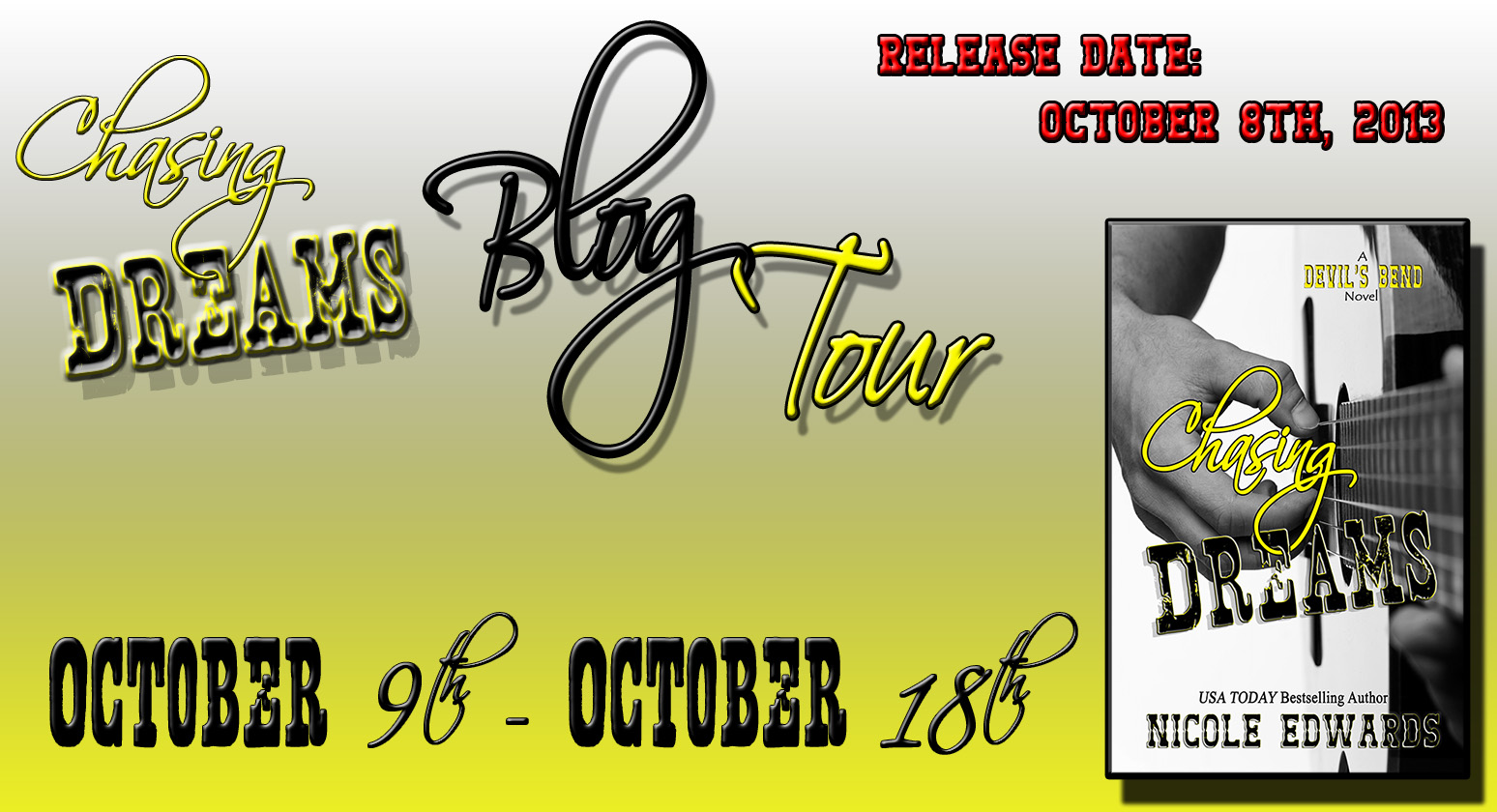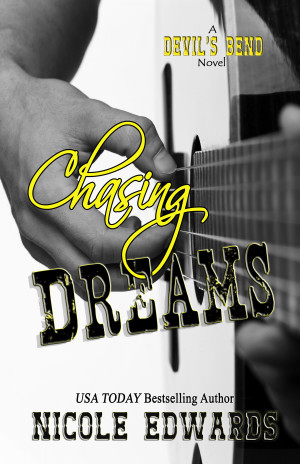 Today we welcome Nicole Edwards to our blog as she celebrates her new book Chasing Dreams which released on October 8th.
Enjoy a dual review from Denise and Christine below. And if that's not all, Nicole has provided us with an extra BONUS scene – do not read it unless you have read Chasing Dreams! Enjoy!!!
Enter for a chance to win a signed paperback of this book using Rafflecopter below. Good luck!
---
5 STARS!!!
Synopsis
Cooper Krenshaw knows what it's like to feel the bright lights upon him, the sound of the crowd roaring when he walks on stage; after all, he happens to be one of the biggest names in country music at the moment. And he has knowingly just dropped off the grid. The first decision he has made on his own in quite some time. Cooper only thought he was looking for a challenge when he walked off of that concert stage in Chicago. After finding himself in Devil's Bend, Texas, he soon realizes that the dream he's been chasing might not be the one he was after all along.
Now he's found himself not only starting over in a new town, but he's pretty sure he's met the toughest challenge of his life… she just happens to be an angel in blue jeans.
Tessa Donovan hasn't been the best of friends with Fate for quite some time now. Owning and operating The Rusty Nail, a small bar in her hometown of Devil's Bend, has been enough to keep her going through the motions of her life. But it's the only thing she's got. After losing her husband fifteen short months after they were married, Tessa has spent the last four years chasing dreams in order to maintain her sanity. Only those dreams are soon ripped right out of her grasp by a sexy country music star who claims he descended on her small town by accident.
Coincidence? Or has Fate stepped in once again? Whatever the case, Tessa knows the handsome cowboy might get to overtake her dreams, but she's bound and determined that he won't take her heart.
Denise's Review
For those of you who have heard of Nicole Edwards but for whatever reason have not yet checked out her books, I highly recommend you pick up Chasing Dreams, book 1 in her new Devils Bend Series.
This book tells the story of country music star Cooper Krenshaw and a small town girl, well more like small town woman Tessa Donovan; truth be told this story does so much more then tell the story of these two people as it quickly pulls the reader into a whole new world; one Ms. Edwards has built in true living color, a town named Devil's Bend filled with characters I can't wait to get to know more about.
Copper and Tessa's journey was powerful, emotional and in true Ms. Edwards fashion – hot!  Cooper is a man who understands the power of words, he uses them to be kind, he uses them in his songs to woo and he uses them in the bedroom to heat things up. I fell in love with Cooper, his pure desire to be happy, his filthy mouth, his desire to want get to know Tessa.  I adore how Cooper was able to be gentleman on a date and a hot as sin lover. I would say behind closed doors but this man heats it up outside, against walls and well I don't want to give away all the steam but you will enjoy reader Cooper's exploration of all things Tessa.
Like most of Ms. Edwards characters Tessa and Cooper are mature adults with backstory and baggage.
For the serious side…. for me this story became about overcoming adversity; about deciding the past is the past and if you want happy you need to risk being hurt again.
Tessa has lived a hard life – one with heartache, struggle and loss. Learning to love and trust again does not come easy and given her past as I read her story, my heart pulled for her to find a way to open up.
Cooper, well fame comes at a price, and Cooper becomes the living embodiment of that; a man surrounded by people who see him as commodity, people who see the star but not the man.
I adored how as these two shared their stories it becomes clear how their experience wove them into the people they have now become and how much of their prior experiences pulled them together.  Though Cooper and Tessa come from different worlds they soon learn they have a shared dream; no I will not tell you what the shared dream is…for that you need to read the book.
As Chasing Dreams develops I fell in love with Cooper and Tessa and so many of the secondary characters. I was engrossed in the story and did not want to put it down.
Cooper and Tessa's journey is affected for good and bad by those around them and for me that felt so true to real life.
Oh speaking of secondary characters I love Havoc and Harmony; Tessa's dogs.
The end of the this story was so well done; it grabbed my heart and did not let go. For me it was true to the characters created and it made it clear to me Ms. Edwards is an author to watch in the future as she truly understands how to develop characters, make them feel real and get the reader to love and root for them!
This is the kind of story that when you are done you will be thinking about for days after. Ms. Edwards has created characters that live in my head; ones that I so want to know about… so yes I can't wait of Devil's Bend book 2
Ms. Edwards has yet again written a book (without a cliffhanger ) that makes we want to read more about this cast of characters.
So Ms. Edwards, please write Dalton's story, or Jack or Adam; heck please write about them all.
Christine's Review
This was my first Nicole Edwards book and will certainly not be my last.  I have been dying to read this author and when the chance came to read this new series, I couldn't say no!  I am so glad that I picked up this book to experience all of the wonderful things that Denise has always said about Nicole.  Namely her complete writing perfection, her attention to every last detail and the complete love I now feel for her characters.  I am totally and completely vested and I want to know more….like now!
Denise gave you a really great summary of the book and rather than do that I wanted to highlight the things that really worked for me in this book.  First off, I love a good challenge and I couldn't wait to get through Chasing Dreams to see if Cooper would be able to get Tessa to trust him and open up to him.  He was the epitome of an AMAZING boyfriend – confident, sexy, relentless and oh the sex was simply magnetic.  He was all these things and more.  His patience and understanding solidified his place in my heart.
What spoke to me was how emotionally connected this couple was throughout the book.  I felt it to my very core.  This was such a beautiful story and it truly stayed with me for days as I wondered when I would see more of the Devil's Bend crew.
Thank you to Denise for introducing me to Nicole Edwards and thank you to Nicole for writing a story that warmed my heart and filled me with such happiness, love and contentment <3
EXCLUSIVE BONUS SCENE – SPOILERS!!! Do not continue reading unless you have already read Chasing Dreams!
Wedding Day

From the moment his eyes opened that morning until the minute he stepped into place right here at the altar, Cooper hadn't been able to wipe the smile off of his face. Not that he was trying to.
Since Tessa had spent the night before with Izzy, leaving him all alone in their big ol' bed, he felt a little out of sorts, but every time his thoughts made the circuit and landed right back on her, he found himself grinning like a fool. They'd spent every night together for the last six months, minus the few times he had to go back to Nashville, and the very thought of sleeping in a bed without Tessa made his heart ache in unexpected ways, but yes, just like she informed him, he had survived. Although last night was purposely done so that he didn't see his beautiful bride before the wedding, Cooper would have preferred having her next to him, superstitions be damned. But, he acquiesced because ultimately, Cooper would do whatever it took to make her happy.
"I figured you'd be sweating by now," Dalton teased as he walked up beside him to take his place as Best Man.
Grateful for the interruption, Cooper reined in his wandering thoughts and refocused his attention on the empty hallway at the back of the church. No, Cooper wasn't sweating. His heart was racing, but not out of fear. Anxiety, maybe. He had been ready to marry Tessa for longer than he cared to admit and the day had finally arrived.
"Your dad find you?" Dalton questioned, his hand coming down to settle on Cooper's shoulder.
"Yeah, I talked to him," Cooper answered, his eyes searching the area where he knew his beautiful soon-to-be-wife would be showing up at any minute now. Despite the fact that people were still arriving, taking their places and mulling about chatting, Cooper knew they were going to get this on the road sometime soon.
He hoped. Because if they didn't, he would certainly start that sweating thing.
Thankfully, Cooper had had the opportunity to chat with his dad early that morning over breakfast. A real man to man talk about nothing and everything at the same time. It was no secret that Cooper idolized his father and everything the man stood for. He was the man Cooper had always wanted to be, seemingly doing everything right, saying all the right things… But according to David, he was just as flawed as the next guy. Cooper didn't see it that way.
His father insisted that Cooper was a better man than he was. Not that he believed that, but if it made his father feel better to say it, Cooper wasn't going to argue. Needless to say, their conversation had renewed Cooper's faith in himself as a potential husband, wanting only to make Tessa happy from now until eternity. If his dad was right, he was already on the right path.
"He's proud of you," Dalton said, his hand squeezing his shoulder firmly.
Cooper spared his buddy a glance, studied him for a minute. "He's proud of you, too," Cooper assured his friend.
David Krenshaw had taken a special liking to Dalton ever since Cooper introduced the two of them. Although Cooper hadn't met Dalton until they were both well into the country music scene, he knew for a fact that Dalton's home life had been less than desirable growing up. It obviously didn't take a genius to figure it out and as soon as David met Dalton, he'd taken the guy under his wing, giving him advice just like any father would have. And now, years later, Dalton was just as much a part of the family, despite his original reluctance to being accepted.
"Don't go gettin' all sappy on me, Krenshaw. You're the one who'll be cryin' in a minute, not me." Dalton's booming laugh had heads turning toward them. Leaning closer in a mock whisper, Dalton continued, "But don't you worry, I brought tissues when you need them."
Cooper laughed as he watched Dalton head off toward the back of the church in a mad dash, unable to tell his buddy to fuck off because quite frankly, he wasn't absolutely certain he wasn't going to break down. Cooper wasn't going to deny it because his heart was already beginning to swell in his chest and the first beats of the wedding march had just begun.
"Here goes nothin'," Cooper whispered to himself, praying he didn't pass out before he managed to say "I do".
Cooper's eyes roamed through the few people who were still making their way down the aisle, past Dalton who was now shaking hands with Adam at the back of the room, then past Izzy who was standing off to the side. Still no sign of Tessa, but he knew she would be there. He could feel her somewhere in the room, and he wasn't even sure how that was possible.
Glancing down at the few rows of people, he smiled at his parents, gave Jack a brotherly nod, then smiled at Tessa's mother and stepfather. There hadn't been a question as to whether they would attend because Cooper had talked to them personally.
Ok, so his hands were starting to sweat.
Trying to subtly wipe them on his pants, Cooper returned his attention to the back of the room and there, just like an angel, was Tessa. Her dress was simple, but on her it was stunning. Her hair was up in some complicated thing on top of her head, and she was smiling. When their eyes met from across the room, he felt that surge of emotion he always felt when she looked his way. Just like he had the very first time they made eye contact in her dimly lit bar when he'd been on her stage.
God, he loved that woman.
For the next few minutes, things progressed just like a wedding should, the Matron of Honor and Best Man making their way down the aisle to assume their positions and then Adam taking Tessa's arm as they slowly made their way toward him. Although Tessa had been all for walking down the aisle by herself, Cooper knew without a doubt that neither of her brothers would've allowed that. In fact, he was surprised to see that both of them weren't with her, but apparently Adam won that battle.
Cooper grinned to himself when he thought about the conversation he'd had with Jack earlier. He respected how much Jack loved Tessa and what lengths he'd go to in order to protect her, so he had sat back and listened as his life and his balls had been threatened. After assuring Jack that he had nothing to worry about, Cooper shook hands with the younger man. All was finally good between them.
The preacher went through the requisite words about who gives her away and as far as Cooper was concerned, the man was speaking a foreign language. The only thing he knew right then was the feel of Tessa's cool hand in his, her sparkling green eyes, her radiant smile and the soft breaths she took as she stared back at him.
He wanted to tell her how beautiful she was, but he couldn't find the words. Instead, he listened absently as the preacher went on with the necessities that would lead up to them sharing their vows. He answered and nodded when he was expected to, but he only knew when those were because of the mischief that glinted in Tessa's eyes.
And then, finally, as though this moment would never come, it was Cooper's turn to speak his vows.
Just like the day he had proposed, the words he'd come up with eluded him momentarily, and he was left with an enormous space that was filled with nothing but love for this woman. If he knew for sure that she could feel everything he was feeling, Cooper wouldn't need the words. But he would speak them anyway because here, before God and everyone, Cooper wanted to ensure this woman knew all that she was to him.
When Tessa squeezed his hand, he smiled, the words finally coming to him.

Your smile is the beacon that led me home.
Your eyes are where I find my one true love.
You are my inspiration.
You are the reason behind every heartbeat, every breath.
With you, I am complete.
I vow to be yours in both triumph and failure, in health and in sickness, in plenty and in want.
You are my love and my life, today and always

Cooper continued to stare into Tessa's eyes, hoping she knew how deep in his soul she was rooted. The tears that formed in her eyes ensured him that she felt the words surely as he did. As he swallowed past the lump in his throat, he waited as Tessa began to speak:

Your voice is my salvation, grounding me in ways I never could've imagined.
Your soul is where I find my one true mate.
I am today and will always be your biggest fan.
You provide a safe place for me, unlike I've ever known.
With you, I am whole.
I vow to be yours in both triumph and failure, in health and in sickness, in plenty and in want.
You are my love and my life, today and always

Cooper wasn't sure he'd be able to continue. He swallowed again, trying to keep his composure, to be strong. This was the moment he'd waited for all of his life and standing here, listening to her words, he knew this was the only place he was ever meant to be.
The preacher began to speak again, and Cooper followed word for word, repeating after him when he was supposed to and then placing the ring on Tessa's finger. He listened patiently while she did the same. And then there were more words, but Cooper wouldn't be able to remember a single word. He was waiting for that final moment, the last few words that would forever unite him with the only woman who would ever hold his heart in her hands.
"I now pronounce you husband and wife. You may kiss the bride."
Hallelujah!
Cooper pulled Tessa into his arms, his eyes locked with hers and that sweet, mischievous grin of hers tilting her soft lips as he leaned her back, holding her at the waist.
"I love you, Tessa Krenshaw," he whispered for her ears only.
"And I love you, Cooper Krenshaw."
With that, Cooper kissed her for all he was worth.
"Yeehaw!!!" Dalton yelled as the church erupted in applause.
About the Author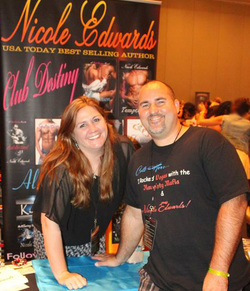 Nicole lives in Texas with her husband, Colt, three kids and four dogs. It's quite the household and most of the time you'll find her locked away in her office… writing. When she's not, you'll likely find her reading, swimming, or hanging out in the yard with the dogs, doing her best to keep them in line. (And no, it doesn't usually work)
Ever want to let that other part of you loose? The part that has secret desires and taboo fantasies? Well, that's what brought about Nicole Edwards. She's an alter ego. In truth, she's a full-fledged part of me. The secret part made up of sinfully hot desires and erotic thoughts. Get to know how Nicole's naughty mind works by checking out her books!
About me… hmmm…
Ok, I've been asked to provide a little bit of "real" information about myself. That's harder to do than you think it is, especially for someone who has difficulty talking about themselves. 😉 But, here goes…
I've been writing for as long as I can remember. Ever since I was a kid, I loved creative writing and as I got older, I got acquainted with those voices in my head and that led to putting my stories on paper. And now, here I am all these years later, spending my days doing what I love most. I decided to give myself over to writing full time in 2012 and I haven't looked back. I spent nearly 13 years in the corporate world and I have to say, this is a bit of a change (just a little) and I am loving every second of it.
I live in Texas with my husband and three amazing kids and our four beloved dogs. If I'm not writing, I'm usually reading. I devour everything I can get my hands on. I love romance of any type and being an Indie author myself, I'm always looking for new Indies to support. I haven't always been into reading, but about eleven years ago, I picked up a book – I'm pretty sure it was by Nora Roberts – and from there, I haven't stopped. Before I began writing full time, and my characters started taking up so much of my time, I was reading about 200 books a year. That has dwindled somewhat, but there isn't a day that goes by that I don't read.
An interesting fact… I don't watch television – aside from the occasional news anyway. I will go see a movie or two rarely, but for the most part, I get all of my entertainment from a book. Some of my favorite authors include J.R. Ward, Suzanne Brockmann, Lora Leigh, Jane Rylon, Lori Foster, and Jaci Burton just to name a few.