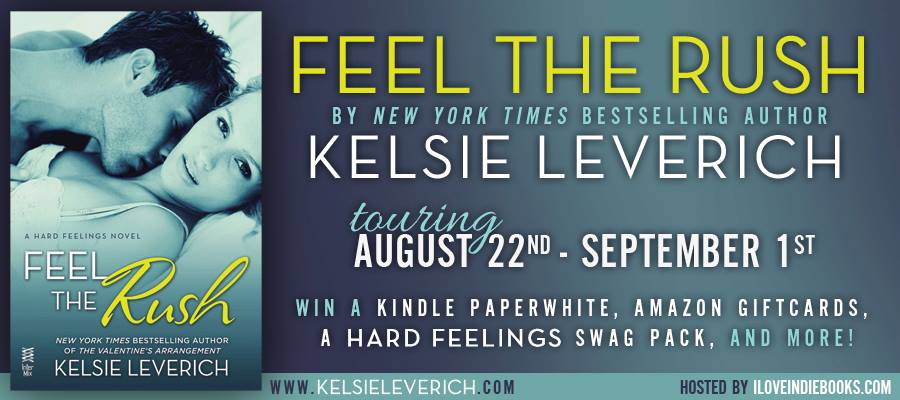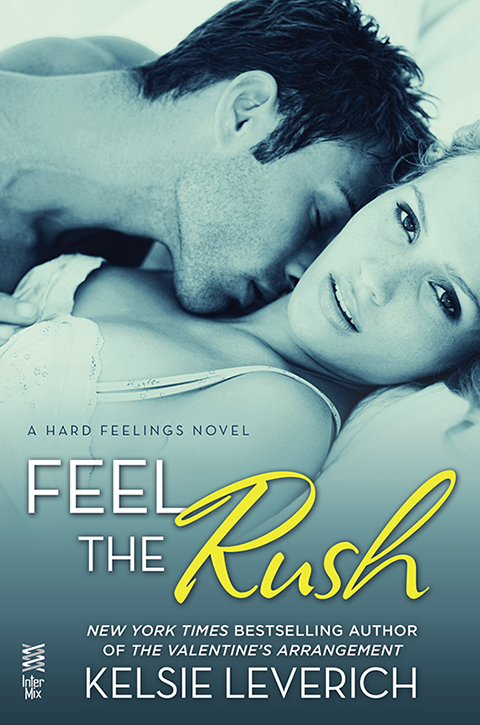 Today we welcome Kelsie Leverich to our blog as she celebrates her new book Feel the Rush which released on August 20th.
Enjoy a BONUS SCENE provided to us by the author below!!!
Enter for a chance to win some amazing giveaways using Rafflecopter below!
---
4 STARS!!!
Synopsis
The New York Times bestselling author of The Valentine's Arrangement continues her sizzling series with a new novel of a plan that goes awry—in the arms of a soldier…
Picking the wrong men is a talent Meagan Mitchell has perfected. She's sweet, confident, beautiful—and single. With her thirtieth birthday sneaking up on her, she needs a new plan. No more Mr. Wrongs or Mr. Bads, it's time to find Mr. Safe…
Army Captain, Reed Porter, lives for the thrill—he's an Airborne Jumpmaster with a rush addiction. He's sexy and playful, and he quickly tempts Meagan with his rich Southern drawl and sinful looks. But slowing down and settling down are not in his agenda, making him exactly the type of man Meagan wants to avoid…
As their undeniable attraction heats up, Meagan has to decide if she's willing to risk everything on a chance at love with a reckless charmer. Is she brave enough to bet her future—and her heart—on Mr. Thrill? Or will Reed finally learn that the feeling of a safe landing is just as addicting as the rush of the fall?
Denise's Review
Though readers met Meagan Michelle in The Valentine's Arrangement, this book can absolutely be read stand alone.
When Feel the Rush opens, it is quickly made apparent to the reader that Meagan is at a point in her life when she feel she needs to settle down, to find Mr. Safe,  someone she can marry, buy a home with and have children with, the almost typical female American dream.
Army Captain, Reed Porter, is an Airborne Jumpmaster who lives for the moment, for the thrill. He shows no interest in forever, he simply lives for the here and now.
The reader is able to feel the attraction these two share. But more than just a physical attraction, Meg is drawn to the commitment Captain Porter has to his men, the compassion she sees in his eyes and his desire to stand by them no matter what.
As Meagan and Reed interact, I enjoyed watching them learn to be in each other's space; they develop a comfort around each other that it seemed took them both by surprise.
In Feel the Rush, Ms. Leverich does a wonderful job building a cast of characters, it was entertaining to get to know them and even more fun to watch them interact and play off of each other. I thoroughly enjoyed the use of Reed's sister, she plays into a few key interactions in this story that were really well done.
As the story builds you can feel there is a story behind Reed.. when his backstory is finally revealed it is relayed so powerfully it will grab a hold of your heart. Your heart will truly break for what this man has endured.
The issue becomes can Reed give Meagan what she wants.. a happy ..a forever happy…a life settled down with a family. Well, I won't tell you how they get there but I will say I adored the end of this book.
Reed finally finds his voice and his words to Meg are so powerful and touching you know this adrenaline junkie has truly embraced the power love can bring into your life and the happy that can be built around that.
I am very much looking forward to the next novella in this series about Meg's best friend Trevor and I am anxiously awaiting Murono's story because as I watched him in the background I so wanted to truly understand what makes him tick.
I look forward to continuing to watch Ms. Leverich's writing evolve.
BONUS Scene
There were a few moments in Reed Porter's life that seemed to leave their mark, changing it for eternity. The ones that make us and break us, that stayed with you forever. They didn't just take form as a memory, they became part of you.
Reed didn't particularly take notice to those moments, though. Life was full and fast, and he never slowed down to truly appreciate the things that carved you out in the world.
But the moment he watched his brother's life end—just end—was the moment he finally felt the chisel to his bones. The sludge hammer that was changing him—breaking him. Leaving its permanent mark.
Then there was the moment he fell in love with Meagan. There were a lot of little moments that snow balled into this one grand moment that formed its imprint on his heart, but that one moment—the forever kind—was the first morning he'd woke up with her in his arms over Fourth of July. She was soft and sweet, and just Meg. He'd never imagined he'd feel her against him like that—and that moment stole a part of him.
When he found out that she had lost their unborn child, it was like time stopped, the earth spun, and hell rose from beneath his feet. That moment, those words, her voice, her eyes—it would stay with him always.
Good and bad. Those were what made us. Shaped us. Hurt us. Saved us. And as his heart sped up in his chest and as a few beads of sweat started clinging to his hairline, Reed prayed this moment would be the forever kind.
Reed stepped into the master bedroom of the condo in Panama City, and leaned his shoulder into the wall. Meagan's back was to him, and she had just slipped out of her jeans so he had the pleasure of watching the view of her lace covered ass as she leaned over to grab a soft, pink, cotton dress.
Pushing away from the wall, Reed walked silently toward her. Her skin was smooth beneath his fingertips as he slid his hands around her, pressing his palms against her stomach. His touch startled her a little, but in the same second, she relaxed into him, leaning her back against his chest.
"You scared me, I didn't know you were back yet," she said, rolling her head back so it was nestled at the base of his throat. He dipped his head down and kissed her, his lips brushing over her blond hair, inhaling the scent of her jasmine shampoo.
Taking the dress out of her hands, he slowly slid her arms up, then just as slowly, he lowered the cotton over her head and down her body. "You look beautiful," he said, admiring the way the smooth fabric lay against her curves and brushed across her skin.
Her lips lifted and a slight pink swept across her cheeks.
Capturing her face between his hands, he pressed his lips to hers, briefly knocking all the air from his lungs as her mouth molded against his. This woman was made for him, he had no doubt about it. Every ounce of his being belonged to her.
Releasing her lips, he reached down between them and grabbed her hand in his. "Come on."
She cocked an eyebrow at him. "What do you got up your sleeve, mister?" she asked as she followed him through the living room to the back door that led to the beach.
He didn't respond, he just smiled at her and pulled her onto the soft, white, sand. Not too far from the condo, Reed had laid out a large blanket. He'd gone to the store and picked up a bottle of Meagan's favorite wine and he had it resting in a silver ice bucket on the blanket.
"What's all this?" She stepped onto the blanket and sat down. Reed did the same.
"We didn't get a chance to watch the sun set over the water the last time we were here. I wanted to make sure we didn't miss it this time," he explained.
Her face lit up. "I like the way you think."
"I figured you would," he replied, opening the wine bottle and pouring a generous amount into both glasses.
Reed parted his legs and nodded his head to the side, gesturing for Meagan to settle between his thighs. He needed her between him, pressed against him. Next to him wasn't enough.
She complied, crawling over his leg and scooting her bottom back until she was flush against his chest. "Much better," he approved, handing her a wine glass and wrapping his arms around her waist.
She sighed, contentedly. "I agree."
He held her in silence as the sky transformed into hues of pinks and orange as the sun started to sink into the water, occasionally pressing kisses to her head, her neck, and her shoulders. Anywhere his mouth could reach.
Meagan turned her head over her shoulder, peering up at him. "This is the most beautiful sunset I've ever seen."
He smiled. He knew she would love it.
She faced the ocean again and he pulled her tightly to him, absorbing all of her that he could.
"I love you," he whispered into her hair.
Turning her head to the side, she kissed his bicep. "I love you too," she replied, softly. Those were words he never thought he would need. They were words he never thought he deserved.
His lips coasted across the bare skin of her neck, suckling the delicious section below her hairline. He felt goose bumps explode beneath his touch and a breathy sigh met his ears. God, he would never get enough of her bodies sweet responses to him.
She sighed again as his lips sealed around her earlobe and she opened up her neck for him a little more.
"You've carved yourself into my heart, you know that?" he asked, his lips still hovering over her skin.
"Mmm," she replied. And he smiled.
"You'll be there forever, Meg. I'll love you forever."
"Good to know," she teased, her head rolling back onto his chest as she enjoyed the feel of his mouth on her.
He pressed another kiss to the skin below her ear the whispered, "Marry me?"
She stilled and he felt her breathing quicken, and for a moment his heart sank. That was the moment that drove it home. He needed her more than he knew was even possible. This would either make him, or break him.
Carefully, she turned around between his legs. Her eyes met his, and they gleamed with a layer a moisture. "What?" she asked as a tear skidded down her cheek.
His lips pressed to her jaw, catching the tear, absorbing the emotion that tear held. "You're a part of me now, and I won't ever let you go, Meg. God, I love you. I need you to have my name, have my babies. I need you to sleep next to me every night. I need all of you, baby. Forever."
He reached in his pocket and pulled out a diamond ring. "Marry me?"
Another tear fell from her eyes, but she smiled. "Yes."
About the Author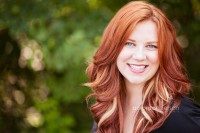 Kelsie Leverich lives in Indiana with her husband and two adorable monsters that are better known as her kids. Her life revolves around her family (to include two dogs and a cat) and most of the time, actually all of the time, it's a crazy mess—but that's the way she loves it! When Kelsie's not writing, you can usually find her on the lake with friends and family or snuggling on the couch with her kids and a good book. Kelsie is not a morning person, has a soft spot for animals, loves musicals, hates seafood, and thinks laundry is the source of all evil. You can find Kelsie on Twitter and Facebook, or visit her website at www.kelsieleverich.com.