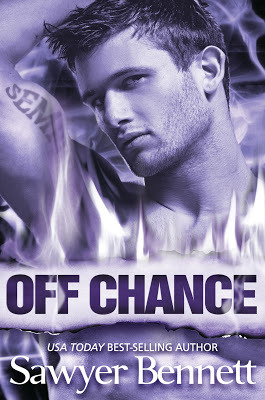 Today we welcome Sawyer Bennett to our blog as she celebrates her new book Off Chance which released on October 19th.
Enjoy an exclusive Bonus Scene from Off Chance below and enter for a chance to win some amazing giveaways using Rafflecopter. Good luck!!!
---
4.5 STARS!!!
Synopsis
He is seeking absolution.
Flynn Caldwell has a hero complex and it's one of the reasons he joined the New York City Fire Department. He has spent his entire professional career trying to atone for that one person he failed to save. Because, if he can do that, then perhaps he can be worthy of love again.
She is seeking escape.
Rowan Page's life is nothing short of a disaster. Always immersed in trouble, she has only herself to depend on. She's determined to pull herself out of this mess and make something of her life, despite the hard years she has lived on the streets of New York.
Together, they have the chance to become complete.
Flynn and Rowan's worlds exist miles apart, but when a chance meeting brings them together, neither of them can deny the instant pull that connects them to each other. What starts as a tiny spark eventually flares into a fire so hot, it refuses to be extinguished.
For it to work, both of them will need to jump feet first into the flames to see where it takes them, despite the risk of being burned.
Denise's Review
Ok I have to start with this… the prologue of this book will grab your attention in epic fashion; yes I was white knuckling my kindle from gripping it so hard!  The prologue grabs your attention but in a stroke of genius it does more than just that as it truly shapes the man Flynn Caldwell becomes.
Flynn is a New York City Fireman who the reader quickly learns has a hero complex, he strives to save to help; to do good. So yes he is a man easy for the reader to love, though as part of the FDNY the reader also learns Flynn's desire to save at all costs has often put him and his fellow crew members in danger.
In dramatic fashion Flynn rescues Rowan Page; a young woman who is a mystery to the reader and Flynn.  Rowan is clearly traumatized and has no desire for anyone to help her. Though Rowan would not accept help for herself she will accept it for her dog, Capone whom she loves… and so Flynn and Rowan's journey begins.  I adored the use of Capone, the dog was used to open Rowan to Flynn's affections and to bond these two characters.
Flynn and Rowan form a true friendship as this books develops; I loved watching this happen. Ms. Bennett did a wonderful job creating this bond and showing how these two develop a level of trust and understanding few people ever have in their lives.
Yes, the sexual tension in this book may have you screaming; kiss her already but it felt true to the characters as did Rowan's fear of losing the friendship she has built with Flynn.
This book used the secondary characters to help move the story forward and build a world that will pull you in. Both Flynn and Rowan's families allowed you glimpses into who they are and how you live shapes who you become.
If you have read my prior reviews of this series you know I adore Nix Caldwell from Off Limits; well I want to thank Ms. Bennett for allowing me to love Nix even more!!!!
There are a number of scenes with Nix in this book and one that just melted my heart, oh you will know it when you see read it.
I will not tell you how Flynn and Rowan finally connect but I will say I thought it was really well done and felt true to the characters developed through this well written story.
As an additional note thank you to Ms. Bennett for an amazing epilogue; it was so wonderful to see a cast I have come to adore together enjoying each other's company.
P.S. I loved Tim, Flynn's FDNY colleague and friend; and yes, I have asked Ms. Bennett if this divorced dad can have his own story!
BONUS SCENE – please do not continue reading unless you have read Off Chance – SPOILER ALERT!!!
Flynn

"I'm as big as a whale," Rowan complains… for the umpteenth time as she slips her t-shirt over her head. The t-shirt says "I'm carrying the next big hockey star(s)" and it has an arrow pointed down at her stomach.

Chuckling, I walk up to her and sneak a quick kiss on her pursed lips. "I've never heard that sentiment before, but now I'd probably have to agree with you."

Rowan has twin munchkins in her belly and she's way bigger than she was when she was carrying Beth.

As if on cue, our bedroom door flies open and Beth comes running into the room, making a bee-line for Rowan. I intercept her and scoop her into my arms, sticking my nose into her neck and blowing a light raspberry on her soft skin. She giggles, scrunches up her face in half-disgust, half-amusement, and tries to shove me away.

Turning in my arms, she reaches her hands out for Rowan. "Mommy have babies."

Rowan steps into us, wraps her arm around my waist and kisses Beth on her cheek. "That's right… I'm having babies."

"For Unca Linc and Aunt Eva."

I adore her almost three-year old vocabulary and even though Linc is technically not her Uncle, he insisted she call them Aunt and Uncle since she uttered her first word.

I sneak a sidelong glance at Rowan. She's looking at Beth with the softest look and a hint of tears in her eyes. Her gaze slides over to meet me and we share a secret smile.

Today is the day we make Linc and Ever parents.

Bending over, I grab Rowan's hospital bag and haul it over my shoulder. "Come on… let's go see what everyone else is up to."

***

Our kitchen is bustling and I hand Beth off to Rowan's mom, Susan, so I can grab a quick cup of coffee before we head out. Beth throws her arms around her neck and starts babbling about wanting eggs for breakfast.

"Do you need us to bring anything else?" Peter asks as he looks at the bag slung over my shoulder while I pour my coffee. The excitement in his voice is palpable and he looks like a kid at Christmas.

"Nope," Rowan responds as she leans against the counter, rubbing her hand over her extended belly. "Just yourselves once you get Beth fed and changed."

Peter walks over to Rowan and wraps her up in a hug. "We're so proud of you, kiddo."

Rowan leans into the embrace, her eyes closed in bliss. He has become the true father that she never had and a quick glance at Susan shows a warm and satisfied smile on her face.

The front door to our apartment flies open and I hear Linc call, "Who's ready to have some babies today?"

He walks into the kitchen, Ever right behind him. Rowan steps out of Peter's arms and hugs both of them. They both then take a stand on each side of her, their arms wrapped around her waist, and turn to me.

"What do you think?" Ever asks.

They're both wearing t-shirts that say, "She's carrying the next big hockey star(s)". Linc's has an arrow underneath pointed left, and Ever's has an arrow that points right, both aiming right at Rowan's belly.

"I think you two are the biggest dorks alive," I quip.

Beth gasps in Susan's arms. "Daddy said a bad word."

I look at her in all seriousness. "No, I didn't. Your Aunt and Uncle are dorks. It's the truth… learn it… memorize it. It will serve you well later in life."

Beth shoots me an eyeroll and I know without a doubt she picked that up from her cousin, Amelia. I'm going to have to nip that in the bud or it's going to be hell on me parenting a teen when the time comes.

Releasing his hold on Rowan, Linc claps his hands together and rubs them back and forth. "Let's get this show on the road. I have a limo downstairs to take our baby mama to the hospital in style."

"Here, make yourself useful," I say to Linc as I set my neglected coffee down and hand him Rowan's bag.

Stepping up to my wife… my love and my light… I wrap my arms around her and kiss her on the forehead. "You ready, baby?"

"Yes… let's go make some magic," she says and kisses me lightly on the lips.

God, I love this woman.

***

I'm sitting on the edge of Rowan's hospital bed and she's drowsing on and off. Her work is done and she's not feeling any pain right now.

The c-section went off with out a hitch and my girl was amazing. It was jam packed in the delivery room with me, Linc and Ever crowded around Rowan's head. I held one of her hands while Ever held the other. The privacy screen they had fashioned over her stomach ensured we wouldn't pass out from watching the operation, but the doctor talked us through all the steps he was taking as he brought little Gemma and Graham into the world. I still get a little choked up thinking about Linc and Ever peeping over the screen, tears running down their faces as the doctor held up first one twin, then the other for them to behold. It was a true miracle.

Ever now sits in one recliner, holding Gemma, and I know this only because she has a tiny, pink hat on her head. Her thumb is in her mouth and she's sleeping soundly. Linc is standing with Graham in his hands, and the little bundle is wailing up a storm, his face red and puckered from the effort.

Linc, though, is in perfect control. He's just looking at his son, cooing at him in wonder, completely oblivious that he's screaming bloody murder. Oh, and he has the dopiest, silliest grin on his face. It's awesome.

Everyone else has just left from the first round of visits. Rowan's room is overflowing with flowers, and I'm exhausted. Which is funny, because I didn't do anything but hold her hand the entire time. Still, it hasn't been all that easy the last nine months having a wife pregnant with twins. I thought it might be difficult to some extent… us carrying someone else's babies, but in fact, it's been the most singularly touching experience of my life. I am still in such awe over Rowan selflessly giving of her body so she could make Linc and Ever complete.

I feel pressure on me hand and glance down at Rowan. Her eyes are open but at half-mast, still a little groggy from the pain medications they had given her.

"Hey," she says.

"Hey," I tell her. "How are you feeling?"

"Actually pretty good. But I'm sure that's the drugs talking."

I lean over and brush my lips against hers, loving how she still sighs every time I do that to her. "Are you hungry at all?"

She shakes her head. "Just sleepy."

"Well, your mom and Peter took Beth home, and everyone else will be back tonight to visit again."

Rowan raises her head slightly to look around the room and her focus stays pinned on Ever as she hums softly to Gemma. The haze clears a bit from her eyes and a smile lights her face up as she watches Ever's first moments with her baby daughter. Then gaze slides over to Linc, the smile staying just as luminescent.

She turns her attention back to me and squeezes my hand again. "I'm so happy, Flynn. Fulfilled."

"Me too," I whisper. "But then again, I was the moment you walked into my life."

She stares at me a moment, conveying that secret knowledge that only she and I share about the depth of our feelings for each other. Words aren't necessary because I know how much she loves me in that one look… just before she falls back asleep.
About the Author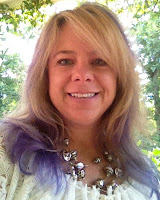 USA Today Best-Selling author, Sawyer Bennett, is a snarky southern woman and reformed trial lawyer who decided to finally start putting on paper all of the stories that were floating in her head. She is married to a mobster (well, a market researcher) and they have two big, furry dogs who hog the bed. Sawyer would like to report she doesn't have many weaknesses but can be bribed with a nominal amount of milk chocolate.
---
GIVEAWAY
a Rafflecopter giveaway

Book 1 – Offsides

Book 2 – Off Limits

Book 3 – Off the Record

Book 4 – Off Course