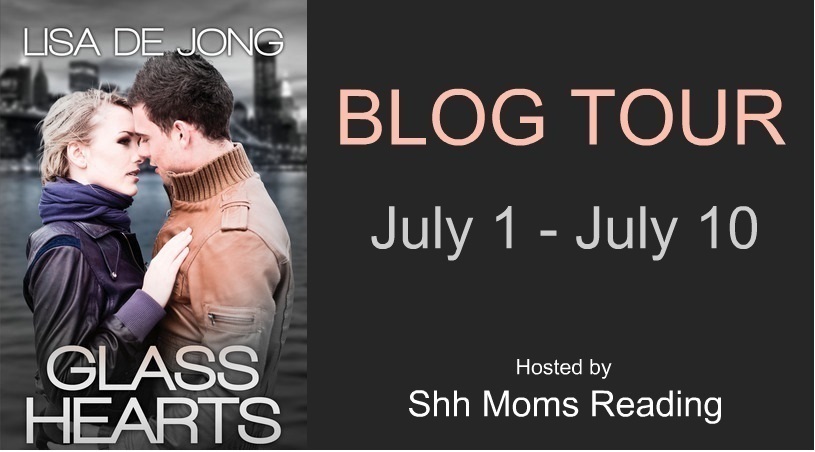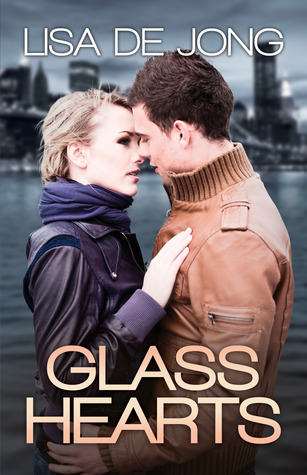 Today we welcome Lisa De Jong to our blog as she celebrates her new book Glass Hearts which released on June 25th.
Enter for a chance to win a copy of this book using Rafflecopter below!
---
4.5 STARS!!!
Synopsis
Sequel to Plastic Hearts…
Can a relationship survive on love alone? Is love truly enough?
Dane and Alex's relationship has never been easy, but now they have a fresh start without the pressures of Alex's family. Together they try to move forward while continuing to struggle with a past that they can't seem to escape.
Sometimes no matter how hard we try to make things work, love isn't enough.
Sometimes even after a broken heart is mended, cracks remain, and the same doubts and insecurities that once yanked us apart seep in.
Can true love hold Dane and Alex together or will their hearts completely shatter like glass?
Christine's Review
Wishes do come true.
It's no secret that I LOVED Plastic Hearts so when the opportunity came up to work with Lisa on her Glass Hearts blog tour I couldn't wait to get started. I was a huge Dane and Alex fan and I was so excited to see where Lisa would take their relationship.
Glass Hearts picks up where Plastic Hearts left off. Alex is moving in with Dane realizing how much she loves him and wants to be with him. As their story unfolds, I am SO EXTREMELY proud of Alex and her realization that she doesn't need anyone else's approval but her own when it comes to her life and choices. I am happy to see her more independent, stronger and believing in herself. I am saddened to see her relationship with her parents fade away but I think she needs this to become independent and strong and her own person. It's unfortunate that her parents are stuck in their ways and my hope is that one day in the future, they will come to realize how much she means to them.
I have to say that I absolutely LOVE DANE! I truly enjoyed the chapters that were in his POV as we see him with his self-doubt and we understand more about his background and the pain and suffering he and his brother went through as children living with his mother. He was a broken boy until he met Alex and what I adored about their relationship is that they healed each other. In Plastic Hearts, Dane helped Alex and in turn in Glass Hearts, it was Alex's turn to provide her strength to Dane to allow him to grow as a character as well.
I definitely experienced a range of emotions while reading this book. Lisa knows how to write angst well! But with the angst, also came some sadness and times that really put a smile on my face. So with all of the obstacles that Dane and Alex will face, will they ever be able to catch a break and find happiness or will their insecurities and past prohibit them from moving forward? You will have to read this book to find out!
What I absolutely loved about these two books and Lisa's writing is the realistic way she has shown to us readers that things are never easy in life. Often times, we have to roll with the punches because we never know what to expect or what will happen in our lives. Lisa has shown us how two broken individuals stopped running from their problems and together supported each other and loved each other enough to have their beautiful second chance with love. And for these characters to let go of their past and move forward and realize just how much they have in their life, was an amazing thing to discover with them. I will say here that Lisa totally knows how to write a make-out session or a sexy love scene – HOT!!!! The epilogue was beautiful and I am not going to lie to say I didn't shed a tear or two.
There were definitely some interesting characters in this book and things I want to learn more about as Lisa continues with this series with some of the secondary characters. Here is a teaser from Jade's book titled This Love Thing. Enjoy! And make sure to add Lisa De Jong to your list of authors to be on the lookout for – you won't regret it!!
This Love Thing Teaser scheduled for tentative release December 2013 *please note: unedited and subject to change*
I start to walk away from him; I don't know why he asked me to come here in the first place. The last few months have been hell and coming here reminded me why.
"Jade." I hear him yell from behind me. I turn around and stay frozen in place as I watch him walk toward me. My heart rate speeds up a little more with each step he takes.
"I thought we were done talking," I say when he's close enough to hear me.
He stops in front of me and pushes a few pieces of my wind blown hair behind my ear. "I'm not done with you, gorgeous. If I had to live fifty years without you, I still wouldn't be over you."
Tears prick my eyes. I loved a man and he didn't want me and now he's back, fighting for me with everything he has. The problem is, the man standing in front of me holds a piece of my heart now too. When did things get so complicated? "I can't do this. Abby needs her father and I think I need him too."
He closes the space between us so I can feel his strong chest against mine, gently cupping my chin in his hand. "I'm going to kiss you and when I'm done, you tell me if it's goodbye. And if it is, I'll fight for you because there's a difference between Tyler and I…I'd never leave you and let you fall into the arms of another man," he growls, moving his lips closer to mine.
I inhale a deep breath right as his lips press against mine. He reminds me how this thing between us started in the first place.
About the Author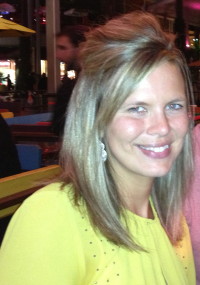 Lisa De Jong is a wife, mother and full-time number cruncher who lives in the Midwest. Her writing journey involved insane amounts of coffee and many nights of very little sleep but she wouldn't change a thing. She also enjoys reading, football and music.