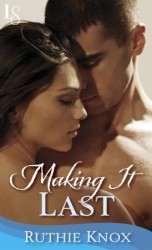 Today we welcome Ruthie Knox to our blog as she celebrates her new book Making It Last, book 4 in the Camelot series. HAPPY RELEASE DAY!!!  Ruthie stops by to discuss if this is the final book in the series or if we can expect more.  Enjoy!!!
Enter for a chance to win an amazing giveaway below.
---
Synopsis
RITA finalist Ruthie Knox returns with a brand-new eBook original novella, the finale of her delightfully sexy Camelot series!
A hotel bar. A sexy stranger. A night of passion. There's a part of Amber Mazzara that wants those things, wants to have a moment — just one — where life isn't a complicated tangle of house and husband and kids and careers. Then, after a long, exhausting "vacation" with her family, her husband surprises her with a gift: a few days on the beach . . . alone.
Only she won't be alone long, because a handsome man just bought her a drink. He's cool, he's confident, and he wants to take Amber to bed and keep her there for days. Lucky for them both, he's her husband. He's only got a few days in Jamaica to make her wildest desires come true, but if he can pull it off, there's reason to believe that this fantasy can last a lifetime.
A Quick Visit with Ruthie

As part of her "whistle-stop tour" for Making It Last, Ruthie agreed to stop by and answer one question about the story. She's also giving away a copy of the book, today only! Imagine her standing in the caboose car of her blog tour train, shouting out her answer over the crowd and flinging an e-book and some Tootsie Rolls at the assembled audience. Or not. Either way — here's the question:

Is this the end of the Camelot series, or can we expect more?

We're done with the Clark family, except for possible cameos — but I don't feel as though I'm done with Camelot yet. I kind of have to write a book about Tony Mazzara's brother, Patrick, because (a) if I don't, one of a select group of readers will kill me, and (b) I'd really like to. I have an idea of how Patrick's story goes and what kind of heroine I'd like to give him. It's mainly a question of finding the time to write it, now! But Camelot-loving readers can look forward to a little bit of reconnection this winter, when one of the episodes of my serial, Roman Holiday, is going to roll through town. 🙂
---
GIVEAWAY
Ruthie is giving away one e-book copy of Making It Last to a randomly selected commenter. This giveaway is for today only! Just answer one or all of the questions below to enter:
What's the ideal length of a series, for you? Do you like series that go on and on, or do you prefer for them to have a set length — three books, five books — and then come to an end? And do you have a favorite series?
The giveaway is open in North America only. (Sorry — due to geographical restrictions, Ruthie can't buy her own e-book outside North America!)
About the Author
USA Today bestselling author Ruthie Knox writes contemporary romance that's sexy, witty, and angsty—sometimes all three at once. After training to be a British historian, she became an academic editor instead. Then she got really deeply into knitting, as one does, followed by motherhood and romance novel writing. Her debut novel, Ride with Me, is probably the only existing cross-country bicycling love story. She followed it up with About Last Night, a London-set romance whose hero has the unlikely name of Neville, and then Room at the Inn, a Christmas novella—both of which were finalists for the Romance Writers of America's RITA Award. Her four-book series about the Clark family of Camelot, Ohio, has won accolades for its fresh, funny portrayal of small-town Midwestern life. Ruthie moonlights as a mother, Tweets incessantly, and bakes a mean focaccia. She'd love to hear from you, so visit her website at www.ruthieknox.com and drop her a line.
Book 1 – How to Misbehave

Book 2 – Along Came Trouble

Book 3 – Flirting with Disaster