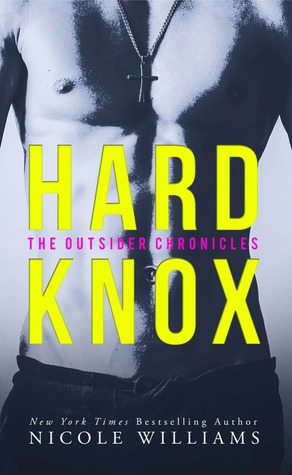 Hard Knox

by Nicole Williams
on August 12, 2014
Buy on Amazon
Goodreads


Knox Jagger. The name inspires resent in every male at Sinclair University, want in every female, and contempt in Charlie Chase.

Charlie can be summed up in three words: independent, independent, and independent. To Charlie, Knox epitomizes everything that's wrong with college males: prolific one-night stands, drunken senseless fights, and a body that hints at prioritizing gym time over study time.

As an up-and-coming writer for Sinclair University's newspaper, Charlie's tasked with getting to the bottom of who's been dropping little white pills into girls' drinks at parties. In an ocean of All-American boys sporting polo shirts and innocent smiles, Knox is the obvious suspect. As evidence piles up against the bad boy of Sinclair, Charlie becomes more and more certain it isn't Knox. But when her drink is dosed at a party and she wakes up on Knox's couch the next morning, Charlie's left with more questions than answers when it comes to Knox Jagger.

How can Charlie ever hope to uncover the truth behind a guy so closed off he's become . . .

Hard Knox.
I LOVE Nicole Williams books – they are always so well written, the characters draw you into the story and Hard Knox a new series was no different.
This book is an example of why people shouldn't assume and that often times there is more than meets the eye.
The reader meets Charlie, a college student and journalist, who is the Queen of skeptics and stereotypes; someone who is always looking for the next big story at school no matter the consequences. Though I wanted to like Charlie, often times she upset me with her judgement. Most especially being a mother, I wanted to ring her neck with some of her decisions. I know..I am purposely being vague because you need to go in blindly.
When Charlie is tasked to find out who is putting the date rape pills into girls drinks at fraternity parties, Knox Jagger, the resident bad boy hottie is the obvious choice…but I questioned this assumption A LOT!!
You see for me, Knox seemed like a good person, protective and throughout the book, I felt that there were so many layers to his character. There is definitely mystery that surrounds him and I couldn't quite figure out what it was. I questioned everything, was very unsure and I LOVE feeling like this in a book!
Despite her skepticism, I enjoyed their interactions…I loved them together period.
As Charlie opens her heart and the truths are revealed, what will become of these two characters who have such obvious chemistry between them?
You will have to read this book to find out!
What I truly enjoyed about this book:
this is a very real look at something that happens in real life – its relevant, its scary for any parent and its something that girls should be educated about when they get to the age where they are drinking and/or attending parties
that good boys are not a dying breed and that there are still many who are protective, caring of all others and who eventually realize that they are deserving and worthy of love – there are boys who have hearts of gold
it was not insta love – I enjoyed the slow development of this relationship and experiencing the emotions and the feelings as they evolved was an experience to behold
Most of all I adored Knox! another male lead that Nicole has created that has captured my heart!
I look forward to more in this series!

Stop by Nicole's Facebook page to enter the giveaway HERE! Good luck!!!