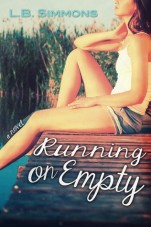 We welcome L.B. Simmons to our blog today as she promotes her new release Running on Empty which released on January 4th.
Please leave a comment on our facebook page for a chance to win a signed paperback from the author.  Winner will be selected tonight.  Good luck!
4 STARS!!!
Summary
I had the perfect life.
Beautiful and loving husband.Three gorgeous little girls.
Successful career.
The only thing missing was the white picket fence. I really wanted that fence.
Three years ago, I lost that life. I lost my husband. And I lost myself. But, eventually, I found my way through the darkness. I've made peace with my new life. I have my girls, and that's all that matters. They are my world. I have no illusions of ever falling in love again or getting whisked away on a white horse.
But then he came back into my life. On a freakin' motorcycle.
There's no way I'll let him turn my life completely upside down. Absolutely no way.
The question is…
How long can I keep pretending that I'm happy with my life being right-side up?
Christine's Review
So immediately I am drawn to this book because of the summary on Goodreads.  I relate to the mother because she is my age and we are both mothers of three children and I can't imagine losing my spouse and having to survive his death and moving forward with my life…
Alex Mayer is in her early thirties and her husband died 3 years ago.  She is a co-owner in a staffing company with her best friend Harlow and is just getting by and not truly living life.  Blake Morgan is her old best friend growing up and has just returned to town to help his father with his business.  Blake and Alex have a run in when Alex is stranded on the side of the road without gas and she is immediately pissed that he is "helping" her.
And what ensues between these two characters is a heartwarming story about a second chance in life and love.  Blake loved Alex as a teenager and had hoped it would go somewhere but when Alex met her future husband Derek, she forgot all about him and left him behind.  When Blake returns to town, Alex is reminded of their friendship and how close they once were.  Blake shows her how to smile again, how to have fun again and most of all how life is too short and too precious not to fully enjoy every moment.  I love how the children take to him immediately and trust him completely because he is a good friend of their mothers.  I love even more that they like him because he makes their mom happy.
I feel like I'm taking my first real breath in three years and I have Blake to thank for that.  So, I let him stay with me as I cry.  The tears washing my soul with a peace I had no idea I would ever feel again.
This was a well written and emotional story about a woman's realization that it is ok to move forward because she will never forget her past.  Alex realizes that the love she had with her husband is in her children and in their futures.  This was a very moving story for me because I can't imagine what I would do in this situation.  I would feel as lost as Alex felt.  What was amazing was that she has a great friend (Harlow) who fully supported her in everything and was with her in all of her time of need and just to be there to let her grieve and to help with the children.  When Blake appears back in her life, she truly feels for the first time in 3 years and it's overwhelming even to the reader!
So many feelings at one time.
I feel safe.
I feel protected.
I feel relief.
I feel scared.
I feel vulnerable.
I feel desire.
I feel…
Everything.
I don't think I have felt anything in years.  My wall has completely crumbled.  The numbness of protection is gone.
When Alex realizes that Blake has been in love with her since they were teenagers, my heart melts for them…
"I love you, Alex.  I loved you when we were just kids…and I've continue to love you every day since."
"I've always wanted this future.  I was just waiting on you to catch up."
Alex tries to protect herself from getting hurt again and losing someone else by pushing Blake away thus hurting him deeply in the process.  When she finally realizes she has fallen in love with Blake too, she and the girls make a Top 10 Reasons We Need Blake Morgan t-shirt to win him back and my favorite reason was:

He reminds me every day that when you're running on empty, you won't ever get where you need to be.  Both in life and love.
This was a sweet debut novel by L.B Simmons.  I thought that there was realistic character development, it was well written and I especially enjoyed the witty Notes to Self.  I enjoyed how Alex grew throughout this story and how in the end she was able to find the courage and strength to open a new chapter in her book and was willing to start a second story.  I laughed at the dialogue with the children as it too was also very realistic and I could see my children behaving in similar ways.  This was a good book about second chances and being able to find love again.  I wish that there was an epilogue as I would have loved to see this couple a few months/years down the road and to see what happened to them next.  I look forward to reading more from this author.  Well done!
About the Author
Mother of three little girls…wife of one loving man…writer of hopefully A LOT of romance novels.
I just finished my first book…Running on Empty. While promoting it, I will be writing Running in Place.
I started this blog to reach out to my readers on a personal basis. To provide updates for my writing, but also to write about life as it happens. The good, the bad, and the ugly. All of it.
Twitter lbsimmons33
Website http://lbsimmons.wordpress.com/2013/01/21/running-on-empty-blog-tour-info/
Facebook http://www.facebook.com/lbsimmonsauthor
Goodreads http://www.goodreads.com/author/show/6580347.L_B_Simmons