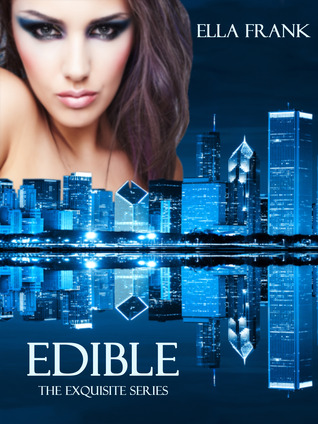 Today we welcome Ella Frank to our blog as she celebrates her new book Edible which released on July 2nd.
Enter for a chance to win an amazing giveaway using Rafflecopter below!
---
4 STARS!!!
Synopsis
Edible, delicious, delectable.
Rachel Langley is more than familiar with those three words in her line of work. After all, she spends her afternoons and evenings creating desserts so divine that your mouth will water and your taste buds will tingle.
They aren't, however, the words she would have ever expected to think of when she locks eyes with a certain lawyer she knows only as Cole.
With each encounter, the infuriatingly persistent man becomes more impossible to resist, and edible is the exact word that comes to mind.
Crave, demand, covet.
Cole Madison knows exactly what he wants, and Rachel Langley is it. From the moment he spotted her at Whipped, he knew he wanted to grab hold and take a bite.
However, the woman has enigmatic moves, avoiding him at every turn.
But not for much longer.
Rachel's time is up, and as far as Cole is concerned, he's waited too long for a taste of what he desires. Nothing, including the woman herself, will stop him from consuming what he hungers for.
The only question left is: Who will take the first bite?
Denise's Review
Edible tells the story of Rachel Langley and Cole Madison. Readers saw Rachel in Exquisite book 1 and Entice book 2 as she is Mason's eccentric younger sister and they meet Cole in Entice book 2 as he is a lawyer working with Josh. You could read this book as stand alone but I recommend it be read as book 3 in the series as the other two are amazing and will make this read more enjoyable.
Cole is not what he seems, he is so much more. As this lawyer in a custom suit sheds his outer layer be prepared for thing to heat up! Cole is kind, understanding and truly wants Rachel to open up to him. He easily opens his life to Rachel and it was so heartwarming to watch him fold her into his life with such ease.
Rachel on the other hand, well incorporating Cole into her life is not so easy. Her older and very lovable brother Mason Langley from Exquisite book 1 in the series has a lot to say about this. Mason makes for some wonderful scenes, scenes with anger, concern, and genuine family love.
As Rachel and Cole connect it is very clear to the reader that these two share a bond – one that goes beyond words and logic; yes Rachel calls Cole insane for one grand gesture, but it is a gesture that so fits these two.
Ms. Frank used the whole cast to create many wonderful interactions, spanning a range of emotions.
I love the ending to this book, both for Cole and Rachel and for an epilogue that brought a huge smile to my face as it was filled with joy and promise for a wonderful future.
Edible also brings us a new character, Logan, Cole's business partner and a bit more (no I am not telling you). I will say I am very excited to read more about Logan when Ms. Frank releases a book about him in November 2013.
I thoroughly enjoyed this book. Ms. Frank has quickly become one of my go to authors.
WARNING: HOT BONUS SCENE **STOP HERE if you have not read Edible – we STRONGLY recommend you read this AFTER reading this book!!!
Cole looked down at Rachel, who was nestled between his naked thighs, and couldn't help the smug, satisfied feeling that was settling deep in his stomach.

Her dark hair, that currently had chunks of purple weaved through it, was flirting with the crease of his leg and groin as she leaned down over his rock-hard cock.

She had a firm hold of him around the base with her dainty fist, and was blowing a soft, gentle breath out against the piercing that was prominently displayed to her as he waited for her next move.

He didn't have a long wait, which was fucking perfect by him. That was one of the things he loved about Rachel; once she had permission to do something, she did not hold back, and around five minutes ago she had been granted free access to get up-close-and-personal with what she now knew was hers.

"Cole," she murmured on a breathy sigh as though he had touched her.

But the fact of the matter was, he hadn't done anything other than telling her,

You may, in answer to her provocative request.

His sexy little wife was getting off from handling him, nothing more and nothing less, and isn't that the biggest fucking turn on of all? Every time she had the opportunity to touch him at her own leisure she seized it with both hands, and in this case, her mouth.

Cole watched her closely as she lowered her head down over him and her sweet, pink tongue came out to trace a circle around the top silver ball pierced through the head of his engorged cock.

Lowering his right arm from behind the pillow, Cole stroked the hair away from her face, pushing it behind her ear so he could watch her as she slowly tormented and destroyed him.

When he was happy with the view he now had, he traced his fingers around her ear and continued down her cheek to her jaw where he tugged at it in an effort to open her lips wider.

Immediately her eyes moved up and over his body until they locked with his and then she removed her tongue from what it had been doing.

"Nuh-ah. The deal was, I could do what I wanted and you, would let me."

Cole licked his bottom lip and explained without hesitation, "I want a new deal."

Rachel was having none of that though, as she continued stroking her fist up his aching length and told him with a raised brow, "Too bad. I always want new deals and you know what you tell me? 'Patience, Rachel'…"

Cole felt his jaw clench and his lips twitch at her sassy mouth.

"Rachel," he warned.

"Yes, husband?" she inquired as she flicked her tongue out and over him again. Damn temptress.

"Quit talking and start…" he would have finished his thought, if she hadn't taken the top stud that was currently glistening with pre-come, between her lips and sucked it like a hard piece of candy.

The groan that rumbled up from his chest must have pleased the tormenting tease between his thighs because she dragged her tongue down the underside of his bulbous head and repeated the move on the silver ball at the other end of the bar piercing his sensitive flesh.

Then, as though she hadn't just been about to give him a mind-numbing blowjob, she lifted her head and eyes to him and asked, "What made you get this?"

Raising his head off the pillow, Cole looked down to where she was staring up at him, batting her eyelashes innocently. The incorrigible woman knew exactly what she was doing to him and she was enjoying every fucking minute.

"Now? You want to ask me about my fucking piercing now?"

Keeping her eyes on his, she lowered her head again and took a long lick of his length.

Cole brought his right hand down to grip her hair and tilt her head up to him, trying to wrestle back some of the control.

"I want to know why you pierced the most sensitive part of you," She admitted and then continued, "I got mine because I read that it would enhance my orgasms and make me come that much harder."

"Oh Christ," Cole groaned at her provocative explanation.

"I was told by a friend that just walking down the street would get me wet," she whispered, eyes on his, warm breath ghosting over his cock. "But you know what?"

"What?" Cole growled, quickly reaching his limit.

"I don't need it anymore. I just have to look at you and my body is ready. My skin heats, my pussy tightens and every single thought that's in my head melts until my panties are soaked and all I want is for you to push this…" she paused and licked the piercing again, "deep inside of me."

Pulling her head back and off him, Cole moved. In two seconds flat he had her beneath him with his throbbing cock deep inside of her.

"Fucking hell," he rasped as he nuzzled into the black hair by her shoulder and her neck. "Rachel, you're going to fucking kill me. Is that what you want?"

He felt her arms come up around him, and one hand slid up the back of his neck into his hair where she gripped tight and pulled so she could see his face.

"No. I want to know when you got your piercing and why. Stop deflecting, as usual."

Cole flexed his hips against hers and as her perfect lips parted and her eyes slid closed he remembered the exact moment he had decided to get his piercing.

"I got pierced the night after I met an intriguing, headstrong woman at a bar called Whipped."

As the words left his mouth her eyelids flew open and he stopped moving his body as she locked her gaze with him. Resting his forearms by her head he lowered his lips to hers and kissed her gently. A move that was in complete contrast to the carnal urges pushing him to take.

"I had seen her once before but we didn't talk. This," he admitted as he dragged his cock from her before giving a strong push of his hips and sliding the piercing in discussion right back inside of her greedy body, "I did after the first time we talked and she turned me down. That woman crawled under my skin, she challenged me in a way that made me want to take her, possess her," he punctuated the words with a solid, hip-fucking-thrust. "I wanted her with an ache I couldn't even begin to understand. It was fucking painful and I wanted to remember how she made me feel. I wanted something permanent on me that every time I touched would think of that woman and how fucking much I wanted her. "

"You had me, I just didn't know it," Rachel whispered on a breathy cry as she reached up and gripped his shoulders. "Oh god, Cole."

Tears leaked out from the corner of her eyes and he couldn't stop himself from leaning down and tasting them as they ran down her cheek.

"I love you," he affirmed deeply in her ear as he moved his hips, burrowing deeper inside this woman who now possessed him. "I think I've loved you since I saw you. In any case, this," he told her as he made sure she felt his piercing, "this is yours. Just like I am yours."

As Rachel turned her head and her lips found his, Cole ran his right hand down the side of her naked body to her hip. He dipped it under her tight ass and pulled her up to him as he continued to lose himself in the very woman who had found him.
About the Author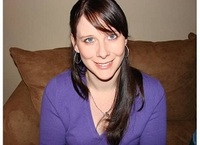 I am happily married and mother to a crazy cat
I am the author of the Exquisite Series, which includes Exquisite, Entice (due in Feb) and Edible (due in Summer 2013).
I am also set to release Blind Obsession in March/April 2013.
I love chatting so stop by here or my site and say hi!
Currently I reside in the Southern portion of the United States of America.