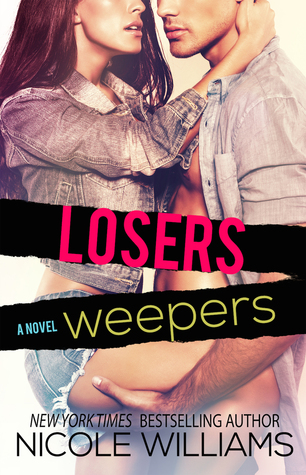 Losers Weepers

by Nicole Williams
on February 24, 2015
Pages: 209
Buy on Amazon
Goodreads


If we didn't know darkness, we couldn't fully appreciate the light.

Garth Black's more familiar with this concept than most people are. He hadn't just lived in the dark for the majority of his life—he thrived in it. With a mom who'd bailed on him and a dad whose understanding of coddling started and ended with a bottle of whiskey, Garth had never been expected to rise to any sort of occasion other than following down the same dead-end paths.

That changed when he fell in love with Josie Gibson. After years of pulling each other closer before shoving the other way, they finally stopped shoving. Josie's love is like nothing Garth's ever experienced. He holds it close. He holds it sacred. He would do anything to preserve it and keep it from pollution, even if that means removing himself from the picture.

Garth might have been allowed a temporary furlough to bask in the light, but that pass has been revoked, and he's been swallowed again by the dark. Will he revert to his old ways of hurting those he cares for most? Will he go back to the same destructive patterns . . . or will it be worse this time?

We can't know light without first knowing dark . . . and Garth Black's about to get acquainted with the dark in a whole new way.
Garth is back and hopefully not as black hearted as before now that he has the woman who he loves in his life and by his side, Josie.
Often times I felt that Garth was misunderstood, having such a rough childhood and being raised by such a destructive and mean spirited man. So I am hoping beyond hope that Garth is able to find his happy in this installment of the Lost and Found series. I am also very much looking forward to getting inside his mind and seeing and living his innermost thoughts.
Josie is the perfect match for Garth; she has saved him and healed him and has shown him that he is a good deserving man capable of loving and being loved.
In Losers Weepers, Josie will have her work cut out for her as she has to help Garth back to the light. You see in this book, Garth is ready to propose to the woman he loves until something so traumatic happens to him at one of his bull riding shows. Garth reverts to his old ways to push his loved ones away and Josie will have to fight to support and heal this broken and devastated man.
What I loved about this book was that there were so many ways that these characters showed their love for each other; other than in the physical sense. Ms. Williams masterfully showed this time and time again with the emotional moments, with the beautiful words spoken and with exhibiting how strong and deep this bond of love is between Josie and Garth.
In life, miracles happen daily as long as you have faith and hope and though Garth may have forgotten the power of these things for a bit, his friends (yes it was nice seeing Jesse and Rowen again) and Josie are able to provide the positive outlook and unwavering love that Garth needs to find hope and healing.
4 "Sweet Healing Hopeful Stars"
I love Ms. Williams writing and have since her very first book and she is a definite must click author for me <3
♥READ THE SERIES♥
Book 1 – Lost and Found
Book 2 – Near and Far
Book 3 – Finders Keepers
Book 4 – Losers Weepers