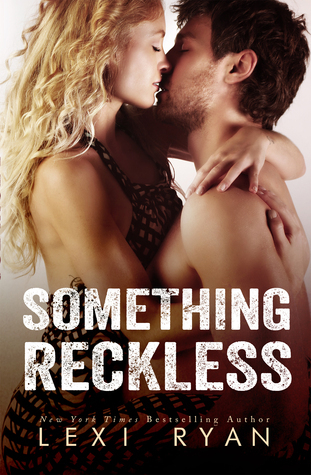 Something Reckless

by Lexi Ryan
on December 22, 2014
Pages: 248
Goodreads


He talks dirty to me, but I don't know his name.

He wants to tie me up, but I don't know his face.

He turns me on, but I couldn't point him out in a crowd.

I've fallen for an anonymous stranger, and tonight the anonymity ends. Tonight I want more than typed secrets and texted promises. I want something reckless. Heat. Passion. The thrill of being entirely possessed.

Because I suspect this anonymous stranger isn't a stranger at all.

Lizzy Thompson met riverrat69 online through Something Real, a service promising to deliver meaningful relationships by forbidding its users to share names or photos until they've reached a certain benchmark. She was looking for love. He was researching an investment. They hit it off. Talked and flirted, hid behind screen names and cartoon avatars.

Now they're breaking the rules and meeting in person. But Liz is prepared. She's picked up hints and followed clues.

She's ninety-percent convinced she's discovered the identity of her dirty-talking online friend.

She wonders if her ex-lover Sam Bradshaw knows her identity too.

When she rolls the dice on one reckless night, her chance at something real could crumble.
I absolutely LOVE these series that Ms. Ryan has created centered around the town of New Hope. Sadly, I haven't had the chance to read the New Hope series (the very first series that started it all) but I did read the Here and Now series which was one of my top faves of 2014. The Reckless & Real series is another spin off that focuses on Lizzy Thompson and Sam Bradshaw, characters I have met previously and couldn't wait to learn more about. I do want to pause and say I have every intention of going back to the prior books to read as having come to know each of these characters, they have embedded themselves into my heart and have become like family to me, so I do plan on reading everyone's back story.
Lexi Ryan has done it again! Creating another hot and steamy story complete with an emotional connection that is so passionate that it is quite simply unforgettable.
I read the prequel first – Something Wild – and was completely captivated by this couple.
Lizzy Thompson is a go getter and knows what she wants. And she wants Sam "brooding, hot and sexy" Bradshaw. She has known this since she was younger when Sam was just out of her reach and seemingly uninterested.
There are so many secrets that Sam is hiding including his feelings for her. Sam is a dirty talker and is controlling in the bedroom and heck if I didn't just fall for him completely!
Both characters such catches, yet so unlucky in the love department.
Together they are magnetic and could be so much more…I NEED for them to be together because in my heart I know it could be SO DAMN GOOD.
We, the readers, follow Lizzy as she dates online, meeting different men until she connects with riverrat69, who we assume in our mind is Sam.
But is it???
The realization of love does indeed happen but not without an impending sense of doom…and when it strikes DAMN HOLY CLIFFHANGER!!!!
Lexi Ryan is a must click author for me…her books are so captivating that I can't help but let the outside world just pass on by as I devour each word she writes. I look forward to the next book in this series because I CAN'T WAIT to find out what will happen on this couple's journey to finding happiness and love…GAH!

"You look amazing in this dress. I've been pretending all night that there's something I want to do more than get you out of it."
"What would you do with me if you got so lucky?"
"I'd keep you up all night, for starters." He slides a hand into my hair and traces the side of my neck with his thumb. His groan rumbles through me. "Tell me what you came here for."
I thought that was pretty clear. "I'm wearing extremely slutty underwear. What do you think?"
His nostrils flare and his breathing goes thready. "I think I'm going to have to up my game, because now I want to see it."
I have to bite back a smile. "Good," I say. My heart thumps out a beat, probably Morse code for please and thank you.
"How slutty is this underwear of yours?"
I lick my lips. "Oh, it's damn near whorish."
"Let me see it, Liz."
I lift my chin and prop my hands on my hips. "Seriously? That's all the seduction I get? Let me see it?"
He steps closer until I have to crane my neck to look at him, and holy hell he smells good. "What game are we playing here, Rowdy?" he murmurs against my ear. "Is this the one where we pretend we don't want each other and sleep alone . . ." His fingers skim down my shoulder and my eyes float closed. "Or is it the one where I make you come so hard you scream my name and tomorrow you act like you want nothing to do with me?"
"Are those my only choices?" I ask, but I keep my eyes closed, focusing on the feel of his rough fingers dancing across my skin. The truth is, I don't want to play either game. I'm done playing games when it comes to Sam. I'm done pretending I don't want him when I do, and I'm done pretending our annual one-night stand is enough for me.
"Tell me you aren't going to run away in the morning. Promise me you won't shut me out again."
I don't know what that means, and I'm too scared to analyze it. My eyes are still closed when he takes my chin in his fingers and tilts my face up to his, still closed when he brushes his lips over mine and when I open under him because I'm helpless to this man's kiss.
"Promise me," he repeats.
"I won't run away." Then I unzip my dress and let it fall to the floor in a puddle, and my boldness is rewarded. Sam's lips part and his breath escapes him in a rush.
He steps back and takes me in. The bra is strapless, black lace demi-cups that lift my breasts until they threaten to spill out. The panties—what there is of them—are a thong in matching black lace. Their fine lace straps sit in a sharp V high on my hipbones.
A ringlet of hair escaped my up-do, and he takes it between his fingers and twirls it around. I deserve a medal for not melting right here at his feet.
He hooks his index finger under the black bow between my bra cups. "Did you wear this for me?" His voice is a husky whisper that I can't deny.
"Yes."
His fingers skim my belly, trace over my hip, following the lace of my thong behind me to where the straps meet at the small of my back. My breath catches as he takes the fabric path over the curve of my tailbone and down, his fingers bringing every nerve ending to life as they pass. Electric pleasure whips through me.
"Fourteen months since I've touched you," he says. "Fourteen months since I've gotten to hear the way you breathe when you're turned on, since I've gotten to listen to you scream as I make you come. Tell me you haven't thought about it."
"I'd be lying."
"Don't lie," he says, eyes hot and intense. "Just tell me you want me."
♥BUY THE BOOKS♥
Book .5 – Something Wild
Amazon | iBooks | Kobo | B&N | Smashwords| Google Play
Pre-Order Book 1 – Something Reckless