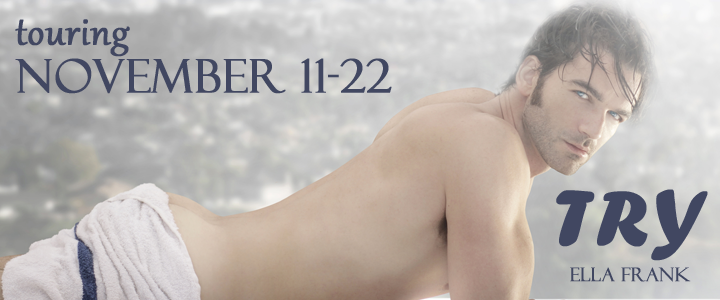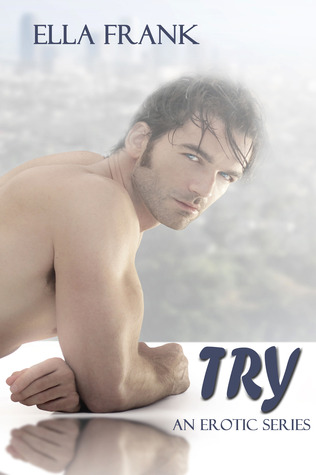 Today we welcome Ella Frank to our blog as she celebrates her new book TRY which released on November 12th.
Enjoy a dual review from Denise and Jen below!
---
Synopsis
Try – verb: to make an attempt or effort to do something or in this case…someone.
Sex. Logan Mitchell loves it, and ever since he realized his raw sexual appeal at a young age, he has had no problem using it to his advantage. Men and women alike fall into his bed—after all, Logan is not one to discriminate. He lives by one motto—if something interests you, why not just take a chance and try?
And he wants to try Tate Morrison.
Just coming out of a four-year marriage with an ex-wife from hell, a relationship is the last thing on Tate's mind. He's starting fresh and trying to get back on his feet with a new job at an upscale bar in downtown Chicago.
The only problem is, Tate has caught the unwavering and unwelcome attention of Mr. Logan Mitchell – a regular at the bar and a man who always gets what he wants.
Night after night Tate fends off the persistent advances of the undeniably charismatic man, but after an explosive moment in the bar, all bets are off as he finds his body stirring with a different desire than his mind.
As arrogance, stubbornness and sexual tension sizzles between the two, it threatens to change the very course of their lives.
Logan doesn't do relationships. Tate doesn't do men. But what would happen if they both just gave in and…tried?
GENRE: M/M
HOT Excerpt
Before Tate could respond to the question hanging between them, Logan palmed his chest and pushed him back into the corner of the couch. When his back met with the soft leather, a strong thigh slid between his legs, and Tate groaned from the relief of finally having something hard to press against.
"Yeah, that's it," Logan encouraged, placing a hand on the back of the couch and the other on the armrest behind Tate's head. Using them as an anchor, Logan rolled his hips downward and proved just how forceful he could be.
Tate's head was resting against the couch as Logan looked down between them while he thrust his hips, over and over, creating a heated friction that had Tate's mind spinning out of his head. The sexual hunger in Logan's eyes as he watched their clothed bodies connecting made Tate wonder just how combustible things would be when their clothes finally came off.
Feeling the need to touch, now more than ever, Tate grabbed a hold of Logan's hips and pulled the man down against him with much more force than he'd intended. The delicious pressure of having Logan's shaft grind against his own was too much to forgo, so Tate arched up, anxiously meeting the steady rub Logan was giving with every single punch of his hips.
"Fuck," Logan muttered.
Jen's 5 STAR Review Thanks to the girls at Shh…Mom's Reading for having me as a guest reviewer for this book!
I have been a huge Ella Frank fan for a long time now, my first book was Exquisite, and since then I've read them all. To say I was excited about the release of TRY would be an understatement! I couldn't wait to get my hand on Ella's first plunge into the wonderful M/m genre, her books are always beautifully written, and I knew this one would be extraordinary! You would never know reading this book, that it was her first time writing in this genre. And honestly while reading this erotic tale, you have to keep reminding yourself, that it's an M/m book, it's that well written. What Ella Frank gives to readers in all of her books is an amazing combination of sexy and witty characters that suck you in, and have you mesmerized until the very end…to me her writing is gorgeous!
Speaking of characters…let me start with irresistible and sexy, Logan Mitchell. We first met Logan in Edible, book #3 in the Exquisite Series. That being said, Edible does not have to be read in order to start with Try, book #1 in the Temptation Series. Plain and simple, Logan is sex on a stick, men and woman alike want him, he's cocky and has a very entertaining dirty mouth, that is sexy as hell! Co-owning a successful Law firm with his half brother Cole Madison. (yes Cole fans, you heard me right, that delicious man makes an appearance in TRY, thank you Ella Frank)
Logan finds pleasure in unwinding at the bar "After Hours" most nights after work, many times garnering the attention of the wait staff at the bar. One night during his usual stop, things will change…tables will turn, and he will find that getting what he wants this time, with a sexy straight male bartender, may take more than just opening that dirty mouth of his!
Tate Morrison is in the midst of going through a messy divorce, and recently started working at After Hours. Earning bigger tips by flirting with his customers…he thinks to himself, what the hell, and decides to flirt back with a guy that has been sitting at the bar. That moment will change everything about the way Tate lives, the way he looks at sex, and his desires. He is suddenly questioning everything he's known to be true, and wondering what the hell it is about Logan Mitchell that is so intriguing and desirable?
This book is everything I want an erotic tale to be. No one writes witty banter between characters better than Ella Frank, and the chemistry is off the charts! TRY is the hottest story I've read all year, and it's been so enjoyable seeing how readers are embracing this one! If you've never read an M/m book, give this a "TRY", I think you'll be pleasantly surprised!!!
Bravo Ella Frank for writing this book that has bridged the gap between genres, and brought many new readers into the M/m community, it's an outstanding must read book! In Logan's own words… "Batter up! I want to play with some balls."
Favorite Quotes (so hard to narrow down, 90% of mine is highlighted)
"Straight, huh? You know, funny thing is, often the straightest of trees have crooked roots."
"Tell me you didn't like it, and make me believe it."
"You're welcome to try, but unless something's shoved in my mouth, I have to tell you, it's next to impossible to ever shut me up."
"I want you as hot, hard and desperate as you've ever been before, and once you're there, then I'll take you."
Denise's 4 STAR Review
Try tells the story of Logan Mitchell, who readers of Ms. Frank's Exquisite series met in book 3 Edible; Logan is Cole's half brother; let me pause here you do NOT need to read any prior books before this one to appreciate and understand this story. It is the start of a new series so no worries.
This is Ms. Frank's first M/M so the second man in this relationship is Tate Morrison, the sexy as sin bartender.
I loved the twist of what readers would expect in terms of personalities, as in looks are not always as they appear to be; as the converservately dressed lawyer is the one who will and has tried everything and everyone while the rebel looking long haired, motorcycle driving bartender is a good boy at heart.
Ms. Frank did a wonderful job with the interaction between these two men; I adored the banter they shared and the connection they felt for each other was tangible to the reader.
Now if you have read the Exquisite series; you will enjoy the use of Cole, Logan's brother in the story; and if you have not read the other books you will still enjoy the use of Logan's brother to move the story forward because in the end usually no one knows us as well as family does.
As Tate begins to accept his attraction to Logan, Logan is faced with looking at himself in the mirror. Tate has never been with a man, and Logan has no interest in a relationship, as these two continue to accept the force pulling them together each is facing things about thought they never wanted.
I throughly enjoyed the use of both men's backstories to explain their actions. There was one scene in particular when thanks to some whiskey Logan allows himself to be vulnerable and open up, it was so moving. It has me not only wishing Tate would hug Logan but that I could too.
I am very much looking forward to Take, the continuation of Logan and Tate's journey!
About the Author

I am the author of the Exquisite Series, including Exquisite, Entice and Edible. I also released my first Erotic Novel, Blind Obsession in March 2013.
I'm a happily married woman and mother to a crazy cat. I've been writing ever since I fell in love with falling in love, and I credit that to my Nan, who handed me my first romance novel.
Currently, I reside in the Southern portion of the United States.
---
GIVEAWAY
a Rafflecopter giveaway