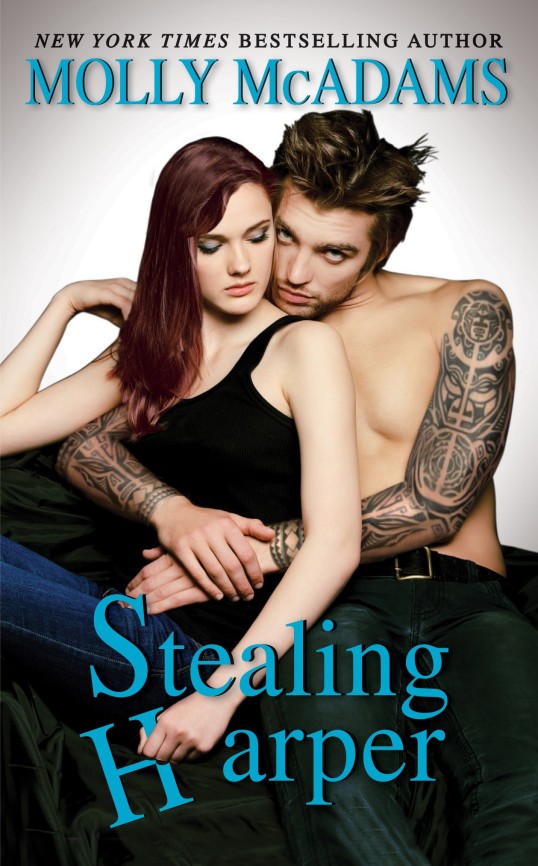 We are very excited to be participating in the Stealing Harper Blog Tour.  Please stop by our blog on Monday May 20th for our review and our interview with Molly!  There will be a Rafflecopter giveaway as well for some amazing prizes!
And here's some very exciting news:
Molly has reached her pre-order goal, and STEALING HARPER will now be released a full 2
weeks ahead of time, on 5/21!
STEALING HARPER Blog Tour Schedule
USA TODAY: 05/06/2013 – STEALING HARPER Blog Tour Guest Post
FRESH FICTION: 05/07/2013 – STEALING HARPER Blog Tour Guest Post
BOOKALICIOUS: 05/08/2013 – STEALING HARPER Blog Tour Guest Post
READING BETWEEN THE WINES: 05/09/2013 – STEALING HARPER Blog Tour Guest Post
ONCE UPON A TWILIGHT: 05/09/2013 – STEALING HARPER Blog Tour Guest Post
ROMANTIC TIMES: 05/10/2013 – STEALING HARPER Blog Tour Guest Post & Spotify Playlist curated by Molly McAdams
CHICK LOVES LIT: 05/11/2013 – STEALING HARPER Blog Tour Guest Post
BOOK READING GALS: 05/12/2013 – STEALING HARPER Blog Tour Guest Post
FLIRTY AND DIRTY BOOK BLOG: 05/13/2013 – STEALING HARPER Blog Tour Interview
SUPERNATURAL SNARK: 05/14/2013 – STEALING HARPER Blog Tour Interview
CONFESSIONS OF A BOOKAHOLIC: 05/14/2013 – STEALING HARPER Blog Tour Interview
THE BEST BOOKS EVER: 05/15/2013 – STEALING HARPER Blog Tour Guest Post
READING LARK: 05/16/2013 – STEALING HARPER Blog Tour Guest Post
BOOKFINDS: 05/17/2013 – STEALING HARPER Blog Tour Interview
GIRLS IN THE STACKS: 05/18/2013 – STEALING HARPER Blog Tour Guest Post
SHORT AND SWEET REVIEWS: 05/19/2013 – STEALING HARPER Blog Tour Guest Post
SHH MOM'S READING: 05/20/2013 – STEALING HARPER Blog Tour Interview
MUNDIE MOMS: 05/21/2013 – STEALING HARPER Blog Tour Interview
MARIA'S SPACE: 05/22/2013 – STEALING HARPER Blog Tour Guest Post
LOVE ROMANCES AND MORE.COM: 05/23/2013- STEALING HARPER Blog Tour Interview