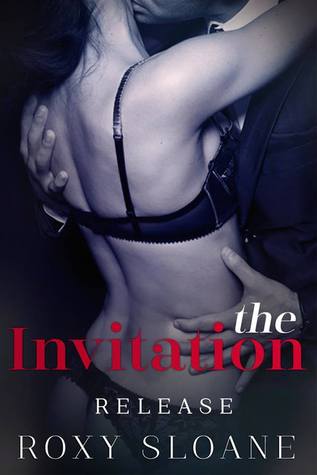 The Invitation: Release

by Roxy Sloane
on October 27, 2014
Buy on Amazon
Goodreads

The invitation unlocked a world of pleasure -- but the game is only just beginning…

He promised me an adventure. I had no idea what lay in store. Now, I know his name, and everything has changed.

I want to trust him, but his secrets could ruin us both. I need to know what he's hiding – before it's too late.

I've already risked everything for his love. Now, I'm playing to win.

Are you ready?

*The explosive conclusion to the seductive new series*
Enjoy an exclusive look into The Invitation: Release by Roxy Sloane and make sure to enter the giveaway below for a chance to win an ebook set of the series! Good luck!

I don't even finish before he grabs my face in both his hands and pushes me back inside against the wall, kissing me hard and hot and dirty.
Fuck.
I soften against him. My head is screaming at me to pull away, but my body is totally overwhelmed. The scent of him, his distinctive aftershave; the feel of his hands, holding me tight; his body, hard and lean, pressing into me. And his mouth.
God, his mouth.
He pries my lips open and plunges his tongue deep inside my mouth. He strokes against my tongue, deeper and hotter than anything in the world. His hands move to my hair, tangling, gripping tight; roving over my back to squeeze my ass and mold me against him. He grinds against me, the thick outline of his cock digging into my thigh and making me weak with lust.
Oh God, I could drown in him. Strip naked and spread myself for him, right here with the door open where everyone could see.
I don't care. I would take his cock, every inch, and scream for more. I would ride him, fuck him, anything to have him buried deep inside.
Him. All of him. Now.
♥READ THE SERIES♥
Book 1 – The Invitation: Prequel (free at time of posting)
Book 2 – The Invitation: Surrender
Book 3 – The Invitation: Release