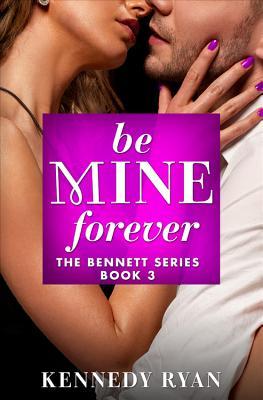 Be Mine Forever

by Kennedy Ryan
on February 3, 2015
Pages: 368
Buy on Amazon
Goodreads

Can a secret crush . . .

Jo Walsh has loved Cameron Mitchell for as long as she can remember. Whether front and center in her life or on the periphery, the tall, brooding artist has made his presence seductively and irresistibly known. But whenever they start to get close, Cam pulls away. Jo's tired of keeping her feelings in a box Cam is afraid to open. If he wants her, he'll have to prove it. And if he doesn't, Jo will need to know the real reason why . . .

. . . become the love of a lifetime?

How do you walk away from your soul mate? Cam wishes he knew. No matter how far he runs from Jo, he can't resist looking back at the silver eyes that seem to see right through him. But as well as Jo thinks she understands Cam, the dark truth about his past is something she shouldn't have to handle. Cam's sure that setting Jo free is the right thing to do. Too bad his heart has other ideas . . .
Kennedy Ryan has revealed Chapters 1 and 2 of BE MINE FOREVER (which can be found here) and we are so honored to be participating in the Chapter 3 Blog Hop along with 3 other blogs to reveal the next chapter to you…Follow along the blog hop using this schedule and enjoy a look into BE MINE FOREVER which releases next week on Feb 3rd. Make sure to enter the giveaway below too!
4-Angie & Jessica's Dreamy Reads

No one could ever accuse Cam's eyes of being just blue or just gray. They were instead a mesmerizing intercourse of the two colors. A gorgeous, God-spun mixture of sea and clouds. At least that's how Jo Walsh had always thought of them. She couldn't see them right now with Cam's forehead pressed to the viewing window. Watching him unobserved for a moment was a privilege. The dark hair, always unruly, fell around his neck, undecided about whether to wave or curl. The broad shoulders pushed forward and his hands burrowed into the pockets of the jeans it had taken this long to look that good.
The clack-clack of her four-inch Manolos brought Cam's head swiveling in her direction. Jo drew in the bracing breath she always needed at the first sight of him after a long time. She kept thinking, kept hoping that one day Cam wouldn't affect her this way. That her heart wouldn't seize with disbelief that any man could be this beautiful in real life. That all the steel-reinforced walls she'd erected wouldn't topple when that blazing white smile flashed at her like lightning. She was never fully prepared for that smile, always a bolt to her unsuspecting system.
Only there was no smile tonight.
Sadness cloaked and slumped Cam's shoulders and turned down the corners of his mouth. He offered her those one-of-a-kind eyes for a few moments before considering the babies again without saying a word.
Jo slid damp palms across the soft material clinging to her hips. She had just gotten back to the office after a fund-raising luncheon when Cam called. She still wore the Kelly green dress outlining her every asset. Convenient. She hadn't had time to think about what she would wear or how she would style her hair or any of the nonsense she typically considered when she knew she'd see Cam. A lot of good it ever did her.
 ♥READ THE SERIES♥
Book 1 – When You Are Mine
Book 2 – Loving You Always
Book 3 – Be Mine Forever