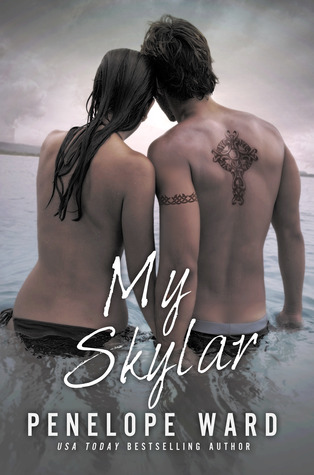 My Skylar

by Penelope Ward
on June 12, 2014
Buy on Amazon
Goodreads

From the author of the Amazon #1 bestselling romance, Jake Undone, comes a friends-to-lovers story of longing, passion, betrayal and redemption……with a twist that will rip your heart out.

Skylar was my best friend, but I secretly pined for her. One thing after another kept us apart, and I've spent the last decade in fear of losing her forever.

First, it was the cancer, but she survived only to face the unthinkable at my hands. Because of me, she left town. For years, I thought I'd never see her again.

But now she's back…and living with him.

I don't deserve her after everything I've put her through, but I can't live without her. This is my last chance, because she's about to make the biggest mistake of her life. I can see it her eyes: she doesn't love him. She still loves me...which is why I have to stop her before it's too late.

My Skylar is a STANDALONE novel and a companion to Jake Undone.

**Contains graphic sexual content and harsh language. It is only appropriate for adult readers age 18+
I adore Penelope Ward's books and couldn't wait to get Skylar and Mitch's story as we met them in Jake Undone. This was a beautiful second chance love story that gave me the total feels and proves without a doubt that everything happens for a reason because this couple proves the second time around how things can be even better than before…it could be complete perfection.
The prologue immediately will grab you right into their story and even though you know from Jake Undone that the inevitable is coming, to experience their journey unfold was both heartwarming yet completely destroyed me at the same time. You see, Mitch and Skylar met as young innocent friends and as they grew up, they realized just how much they truly cared for each other and loved each other as more than just friends. The kiss that changed everything was beautiful to experience – hot and all consuming!
When life as they know it comes crashing down because of unexpected circumstances, these two young people will become each other's rock to provide strength and support for what's to come. But will their love be able to overcome all the obstacles??
Yes I am purposely being vague for those who have not had the privilege to read these wonderful books. Because you MUST experience them for yourselves!!!
I have to say that this book in particular was so emotional for me, not only coming from a parent perspective for a sick child but to also witness and live in this couple's life through the beautiful writing of Ms. Ward. Yes at times, I was sick to my stomach, I was crying because of the love and need they felt for each other but most of all, I was completely in awe for their beautiful love that spanned years. Their love is timeless and endless and it made my heart soar and put a complete smile on my face. Their journey is definitely not easy but it was something wonderful to experience as a reader.
Ms. Ward's writing gets better and better with each book and I was completely captivated by My Skylar. Anyone looking for an emotional read that will make you realize what's truly important in life, where actions speak louder than words and demonstrations of love are so heartwarming and real, and where you will meet secondary characters that will touch a little piece of your soul and stay with you because of your complete love for them, look no further than My Skylar. You will not regret it! <3 This is my favorite book from this author to date!
♥SERIES READING ORDER♥
Book 1 – Gemini

Book 2 – Jake Undone

Book 3 – My Skylar