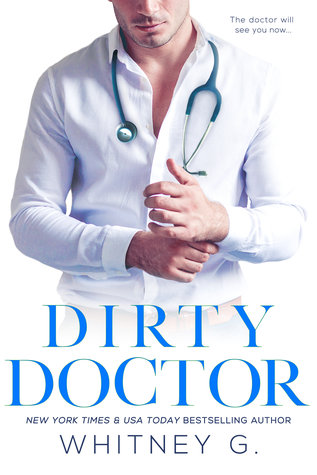 Dirty Doctor

on March 7, 2017
Buy on Amazon, Buy on B&N, Buy on iTunes, Buy on Kobo
Goodreads


"Lean back on the table and spread your legs for me..."

Being a doctor in New York City has never been easy. Especially for someone like me who has a private practice and an incompetent staff who insists on leaving me to fill in for them.

Over the past six months, I've performed one too many pap smears, three too many "breast exams," and scrubbed in on several reconstructive surgeries. (This would be acceptable if I was still interested in general medicine, but I'm not. I'm supposed to be a goddamn therapist...)

When my team finally came to their senses and decided to bring someone more competent into the practice last month, I was actually elated.

Until I realized that our new "doctor" was none other than the woman I was supposed to meet over dinner two weeks ago. The same woman who stood me up with nothing more than an "I can't meet you anymore, sorry," after we agreed to move our online talks into reality.

I haven't forgotten any of the filthy fantasies she told me about, and I never deleted our dirty messages. And if she thinks that I'm going to act like a "professional" and pretend like that shit never happened, she has another thing coming...
There is something about Whitney G books that I love. Dirty Doctor was so much fun to read and let's not even get into how HOT it is! Omg *fans self*
I have said it before that I don't really love novellas – if they aren't done right or too internal monologue, I always wish for a longer book. Whitney G. is different though..I don't know how she does it but she packs SO MUCH into a novella and you are never left wanting more…though yes, do I love her books? Yes. Do I want to read more about her characters? Definitely yes. But am I ever left feeling like I didn't get enough or that I feel like I am missing something…Hell no!
Dirty Doctor is the story of Doctor Garrett Ashton and Resident Doctor Natalie Madison. What starts off as an unknowing online flirtation becomes something more..something sweet..something sexy and something that will definitely put a smile on your face.
Whitney G. is a must read author for me…she can write anything and I will pick it up. If you are looking for something fun in between the books you are reading…that won't take up too much time but is decadent and hot on the senses, pick up a copy of Dirty Doctor. I promise you won't regret it!