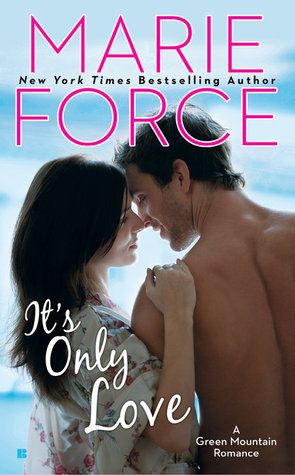 It's Only Love

by Marie Force
on November 3, 2015
Pages: 320
Buy on Amazon
Goodreads


The new Green Mountain Romance from the New York Times bestselling author of And I Love Her.

Ella Abbott has long been secretly in love with Gavin Guthrie. A few recent encounters have only added to her infatuation, especially the kiss they shared at her sister's wedding. It doesn't matter to Ella that Gavin is in a bad place. He says there's no hope for a future with him, that he has nothing to offer her. But all Ella cares about is the love she feels.

It's been seven long years since Gavin lost his brother. He'd kept himself under control and moving forward until his brother's beloved dog died and his brother's widow re-married. Since then, he's been drinking, fighting, and even getting arrested. It seems the only time his demons leave him alone is when Ella is around.

Gavin knows it wouldn't be fair to drag Ella into his darkness, but when she inserts herself into his life, what choice does he have but to allow her to soothe his aching heart?
Denise LOVES this series! Enjoy a fun guest post from Ms. Force – we introduce you to Fred, the town's favorite moose!
Along Comes Fred
How a moose became a star and earned a cult following in a romance series!
By: Marie Force
My Green Mountain series gets off to a memorable beginning in All You Need Is Love when New Yorker Cameron Murphy has an eventful arrival in the mountain town of Butler, Vermont. She rams her red Mini Cooper into Fred, the town moose, walking a way with a smashed up car and two black eyes, compliments of the air bag.
That's not all she gets, however. Out of the darkness of Vermont mud season comes Will Abbott, who initially cares much more about the damage done to Fred than he does about Cam's crumpled car. Those first moments in the dark, cold Vermont night start what becomes an amazing love story for Will and Cameron. This is also the first time readers meet Fred, who becomes a series regular. Readers can't get enough of Fred, and they've even asked if he's going to have his own romance. Umm… Not sure about that, but here are few other times Fred showed up to make things interesting in Butler:
I Want to Hold Your Hand, Book 2
Outside, Will and Cameron had stopped short at the sight of Fred, the town moose, ambling toward Cameron's bright red Mini Cooper, which was parked in front of the diner.
"I swear to God, if he so much as looks at my car, I'm going to have him made into a very large purse," Cameron muttered under her breath.
"Don't speak that way about Fred," Will said in mock horror.
"I thought it was bulls who had a thing for the color red," Cameron said.
"Apparently moose do, too," Hannah said, trying desperately not to laugh as Fred came closer and closer to Cameron's tiny car.
"Do you think he's still mad about me crashing into him?" Cameron asked, sounding nervous now.
"He's never been known to be particularly vindictive," Will said, "but you did hit him awfully hard."
Cameron took a step back, and Will's hands on her shoulders kept her from tripping over his size-thirteen boot. "Make him stop!"
"Right," Will said, laughing. "As if anyone tells Fred what to do."
"My insurance company will never cover a second mooseastrophy," Cameron said. "I was lucky they covered the first one."
Hannah stepped forward. "Hi, Fred."
The moose's large milk-chocolate eyes shifted from Cameron's car to the hand Hannah held out to him.
"You don't want to hurt Cameron's car, now do you? She didn't mean to hit you." As she spoke to the huge animal, she noticed a crowd had formed on the sidewalk in front of the diner and across the street on the porch at the store. "Why don't you head on home now? Okay?"
Fred seemed to think it over for a minute before he let out a big moo that launched Cameron right off her feet into Will's arms. Fred pawed the ground with a giant hoof and then started slowly down Elm Street on his way out of town.
"Oh my God," Cameron said. "You're a moose whisperer!"
"Seriously, Han," Will said. "That was awesome. I had no idea you and Fred were so close."
"Neither did I," Hannah said as her heart rate slowed to a more normal beat after the rush of adrenaline that came with facing off with Fred.
Will nudged Cameron toward her car. "Let's get your car to the dealer for a trade-in before Fred changes his mind and comes back."
"I'm getting a different color this time." Cameron handed him the keys. "You'd better drive. My hands are still shaking."
Hannah watched them drive off, waving as they went by.
"That was totally hot," a deep male voice said against her ear.
She spun around and found Nolan standing behind her. "Where'd you come from?"
I Saw Her Standing There, Book 3
Lucy's scream launched Colton out of bed. He ran for the door and bounded down the stairs to the yard, where he saw Fred the moose having a standoff with Lucy, and judging by the fact that Lucy was flat on her back, Fred seemed to be winning this round.
"Easy, babe." Colton offered her his hand. "He's a friend."
"A friend? He's a monster."
"Fred's a pussycat."
"That's Fred? Cameron's Fred?"
"The one and only."
Lucy let Colton help her to her feet, and she plastered herself to him, not that he minded. "Holy cow. No wonder her car was nearly totaled. He's massive!"
"Holy moose, you mean, and he's big, but he's a sweetheart." He brushed the dirt off her backside.
She jolted.
"Are you hurt?"
"Mostly my pride. I landed kind of hard on my butt." Rubbing her backside, she eyed Fred with trepidation. "I may not be cut out for life in the wild."
"This is hardly the wild, babe."
"What's he doing here?"
"He knows I've always got some twigs and leaves and other goodies for him, so he stops by for a visit from time to time."
Lucy is thinking… Awesome. Just what I need on this remote mountain where my new boyfriend lives—a moose that makes house calls!
And I Love Her, Book 4
Hunter emerged from the diner with Hannah and Nolan to find a crowd outside the store. In the middle of the crowd was Fred the moose.
"What's he up to now?" Nolan asked.
"I don't know, but I want to see," Hannah said.
Nolan took hold of her arm. "None of that moose-whisperer business. You hear me? You're pregnant, and if he ever knocked you down . . ."
Hannah waved off his concern. "Oh stop. He's a pussycat."
"She'll be the death of me," Nolan said to Hunter as Hannah marched ahead of them across Elm Street toward the moose.
"Don't let her be. She needs you to live for a good long time. We all do."
"Oh for crying out loud, Fred." Hannah marched through the crowd on the sidewalk to the front porch of the store, where Fred had Cameron trapped against the rail. His two front hooves were on the lowest step and his massive body was between her and the sidewalk.
"Hannah!" Nolan said sharply.
His wife proceeded as if he hadn't said anything.
"Oh jeez," Hunter muttered. He didn't often take sides against his twin, but he was firmly on Team Nolan in this case. "Hannah!"
"Fred," Hannah said. "Come down from there and leave Cameron alone. Right now."
Fred let out an obnoxiously loud moo that made more than a few of the townspeople startle. Cameron's usually robust complexion was now stark white as she stared down the moose she'd hit with her car on the way into town the night she arrived from New York City. Since then, Fred had taken an unusual amount of interest in poor Cam, who would always be known in Butler as "the girl who hit Fred."
"Fred." Hannah stood off to the side of the giant moose, looking small and vulnerable. Behind her, Nolan was prepared to do battle to protect his wife, even if that meant getting between her and the moose, who responded to the sound of her voice with a gentle moo and a nuzzle for her outstretched hand. "That's a good boy. Go see Colton up on the mountain. He always has treats for you. And leave Cameron alone. I like her."
Seeming chastened by Hannah's scolding, Fred backed away from the porch. The crowd parted to let him through.
Hunter noticed Cameron wavering on the porch and took the stairs two at a time to get to her before she fell over. "It's okay." He put his arms around her. "Fred's moved on."
"Only thanks to Hannah the moose whisperer." Cameron leaned into him. "Why is he so interested in me? He's looking for revenge, right?"
"Nah." Hunter gave her a quick hug, hoping to calm her. "He's a passive kind of guy."
"Right." Her hands were shaking as she pushed hair back from her face. "Passive."
Will came pushing through the crowd and rushed up the stairs.
Hunter stepped aside to give his brother room.
"What happened?" Intensely focused on his girlfriend, Will took a visual inventory to make sure she was okay.
"Fred happened. Again. I was coming out the door, and it was like he was waiting for me or something. He sort of pinned me against the rail so I couldn't leave, and I was too scared to turn my back on him to go inside."
"He's getting more audacious all the time," Will said.
"He wasn't at all threatening," Hannah said.
"Easy for you to say!" Cameron replied. "He doesn't have a bone to pick with you."
Will put his arms around Cameron. "Come here, baby."
The crowd around them began to disperse, leaving only Hunter, Hannah and Nolan to witness the tender moment between Will and Cameron.
Will drew back from her, kissing her forehead. "Sorry he scared you."
"It's okay. I'm starting to get used to him. Kinda."
Read more about Fred and the Abbotts in the Green Mountain Series at marieforce.com/books. So far, there are five books and a novella currently available with much more to come from Vermont! Follow Marie on Facebook at Facebook.com/MarieForceAuthor, Twitter @marieforce and Instagram @marieforceauthor.

I loved Ella Abbott and Gavin Guthrie's story!
Ella is one of the Abbott women while Gavin is the brother of Caleb Guthrie (Hannah Abbott's first husband lost overseas in battle).
Ella has adored Gavin from afar for years, while Gavin has been grieving the loss of his brother and only sibling for years. Ms. Force did an outstanding job portraying life altering grief that touches your soul. (I am going to pause here and say as a woman who has lost her only sibling, this aspect of the book was spot on).
The reason why Gavin has pulled back from his friends is epic, and though it broke Ella's heart and in the moment broke mine too, it was so incredibly powerful, it touched me so deeply and made me fall even more in love with this tortured man.
Being a witness to Ella and Gavin giving into their connection kept me engaged and glued to my kindle.
I loved visiting with the whole Abbott family as usual Lincoln the Abbott siblings father and Elmer, their adorable maternal grandfather made me smile. Though Lincoln and Elmer did less meddling here, it was still fun to watch them interact with the family.
The couples from prior books in the series are prominent in this book: Will & Cameron, Hannah & Nolan, Colton & Lucy,  Hunter & Megan, and their family all participate pivotal scenes that help this one play out.
I adored how Ms. Force keeps each character true to themselves and crafts each relationship in a unique fashion, truly poetic genius to keep track of so many people and family dynamics.
This one had me hoping for Max soon, the youngest Abbott and now father to a baby. There were some wonderful scenes in this one as his side plot played out …
I have learned Charlotte "Charley" Abbott  is next and I am so looking forward to "Ain't She Sweet" http://amzn.to/1ROOZux (Green Mountain #6) because Charley needs her happy.
#IlovetheGreenMoutainseries and the #Abbottfamily

Enter to win a copy of a Green Mountain print book, winner's choice (2 WINNERS will be chosen! US ONLY)
All you have to do is share this guest post on your social media account(s) (Facebook, Twitter, Instagram, etc). Sample message below:
#ItsOnlyLove is #LIVE #MeetFred #FavoriteMoose @marieforce @ShhMomsReading
Please make sure to post a link to your shares below. ONE winner will be chosen on Sunday November 8th at 10pm EST! Good luck! And thank you for sharing!
♥READ THE SERIES♥
Book 1 – All You Need is Love
Book 2 – I Want to Hold Your Hand
Book 3 – I Saw Her Standing There
Book 4 – And I Love Her
Book 4.5 – Ask Me Why
Book 5 – It's Only Love