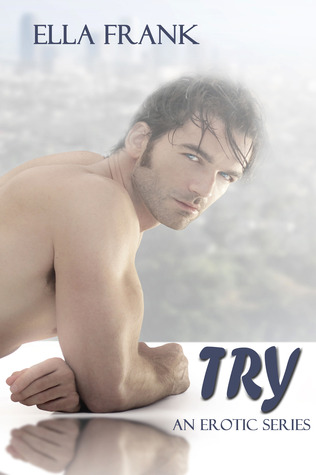 We are excited to bring you an exclusive teaser from Ella Frank's new series – Temptation.  Try is scheduled for release November 12th.
Enjoy!!
---
Synopsis
Try – verb: to make an attempt or effort to do something or in this case…someone.
Sex. Logan Mitchell loves it, and ever since he realized his raw sexual appeal at a young age, he has had no problem using it to his advantage. Men and women alike fall into his bed—after all, Logan is not one to discriminate. He lives by one motto—if something interests you, why not just take a chance and try?
And he wants to try Tate Morrison.
Just coming out of a four-year marriage with an ex-wife from hell, a relationship is the last thing on Tate's mind. He's starting fresh and trying to get back on his feet with a new job at an upscale bar in downtown Chicago.
The only problem is, Tate has caught the unwavering and unwelcome attention of Mr. Logan Mitchell – a regular at the bar and a man who always gets what he wants.
Night after night Tate fends off the persistent advances of the undeniably charismatic man, but after an explosive moment in the bar, all bets are off as he finds his body stirring with a different desire than his mind.
As arrogance, stubbornness and sexual tension sizzles between the two, it threatens to change the very course of their lives.
Logan doesn't do relationships. Tate doesn't do men. But what would happen if they both just gave in and…tried?
GENRE: M/M
Teaser
Disclaimer: May be edited or deleted prior to publication. Permission is NOT granted to re-post this content anywhere, so please don't do it. You may link to this page if you want to share it with others. Thank you.
Going into self-preservation mode, Tate asked the usual job-related question. "Will that be all?"
"Drink wise, yes."
Tate raised an eyebrow, "That's all that's offered at this hour. Food shut down at ten."
"That's fine, I'm not hungry for food," Logan informed as he clasped his hands on top of the bar.
Tate didn't know what to say to that, unless he was going to slip into the same behavior he had a moment earlier. It was obvious though, that engaging in conversational sparring matches with Logan, no matter how innocent, led to dangerous territory and was havoc on Tate's mental health.
"In that case, I'll go and let Amelia know."
"Oh could you? Because she is exactly who I've been picturing naked and bent over for me since I sat down here tonight. And yes, I know that was inappropriate, but Tate?"
Tate focused on the shameless lawyer, who was definitely checking him out this time, and tried to remain professional.
"Yes Logan?"
"That's when I'm at my best."
Tate turned away silently and heard laughter follow after him as he moved further down the bar. At that moment he wondered if Logan was laughing at his own comment or at the confused moron walking away from him.
About the Author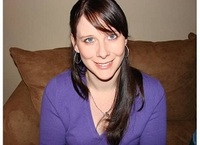 I am happily married and mother to a crazy cat
I am the author of the Exquisite Series, which includes Exquisite, Entice (due in Feb) and Edible (due in Summer 2013).
I am also set to release Blind Obsession in March/April 2013.
I love chatting so stop by here or my site and say hi!
Currently I reside in the Southern portion of the United States of America.