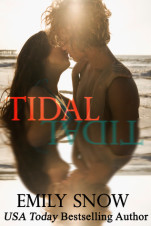 We are so pleased and excited to welcome Ms. Emily Snow today as she promotes her newest release Tidal!  Christine LOVED and posted a 5 STAR review a few weeks back – read the review HERE.
Enter below using Rafflecopter for a chance to win a $25 Amazon gift card!  Two winners will be selected.
Emily is stopping by our blog today to discuss her inspirations for her characters and stories.  Enjoy!

---
First and foremost, thank you so much for having me on your blog today, ladies. I'm so pleased to guest post about something that's so important to my writing process: Inspiration.
I've discovered that the majority of my inspiration comes from music. When I sat down to write Tidal, I came up with an enormous playlist. I just checked it on Spotify, and there are 69 tracks on it—a few for every chapter of the book. For me personally, music is a necessity when I'm writing a book because even though a good song is anywhere from two to five minutes, it always says so much and can be interpreted in so many different ways, depending on who's listening. Since I can't list all 69 songs on this blog post (I'm pretty sure you guys would roundhouse kick me if I tried) I'll tell you the top five songs that helped me while I was in the process of writing and editing my book:
Guns and Horses by Ellie Goulding
She Will Be Loved by Maroon Five
Stupid Girl (Only In Hollywood) by Saving Abel
When I Look At You by Miley Cyrus
A Beautiful Mess by Jason Mraz
Okay, so that's ten songs, not five—see what I mean about music inspiring me?!
When I am writing a book, I'm also very much inspired by things my friends have said to me. Without giving away too much, there's a scene near the beginning of Tidal where one of my characters (Eric) tells Willow about a tanning lotion disaster. That particular part may have been loosely inspired by something really funny—and totally gross—my brother-in-law once told me. Needless to say he thought it was pretty freaking awesome when he found out that scene had made it into the book.

There are several things that my husband has said to me that inspired me while I was writing as well, such as his deep hatred for whole wheat waffles, his undying love for Toaster Strudels (Eric's favorite), and his constant jokes about a boy band I was fond of when I was a tween.
I could probably go on for pages about inspiration for every other scene in the book, but seriously, you really would come after me and I'd mention a million spoilers, so thanks again for letting me stop by today and for being a part of the Tidal blog tour. You guys rock so hard! <3
-Emily Snow
---
My Favorite Excerpt
He reached out and stroked my hair back from my forehead. "But I'll catch you when you fall."
My heart skipped a beat, and I glanced down between us at the blanket, messing with a snagged string.  I took a shaky breath before replying, "It's hard letting go."
We both knew I wasn't talking about the cliff, and he was silent again for a long time.  When he spoke, his voice lowered.
"I'm falling in love with you, Wills." He slid his fingertip over my lips, hushing my response.  "You drive me crazy.  I mean, it started out as this need to get you out of my head, but the longer I'm with you -" Giving me a sad smile, he lifted his shoulders.
My throat went dry.  I'd heard declarations of love from more guys thatn I could count, the first being Tyler and the last being Gavin, but they'd never looked at me like this whole cove could tumble around us and they wouldn't even notice.
I parted my lips to speak, but he replaced his finger with his own mouth, kissing me slowly, carefully, as if I'd break.  I was barely aware that I was crying until he drew back and my tears had left streaks on his cheeks.
Using the pad of his thumb, he swiped them away from my skin, and then kissed his fingertip.
Why did he have to do things like that?
Why did he have to tell me he was falling in love with me when I had no idea what would happen after this movie was complete?
Summary
*New Adult Romance*
Now that Willow Avery is out of rehab, she's got one chance left to prove herself before she's officially on every producer's shit list. At least, that's what her parents and agent are claiming. She doesn't really give a damn if she never makes another movie or not—she just wants to get on with her life, get back to her friends, and find her next escape. But Willow is broke. And whether she likes it or not, acting is the only job she knows how to do.
When she accepts the lead in a beach drama, Willow finds herself in Hawaii. And in Hawaii, she finds Cooper, the gorgeous surfer hired to train her for her new role. With the bluest eyes she's ever seen and the sexiest Australian accent she's ever heard, Cooper's different from the men she's used to. He doesn't want to use her. And he refuses to let her fail. But when an old friend re-enters Willow's life—a friend whose toxicity she's been drawn to time and time before and whose presence brings about the painful memories she's tried so hard to suppress—Willow will have to choose between the girl she was and the person she's becoming. The lifestyle that helps her forget the pain and the guy she's falling hard for.
About the Author
A native of Southwest Virginia, 26-year-old Emily Snow is the author of the forthcoming DEVOURED series (2012, 2013) and TIDAL (2012).
Twitter EmilySnowBks
Website http://emilysnowbooks.blogspot.com/
Facebook www.facebook.com/pages/Emily-Snow/363370467075260
Blog tour hosted by…