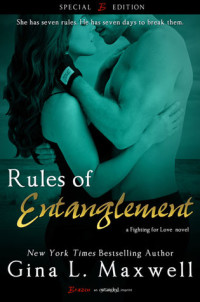 Happy Release Day to Gina L. Maxwell and Rules of Entanglement!  Enjoy this wonderful sequel to Seducing Cinderella and meet Vanessa and Jackson.
We will have more fun with Gina and these wonderful characters in April – stay tuned!
---
4.5 STARS!!!
Summary
Seven days.  And seven rules to break…
District Attorney Vanessa McGregor firmly believes that structure and order are the stuff that dreams are made of.  Happiness can be planned – and it starts with seven rules she's laid out for her future.  But as she's organizing her best friend's wedding in Hawaii, all of Vanessa's best-laid plans are about to meet their match in a wickedly hot MMA fighter…
Jackson "Jax" Maris is focused on surfing, training and fighting.  That is, until he opens up his big mouth, and finds himself having to pretend he's engaged to his little sister's best friend, Vanessa.  When they're force to share a romantic bungalow, however, their little charade suddenly takes a turn for the seriously sexy.  And while Jax is definitely not part of Vanessa's long-term plan, he has seven days – and seven naughty nights – to turn her seven-rule plan upside down.
Christine's Review
This book was on my highly anticipated list for 2013 list and Gina L. Maxwell certainly did not disappoint.  I received an ARC copy of this book for an honest review.
We met Lucie's best friend Vanessa MacGregor and brother Jackson (Jax) Maris in Seducing Cinderella.  I truly enjoyed Vanessa in this book.  Not only is she gorgeous with her red hair and green eyes but she has a fire cracker of a personality, she has spunk and confidence like no other and a no nonsense attitude – which explains her profession of choice – a lawyer.  Jax is simply delicious with his dark hair and topaz colored eyes.  He is an MMA figher like Reid and funny as hell.  I enjoyed their bantering throughout this book and had a constant smile on my face.
"You vacationing or entering the swimsuit competition in the Miss America Pagent?"

Sliding onto the stool next to where he stood, she began, "You see Jackson—"

"My friends call me Jax."

Vanessa pushed her tortoise shell sunglasses up on her head and regarded him with a twinkle in her green eyes.  "Ah, like those annoying pointy little things for kids that always seem to be underfoot."  She nodded as though all the world's mysteries suddenly made sense.  "I so get that."
LMAO 🙂
RoE starts up where SC finishes with Lucie and Reid planning for their wedding in beautiful Hawaii.  The problem – Lucie is terribly sick and can't make the trip a week prior to her wedding so Vanessa and Jax step in to "pretend" to be the wedding couple for the crazy celebrity wedding planner.
From the get go, there is an instant attraction between Jax and Vanessa.  And while Jax will play games and go with the flow because of his easy going attitude, Vanessa has an expect the worst and hope for the best mantra when it comes to relationships and all of her past disappointments.
This is a beautiful love story – Gina allows these characters the time to get to know each other gradually and we the readers enjoy this not rushed romance where it's not love at first sight.  Watching these two is so HOT because of Vanessa's issues with her need for control, her mistrust of everyone and the rules she lives by and Jax' need to unravel her and allow her to truly live and experience life.
Without giving any of the story away, there are some secrets and lies, there is some heart break and there are definitely some scenes that are explosive, exciting and HOT.
She'd made the decision all those years ago that she'd never give up control to a man like her mother had, and it had bled into her everyday life until she turned into a total control freak.

In most cases it served her well, especially professionally.

But what she hadn't realized until just a couple of days ago was that her need for control exhausted and frustrated her.  After years of never letting up, her brain desperately needed a break.  A chance to let go and trust that someone else could take over and give her what she needed without taking advantage of her vulnerability.

Jackson gave her that.
What secrets is Jax hiding about his parents and their not so perfect life?  Will Vanessa be able to bend her rules and her need for control to let this love and passion building between them into her life and heart?  When the truths come out, will these two beautiful characters be able to find the love together that they deserve?
You will have to read this book to find out because I will not tell you a thing!  I LOVED this book as Gina knows and enjoyed seeing the next phase of these characters lives.  Gina has a true gift of telling a beautiful romance story with her writing technique and I have to admit that I was besides myself with adoration and love for Jax and his proclamations of love for Vanessa.  Not everything is perfect and these characters will face many obstacles along the way but it made for such a heartwarming read that days after reading this book, just thinking about it brings a complete smile to my face.  The epilogue was done so well too!  There were some unanswered questions left at the end of the book and I am VERY excited to see what Gina will bring us next.
Thank you for another great read Gina!  This couple is one of the highlights for me this year!!  Check out Gina's GORGEOUS inspirations below!!!
Character Inspirations
About the Author

Gina is a shameless romance addict with no intentions of ever kicking the habit. Growing up she dreamed of entertaining people and taking them on fantastical journeys with her acting abilities, until she came to the realization as a college sophomore that she had none to speak of. Another ten years would pass before she discovered a different means to accomplishing the same dream: writing stories of love and passion for addicts just like her.
A member of the Romantic Writers Association (RWA), San Antonio Romance Authors (SARA), and Rose City Romance Authors (RCRA), she recently signed with Entangled Publishing to write for two of their imprints.
Her Fighting for Love series with MMA heroes will debut July 2012 for the Brazen imprint with the first book in the series, Seducing Cinderella. The first book in her Prophecy of Souls trilogy, Desires of the Soul, is set to release in mass trade paperback in Summer 2013 for the Entangled Select imprint.
When she's not writing or wrangling plot bunnies in her San Antonio home, Gina keeps busy with her wonderful family and their ever growing extra-curricular activities. Thanks to their immense patience and support, she's able to live her dream of bringing a little romantic fantasy to the world, even if only in the pages of a good book.