Today we welcome to our blog Charles Sheehan-Miles, author of Just Remember to Breathe and A Song for Julia.  Denise had a great one on one chat with Charles and his inspirations for his books.
Conversation Key
Denise – response in red font
Charles – response in blue font
C.  First, I wanted to thank you for having me at the blog, and I apologize for the long time it took me to get a response to you. I'm deep in a new book, and it's been occupying most of my thoughts and energy, to the exclusion of just about everything else.
D.  That's quite all right Charles!  We realize how busy you are and can't wait until your next book!  We wanted to know – what inspired you to write so openly about mental illness?
C.  Honestly, it wasn't really my intent to write about mental illness per se. I write about the things that I'm passionate about, about issues and struggles that people go through. My subject is people, and people struggle through pain and grief and guilt and all of the other issues we deal with in our lives. What I hope I've accomplished with these stories is to connect with something real and meaningful.
D.  What do you hope readers will take away from issues discussed in Just Remember to Breathe and A Song For Julia?
C.  Above all, I hope they walk away emotionally impacted. I didn't set out to write about any particular issues, except in the most peripheral way. Rather, I set out to write stories about people who I could care about, who I hoped the readers could care about.
Just Remember to Breathe focuses on broken hearts, on misunderstandings, and especially on guilt and trauma. Dylan Paris and Alex Thompson have both, in a lot of ways, allowed themselves to be defined by other people's perceptions, beliefs, other people's realities. You don't even really get to know Alex that well until halfway through the book, when she finally starts standing up for herself, and especially when she puts herself and her own mental health ahead of both Dylan and her parents.  Whereas Dylan is carrying a load of guilt, a lot of it self-inflicted. Post traumatic stress, whether from war or other traumatic stress, can be a real struggle to live with, and it isn't something cured overnight. One of the most important things about this is that there isn't any easy resolution or bow to tie Dylan's healing up with. He's just getting started as the book ends, and in The Last Hour, which I'm working on now, we'll see a lot  more of him, and while he's getting better, he's still pretty screwed up.
D.  In A Song for Julia, Julia's battle from a traumatic experience was so compelling, as a male writer, what resources did you use to try to gain an understanding of those events?
C.  First, thank you so much for saying it was so compelling! I struggled a lot to get it right. Honestly, the number one resource I drew on was empathy.  Julia went through some hideous experiences in high school… abuse, control issues, loneliness, bullying. None of these experiences are unique to men or women, and the experience of struggling with trauma is something I both understand and have dealt with throughout my life. Honestly, Julia made me cry a couple times when I was writing the book. In a lot of ways, I didn't feel like I was making someone up, I felt like I was getting to know someone. A good friend, who had a heartbreaking past and wanted to learn to live a better life.  So really, for me, it was a wonderful experience being able to write about her learning to move beyond all that heartbreak.
On the whole, I found Julia a much more fascinating character than Alex in Just Remember to Breathe. I really got to take the time to explore what made her tick, her attitudes and belief and passions, whereas I think in many ways Alex was a more superficial character, at least until she started to push back. It's possible that just a little bit, I fell in love with Julia.
D.  How do you hope your books will be perceived by those who suffer from mental illness?
C.  What I hope for is that people won't read these books and see them "mental illness" novels. Or Romance novels. Or Just Remember to Breathe as a war novel. They're novels about people, who struggle with issues we all struggle with in our lives. I want people to read them and identify with the characters. They're about healing and family and friendships and learning and growing, and that applies to anyone who might read them.
D.  What do you have in store for the Thompson sisters in the future?
C.  I'm currently working on a novel titled The Last Hour. In a lot of ways it's a bigger, more complicated, more ambitious story than the other two in the series. It is a standalone, like the others, but chronologically it takes place about nine months after Just Remember to Breathe and features Carrie Thompson and Ray Sherman (Dylan's best friend) as the primary characters. Dylan is a major secondary character in this book, as is Carrie's sister Sarah. I don't want to give too much away, except to say that it's a very different type of story.
Carrie and Ray have some awful challenges ahead of them, and a lot of those challenges are things which are completely outside of their control. This is a love story, but I don't want to give anyone illusions that it could ever be categorized as a romance, and I won't be listing it that way when the book is published. I've got some anxiety about how it will be received, to be honest: this book crosses multiple genres and breaks some rules for some of them. It's going to deal with some very heavy issues. But for me, so far, it's proving to be the most satisfying thing I've ever written.
D.  It does Charles!  Thank you so much for stopping by today!
C.  My pleasure  – thank you again for asking me to participate on the blog!
GIVEAWAY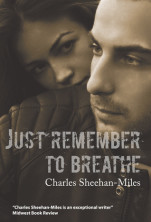 Charles is giving away an ebook copy of Just Remember to Breathe.  Leave a comment after this post or on our facebook page and we will pick a winner tonight.  GOOD LUCK!