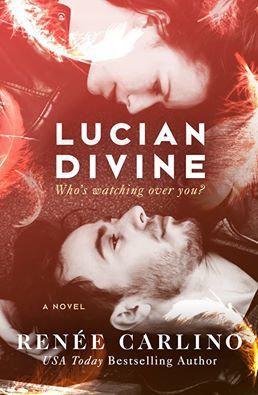 Lucian Divine

by Renée Carlino
on January 9, 2017
Buy on Amazon, Buy on B&N, Buy on iTunes, Buy on Kobo
Goodreads


From USA Today Bestselling Author, Renée Carlino, comes a totally unique love story that is sure to make you question what's out there . . . or who.

"My guardian angel is a drunk."

Evelyn Casey's life is at a standstill. She's in her mid-twenties, struggling with the dating scene in San Francisco. Nothing seems to be working out, and she's starting to think that she'll live out her days in her crummy apartment with her overbearing roommate, Brooklyn. It's absurd, but sometimes Evey longs for a guardian angel to show up and save the day.

And then he does. Seriously. His name is Lucian and he's a guardian angel, been on the job for two thousand years. His sudden presence in her life is both good—he's brilliant, witty, and warm—and bad—he's brilliant, witty, warm, and hot as ----. But as perfect as Lucian seems, he's got problems of his own. He's taken up drinking and he's brazenly inserted himself into Evey's life, going against the greatest cosmic law ever created.

For Evey, the rules are simple: You are not allowed to hook up with your guardian angel. But sometimes fulfilling your destiny requires a leap of faith, a confrontation with God.

Yes, God as in God.
Every once in a while, I need a change in what I am reading to reset myself so that I am not reading the same things over and over again. Lucian Divine came at the right time for me because I was in a bit of a book slump. This is a very different book for Renee Carlino – in such a good way!!
Now I will admit that I am a huge believer in God, in Guardian Angels, in Heaven and in my mind, I love the thoughts of the afterlife and where I will go one day to be reunited with the ones I love who have passed on.
Ms. Carlino takes a leap of faith and tells the tale of the unknown – a look into Evelyn Casey's life and the Guardian Angel that watches over her – Lucian.
Lucian's job is what every Guardian Angel's job is – to protect the person they are assigned to since birth. The problem is that as Lucian is following Evelyn throughout her life, he starts feeling things for her outside of the normal protective feelings he is supposed to have for her and he acts on it.
Now Evelyn is not supposed to see or know that Lucian is her Guardian Angel but of course he breaks all rules so that she knows who he is. Lucian is funny, sweet, and charming and oh so sexy and Evelyn can't resist the pull that is between them.
But is what happens between them right or wrong? Does Lucian defy God's rules or do they find something in each other so extraordinary that it knows no bounds? How could something like love be considered a sin?
Well, you will have to read this book to find out how it all turns out!
I think everyone wants to believe in a higher power watching over us, protecting us and I loved this look into Evelyn and Lucian's journey. Ms. Carlino pulls all the stops and gives us not only something emotional that will touch your heart and soul, but will also give readers something to think about long after reading the very last page. This book is indeed divine and was so much fun to read!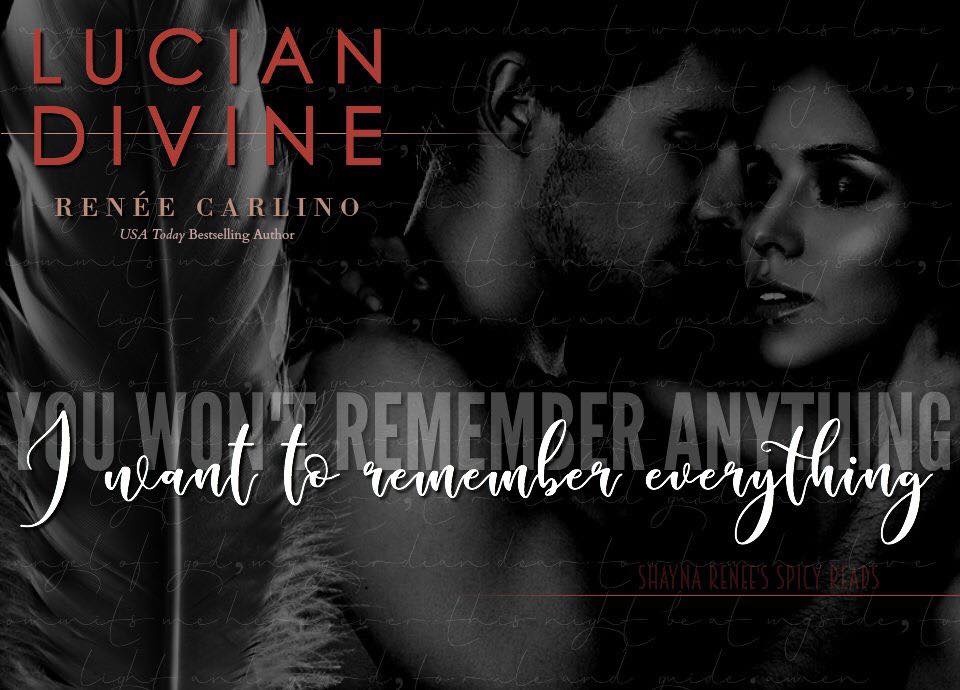 Click HERE to listen to the Lucian Divine playlist
Click HERE to watch the Lucian Divine trailer