by Melanie Harlow


Melanie Harlow's FRENCHED series has been on Christine's TBR FOREVER! For those who have not read this series, enjoy a guest post from the author herself on the 5 Reasons why you need to read this series. We have an exclusive giveaway too AND if that's not all – the FRENCHED bundle is on SALE from 5/4-5/11 for 99 pennies!!!! One Click Today!!!!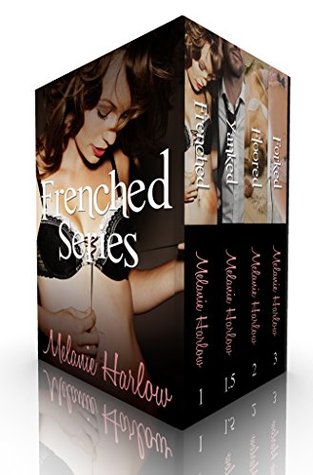 Five Reasons to Read the Frenched Series

Paris! Book one, Frenched, is set in the dazzling city of lights. Fall in love with the winding streets of the Latin Quarter, the beauty of Père Lachaise cemetery, the romance of Musée Rodin, a rainy night at Montmartre…and maybe with Lucas, a dark-eyed, scruffy-jawed, half-French bartender who teaches you about wine, art, and the simultaneous O. If you prefer the country to the city, let Provence seduce you with its fields of sunflowers and lavender, its vineyards and orchards, its lovely stone villas…Lucas will take you to stay at one. (But if you're naughty while you're there, he might have to discipline you a little…)

Friendship! Mia, Coco, and Erin, the three main characters in the series (each has her own book), are the kind of girlfriends everyone deserves. They make each other laugh, they push each other to go after their dreams, and they understand and support each other when mistakes are made. They are always honest with one another, and they know how to be there for each other when things go wrong—and when they go right.

Laughter! Do you have a book hangover? Do you need a break from the angst? Do you prefer light to dark? The Frenched series is sexy romantic comedy without any abuse, damaged souls, or tragic pasts. Just three smart, sexy modern women, each of whom fall for a flirty dirty talker when they least expect it.

Love! Forget about cliffhangers—the entire series is out, and you can see each of these couples from their first kiss to their HEA. There's a little bit of everything—friends-to-lovers, second chance romance, wedding bells…something for everyone!

Lots and lots of simmering tension, dirty talk, and panty-melting-toe-curling-fan-yourself sex. (There is a reason my mother is NEVER allowed to read my books.)

Hope you enjoy! Merci beaucoup!
♥READ THE SERIES♥
THIS BUNDLE INCLUDES ALL FOUR BOOKS PLUS SERIES EXTRAS AT 99 CENTS FOR ONE WEEK ONLY: 5/4-5/11

**The bundle will contain series extras for this one week special only! After that date, the bundle price will go up and the extras will be removed**
Kindle: http://amzn.to/1JKbxvN
Nook: http://bit.ly/1bpZW6c
Kobo: http://bit.ly/1c9KhsS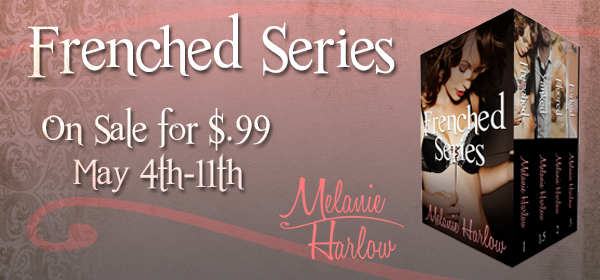 FRENCHED (Mia and Lucas)
When I got dumped by my stupid fiancé a week before the wedding, my plans involved nothing more than ice cream, and blanket fort, and a bonfire of his possessions.
But my friends convinced me that bitter tastes better drowned in Bordeaux, so I came to Paris for a single-moon.
Then I met him. He's shown me things I've never seen before, and I'm not talking about the Louvre.
Is it just the seduction of Paris? Or could this be the real thing?
YANKED (A Mia and Lucas Novella)
I never expected any of this—
Getting dumped.
Going to Paris alone.
Falling for Lucas (he was so not on my list).
We've done the long-distance-love thing for eight months now, and I'm ready for more. But after I discover what he's been hiding, will he stay on my list? Or should I cross him off for good?
FORKED (Nick and Coco)
I have trouble saying no.
To shoes, handbags, the dessert tray…you name it.
But when I agreed to plan last-minute engagement bash for a spoiled Mafia princess, I had no idea she'd demand that my sexy ex cater it.
He'll agree to work for me, but only if I agree to spend a weekend with him.
Did I mention my weakness for a**holes with tattoos?
Yeah.
I'm totally forked.
FLOORED (Erin and Charlie)
OK, fine. I'll confess.
While my house was being robbed, I was in the shower indulging my favorite Brad Pitt fantasy (the one with the Troy costume and the handcuffs.)
But where is the justice in the world when the first cop on the scene is the former bully next door? How dare that arrogant jerk grow up to be six-foot-three inches of solid muscle with gorgeous blue eyes!
I can't stop thinking about him. Or his handcuffs. Or his dirty mouth. Or the way he still likes to boss me around these days, only with a lot less clothing.
(Another confession—I like it now, too.)
But we're totally wrong for each other…aren't we?
Series extras include male POV scenes and an all-new Mia and Lucas short, The Wedding Night!