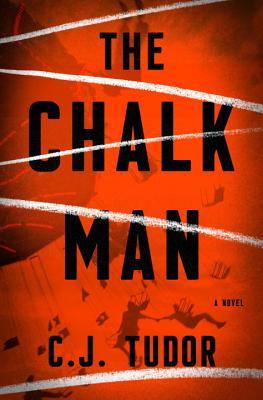 The Chalk Man

by C.J. Tudor
on January 9, 2018
Pages: 288
Buy on Amazon, Buy on B&N, Buy on iTunes, Buy on Kobo
Goodreads


In 1986, Eddie and his friends are just kids on the verge of adolescence. They spend their days biking around their sleepy English village and looking for any taste of excitement they can get. The chalk men are their secret code: little chalk stick figures they leave for one another as messages only they can understand. But then a mysterious chalk man leads them right to a dismembered body, and nothing is ever the same.

In 2016, Eddie is fully grown and thinks he's put his past behind him, but then he gets a letter in the mail containing a single chalk stick figure. When it turns out that his friends got the same message, they think it could be a prank--until one of them turns up dead. That's when Eddie realizes that saving himself means finally figuring out what really happened all those years ago.
I didn't love it but I didn't hate it either… I just felt meh.
For a debut novel, I thought that this was really well written. C.J. Tudor is a new to me author that I will definitely keep an eye on.
"Sometimes, Ed… it's better not to know all the answers."
Everything you need to know about the book is in the blurb… I enjoy mystery thrillers when they keep you guessing and thinking and wondering throughout.
Things I liked…
I enjoyed the alternating time POV's from 1986 to 2016 and thought that the use of the chalk men as messages was different. I really enjoyed their friendship and watching them as children to how different they were in 2016—how their past and everything that happened shaped who they would become as adults.
I liked that it was a dark, mystery thriller… something different outside of my norm and definitely a page turner for me.
As far as things I didn't like… The reason I feel so meh is because it didn't WOW me… it was just okay. I guess I was hoping for more heart-racing scenes, more scenes that evoked fear in me or maybe that whole shock and awe feeling that I felt was missing. Maybe if the pacing was a little faster, it wouldn't have felt so flat in some parts of the book. I think when it comes down to it, I wish that some things weren't as predictible and that there were more twists—that the reader was able to experience more of the surprise effect to the very end.
The Chalk Man is good don't get me wrong and it definitely entertained me. While I may be in the minority here about how I rated this book, I would definitely read this author again.

Watch the trailer for The Chalk Man HERE.