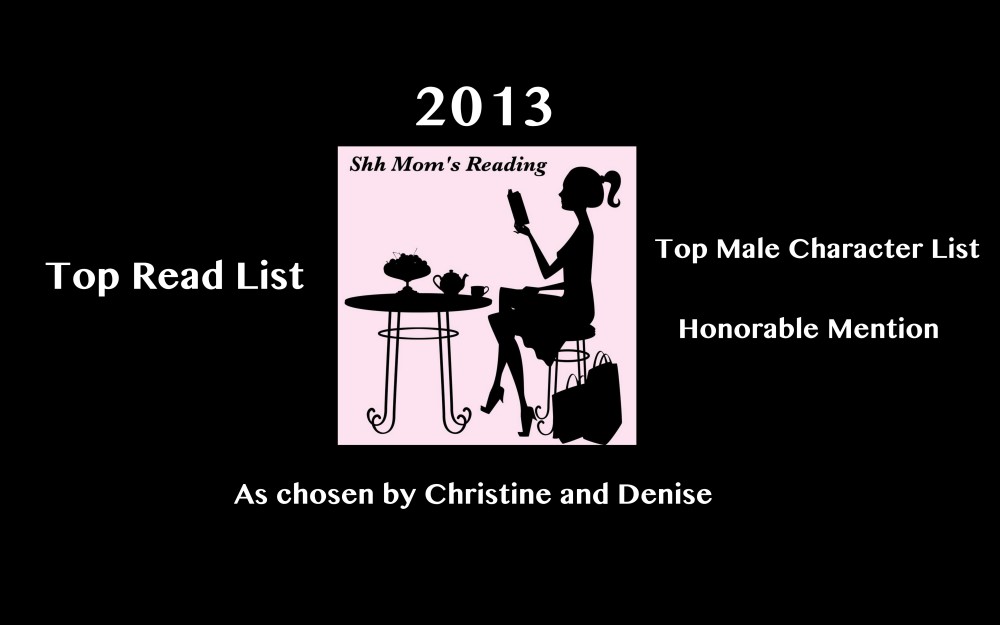 It was another AMAZING year for books!  Denise and I came up with our 10 Favorite books for 2013 and yes it was so hard that we do have a list of our Honorable Mentions!
We have also included our Favorite Men for 2013!  Do you agree?!  We would love to hear your thoughts!
We are excited for what 2014 has in store for us and look forward to another year of chatting with you!!!
xoxo
---
| | |
| --- | --- |
| Christine's Top Book List of 2013 | Denise's Top Book List of 2013 |
| *in no particular order | *in no particular order |
| Thief by Tarryn Fisher | Travis by Nicole Edwards |
| Covet by Tracey Garvis Graves | Safe With Me by Kristen Proby |
| Walking Disaster by Jamie McGuire | Bullet by Jade C. Jamison |
| Into the Deep by Samantha Young | Double Full by Kindle Alexander |
| True Love Story by Willow Aster | Making Faces by Amy Harmon |
| Catch Me by Claire Contreras | Crossing the Line by Kele Moon |
| Present Perfect by Alison G. Bailey | Taking Chances by Molly McAdams |
| Making Faces by Amy Harmon | Tangled by Emma Chase |
| Fear of Falling by S.L Jennings | This Is Who I Am by Cherise Sinclair |
| Shooting Scars by Karina Halle | Going Under by S. Walden |
---
| | |
| --- | --- |
| Christine's Honorable Mentions of 2013 | Denise's Honorable Mentions of 2013 |
| *in no particular order | *in no particular order |
| Trouble by Samantha Towle | Falling Into Us by Jasinda Wilder |
| Unbreakable by Rebecca Shea | One Tiny Lie by K.A. Tucker |
| Bring Me Home by Cassia Leo | Bad Things by R.K Lilley |
| Undertow by Amber Lynn Natusch | Take What You Want by Ann Lister |
| Promise Me by Barbie Bohrman | The Dark Duet Series by C.J Roberts |
| Beautiful Player by Christina Lauren | Fighting Redemption by Kate McCarthy |
| Crush by Nicole Williams | Lick by Kylie Scott |
| Gabriel's Redemption by Sylvain Reynar | Ruining Me/Ruining You by Nicole Reed |
| Avoiding Temptation by K.A Linde | Wicked Beat by Olivia Cunning |
| The Nature of Cruelty by L.H Cosway | Cage by Harper Sloan |
| Watch Over Me by Tara Sivec | Worth Keeping by Susan Mac Nicol |
| The Secret of Ella and Micha by Jessica Sorensen | Second Chances by T.A. Webb |
| The Game Changer by J. Sterling | Safe Harbor by Tymber Dalton |
| Rock My Bed by Michelle A. Valentine | The Backup Boyfriend by River Jaymes |
| If Forever Comes by AL Jackson | Castle Hill by Samantha Young |
---
| | |
| --- | --- |
| Christine's Top Ten Character List 2013 | Denise's Top Ten Character List 2013 |
| 1 Caleb Drake – Thief by Tarryn Fisher | 1 Caleb Montgomery – Safe With Me by Kristen Proby |
| 2 Nick Wilde – Catch Me by Claire Contreras | 2 Travis Walker – Travis by Nicole Edwards |
| 3 Noah Stewart – Present Perfect by Alison G. Bailey | 3 Austin Grainger – Texas Pride by Kindle Alexander |
| 4 Wyatt McCrae – Savor You | 4 Brad Payne – Bullet by Jade C. Jamison |
| 5 Jesse Walker – Lost and Found by Nicole Williams | 5 Jason Dorsey – Falling Into Us by Jasinda Wilder |
| 6 Ian Sterling – True Love Story by Willow Aster | 6 Ashton Henley – One Tiny Lie by KA Tucker |
| 7 Jacob Caplin – Into the Deep by Samantha Young | 7 Nix Caldwell – Off Limits by Sawyer Bennett |
| 8 Blaine Jacobs – Fear of Falling by S.L. Jennings | 8 Drew Evans – Tangled by Emma Chase |
| 9 Micha — The Forever of Ella and Micha | 9 Jack McLachlan – The Beauty Series by Georgia Cates |
| 10 Cooper Krenshaw – Chasing Dreams by Nicole Edwards | 10 Ambrose Young – Making Faces by Amy Harmon |