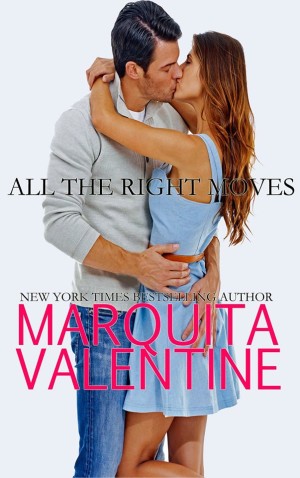 Game For Love: All the Right Moves

by Marquita Valentine
on July 15, 2014
Buy on Amazon

Ryan Turner has all the right moves but Ashley Mitchell refuses to be played...

After being dumped on her wedding day by her football playing ex, Ashley Mitchell has sworn off dating athletes. She refuses to come in second to a pigskin ever again. Until she meets Ryan Turner, the sexy tight end of the Atlanta Avengers, during puppy-parenting class.

Ryan Turner takes one look at Ashley and he's hooked. But for the first time since becoming a sports hero, Ryan fumbles the ball. Ashley wants nothing to do with him, but he can't stay away.

When Ryan makes her an offer she can't refuse, Ashley finds herself charmed by the real man beneath the uniform. But, Ryan only has two dates to convince her he's ready to play for keeps.

***This novella was written exclusively for Bella Andre's Game For Love Kindle World.***


Over the tops of the trees, the Atlanta skyline rose. "I like being so close to the city, but far enough away that it feels like I'm in the country."
"Your yard is huge. Big enough to play a pickup game," he said. "Maybe I should buy a place out here."
Her heart beat out a funny rhythm at the thought of Ryan becoming her neighbor. "I plan on putting a pool in, but I can't decide where exactly, because I'd have to remove a few trees," she said, sinking down in the love seat.
Ryan stood there for a moment and then joined her. "But if you put in a pool, you'll lose most of your yard."
"That's the other reason I'm taking so long. I'm still weighing the pros and cons," she laughed.
His thigh brushed hers and she heard him suck in a breath. Leaning forward, she set her glass down, and then turned to him, tucking her legs beside her. The movement brought them closer together.
She brought one arm up along the back of the couch and propped her head in her hand. "You're not drinking your tea," she pointed out.
He glanced from his drink to her. "I'm still weighing the pros and cons."
"Of drinking tea?"
Carefully he set his glass beside hers and then slid closer. "No, not that." He ran his fingers along the side of her neck, and then slid them behind her head. "This."
And then he kissed her.

This was the first novella I have read from this author and I am definitely interested to read more from her.  This was a quick, fun and romantic read of finding love in the most unlikely place – puppy training class 🙂
I truly enjoyed how Ryan, a pro football player and Ashley met.  Ashley is understandably wary of Ryan as she was left at the alter by her football playing fiance, Dean.  I adored Ryan – he was a great combination of confident, sexy, witty and not snotty or pretentious at all despite being famous.
When given the opportunity, Ashley will learn more about the honest and kind man that Ryan is underneath and that not all famous football players are the same when it comes to women and commitment.
Will Ryan have what it takes to win her heart?  You will have to read to find out.
An enjoyable short story that put a smile on my face.