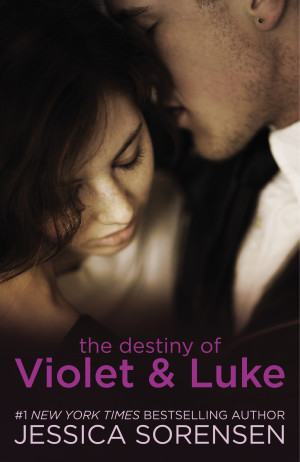 The Destiny of Violet and Luke

by Jessica Sorensen
on July 1, 2014
Pages: 320
Buy on Amazon, Buy on B&N
Goodreads

Luke Price's life has always been about order, control, and acting tough on the outside. He uses meaningless relationships as a distraction and a way to tune out the twisted memories of his childhood. He secretly wishes that one day he could find that one perfect person, but deep down he doesn't believe that perfection really exists. 

Violet Hayes has had a rough life, surrounded by drugs, neglect, and irresponsible parents. She thought she could escape that kind of life when she went to college, but her past catches up with her. To protect herself from getting hurt, she acts tough and keeps her distance from everyone. But then she meets Luke. The two of them clash, yet they can't seem to stay away from each other. The more they get to know one another, the more they realize just how similar their lives are, and that maybe the perfection they've always been looking for lies in each other.


Luke
She reaches for my fries with an undecided look on her face. "So I have a question."
"Okay…"
"About you."
I slowly chew my food. "I'm not really sure I want to hear your question now."
She picks a pickle off of her burger, pulling a repulsed face. "Well, I'm still going to ask it."
I grab a handful of fries from the tray that's on the table between us. "Go ahead and ask but it doesn't mean I'll answer."
She props her elbows onto the table with her burger in her hand. "Why haven't you ever talked to me before? I mean, we've walked past each other probably a hundred times, but never so much as acknowledged each other and then suddenly you're stalking me."
I pick up my soda and sip from the straw. "First off, I'm not stalking you. I just can't seem to get rid of you."
"You didn't have to stop to pick me up."
"Yeah, I did."
"Why? You don't know me—you're in no way obligated to help me."
"I know, but I wanted to."
"Why?"
I shrug, setting my drink down. "Why not?"
She gives me a funny look, like I'm the most confusing person in the world, when really she should be looking at herself like that. "I don't get it. Why would someone like you help someone like me?"
I open up the bun of my chicken sandwich to pick the tomato off. "What do you mean someone like me and someone like you?"
She points at me. "You as in a football player who has friends." Then she points at herself. "And me as in the loner girl who could probably kick your ass."
I choke on a laugh and my mouth full of food almost shoots out of my nose. "You could not kick my ass," I cough, and then take a swallow of my drink.
She scans me over while scooping up some fries. "I beg to differ. I think you're not as tough as you try to look."
"Do you really?" If only she knew what really lay inside me. "Because most people think I am and for a good reason."
"I think it's all for show," she replies nonchalantly and I can't tell if she's being serious or not. "I think that deep down you're just a softy."
"Are you trying to pick a fight with me right now?" I set my sandwich down on the tray and crack my knuckles. "Because I'm not going to fight a girl."
"That's such a typical guy answer." She hurries and takes a drink, but I detect a hint of a smile before her lips wrap around the straw.
"You know what I think?" I cross my arms on the table and lean in, cocking my head to the side as I observe her closely. "I think you like arguing with me and that's why you're bringing this up."
Her shoulders lift and descend as she takes a bite of her hamburger. "Maybe, but maybe I'm being serious."
"You know that as a football player I have to tackle guys, right? It takes strength to do that."
"Maybe you just run, though," she counters. "Maybe you're just good at running."
The way she says it reminds me so much of my past and it's like a kick to the stomach. "Maybe I'm not, though. Maybe I suck at running." I sound choked and I decide it's time to cut this conversation short, my brain seeking that potent taste of Jack and Tequila mixed with nicotine. I glance at my watch, pretending to check the time. "I just remembered that I have to meet Kayden somewhere in like a half an hour, so I'm going to have to take you back."
She balls up the wrapper for her hamburger, acting nonchalant, but her shoulders are stiff. "Sounds good to me. I was done anyway." She seems irritated and I have no idea why, other than she seems to be able to read through my bullshit and test me, which most people can't and won't even try. I'm supposed to be a closed book. A mystery. That way no one can see who I really am. It's the way I've been living for years and it's comfortable. Not ideal, but nothing is ideal.
We don't talk as I collect our garbage and then walk next to her as she limps out to my truck. I try to offer her my arm and open the door for her, but she denies my offer, moving to the opposite door and pushing it open.
During the car ride, she barely says two words to me. I should be happy about it. That way there's no room for sudden questions and statements that will set me off, however I find myself missing the bantering thing we had going and the way she pushed my buttons. By the time I drop her off, all I want to do is ask her to stay, talk some more, let me get to know her. But I don't understand why. I've never wanted to get to know anyone before. I've never even been out on a date. Each woman I've been with, I've only been with once. Just sex. That's all it's ever about. And I've never wanted anything more.
Until now.