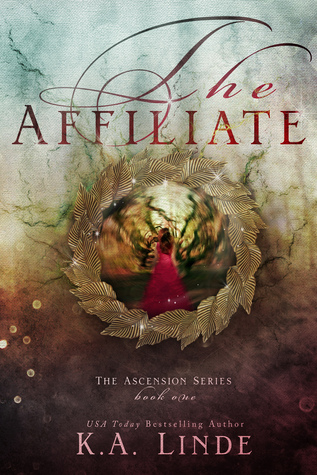 The Affiliate

by K.A. Linde
on September 15, 2015
Buy on Amazon
Goodreads


On the day of her Presenting, in front of the entire Byern Court, seventeen-year-old Cyrene Strohm's lifelong plans come to fruition when she's chosen for one of the most prestigious positions in her homeland—an Affiliate to the Queen.

Or so she thinks.

When Cyrene receives a mysterious letter and an unreadable book, she finds nothing is as it seems. Thrust into a world of dangerous political intrigue and deadly magic, Cyrene's position only grows more treacherous when she finds herself drawn to the one man she can never have...

King Edric himself.

Cyrene must decide if love is truly worth the price of freedom. Find out in this first book in USA Today bestselling author K.A. Linde's new Ascension series.
Happy Release Day to K.A. Linde and her new book – THE AFFILIATE!
Truth be told, I have been following Ms. Linde since before she began publishing and when she was posting her writing on Fictionpress. I read The Affiliate a while back but when she sent me this new revised version, I was completely blown away! I was enthralled by the stunning and beautiful world building, the vivid descriptions, the captivating characters that I wanted to know more and more about and this magical story that sucked me right in.
This world was so magnificently built – I could feel and see every scene, every description as if I was a character in the book. Every character introduced added such depth and layers to the story and really pulls the reader into the intense and magnetic storyline.
So what's it about?
Cyrene Strohm on her Presenting Day becomes an Affiliate to the Queen, a dream she has always wished for to travel the world and to become the strong woman she wants to be. To her surprise, the strong connection and pull between herself and King Edric was apparent from day one, a forbidden feeling no less as he is married.
Weaving in magic, mystery, danger and intrigue, K.A. Linde does what she does best….creating a story that pulls in the reader and makes us want more. There are so many characters that we will come to know, characters that will make us second guess what we think we know. As this is a book one in a new series, Ms. Linde begins laying out the foundation for what is to come, I loved her world building, the explanations of who everyone was, the dynamic descriptions.
As I finished the book, I really didn't want it to end – so many unanswered questions, so many things I wanted to know more about…I can't say I was upset about the potential love interest between Cyrene and the King because the Queen was an awful person. In the end, I want what every romance reader wants – love and a happy ending. But I will say I was torn about my feelings towards other characters in the story and I can't wait to get my hands on book 2 to get more answers!!! Hopefully we don't have too long to wait!!!

"I see the way you look at her, Edric. Your eyes follow her, you dance the longest dances with her, and now, you're sending her presents. I've known you too long not to know that this is unlike you. You're not Kael. You don't fraternize with the Affiliates who parade themselves in front of you, hoping for a scrap of your time. Yet here you are with this Cyrene. What is she to you?" Daufina asked.
At her question, Edric paced the long room. She watched him through the silence and wondered what he was thinking.
"You told me once that you would inform me if you wanted to take a mistress—"
"I do not want to take a mistress," Edric snapped.
Daufina straightened in surprise. He never raised his voice with her.
"I apologize," he said with a sigh. "I didn't mean to startle you."
"Just talk to me."
"Would you believe me if I said that I didn't want anything to do with her?" His eyes were pleading.
"No," Daufina admitted.
"No," he agreed. "No, I wouldn't either. I keep telling myself that I'm acting like a fool, Daufina, but then I see her again." He stroked his chin as he tried to find the words. "She has this pull. When I'm with her, the throne slips away, and I'm just a man with a beautiful woman. It both intrigues and terrifies me." He splayed his hands before him. "I can never be anything but the king…but when I'm with her, I want to be."