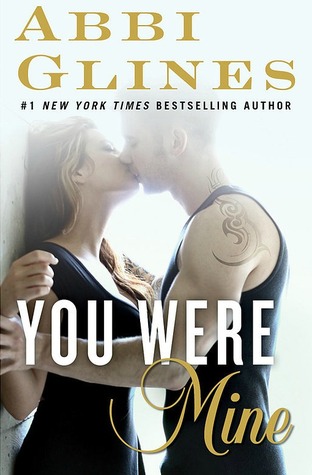 You Were Mine

by Abbi Glines
on December 2, 2014
Pages: 256
Buy on Amazon
Goodreads


From #1 "New York Times "bestselling author Abbi Glines comes a brand-new Rosemary Beach novel about Tripp Newark and his hidden romantic past with Bethy Lowry.

In the eyes of the wealthy playboys who frequent Kerrington Country Club in Rosemary Beach, Tripp Newark is a hero. Under pressure from his parents to become a lawyer and lead a conservative, upper-class life, Tripp disappeared from town five years ago to travel the world, forfeiting the opportunity to inherit millions. Yet few know what he was really running from...

Bethy Lowry was unraveling long before her boyfriend drowned in a riptide trying to save her after she'd had one too many drinks--again. A trailer park kid working as a cart girl among the wealthy patrons of Kerrington Country Club, Bethy has always been impressionable. But five years ago, before she earned her reputation as a hard-drinking, easy girl, she had spent a single summer with Tripp Newark that changed her life forever...
Happy Release Day to Abbi Glines and her new book YOU WERE MINE! Make sure to enter the giveaway below for a signed galley copy of the book. (Open US and Canada Only)
I love the Rosemary Beach series by Abbi Glines; each book getting better and better as the series progresses. The world that Ms. Glines has created envelops me, enthralls me even more as reading this series is watching adored characters grow up, mature, and to experience their journeys to find happiness and love with them has been such a treat for me to behold.
I have always been captivated by Tripp and Bethy's journey. Both having loved each other as young teenagers to being split apart and for Bethy to ultimately end up finding love with Tripp's cousin, Jace. Now I must admit that when Jace died saving Bethy, I was angry and hurt and I wasn't sure that I could ever forgive her.
But reading You Were Mine and experiencing Tripp and Bethy's history, told in alternating POV's and in from the past and present perspectives gave me insight into the multiple layers of who Tripp and Bethy are and why they were meant for each other….soul mates. And in the end, it helped me to forgive Bethy realizing that all the things that happened were meant to happen.
Their love is a love that transcends all…that first young love that you never forget. Despite the many obstacles and hurts and heartbreaks that this couple will go through, their love never diminished; so real that I could feel it in my heart and soul.
Understanding that Bethy had gone through so much losing Jace, another love in her life, Tripp was always there for her in the background, always watching, always protective and patient. He was the epitome of what a man in love would do for the woman who captured his heart and he proved in spades over and over his regret for hurting her in their past.
I won't tell you how all of this comes about and what happens in the end but I will leave you with a couple of things…
I LOVE a man who is patient and kind yet relentless and has a dirty mouth! 🙂 Tripp is definitely one of my faves in this category
I love how Abbi can give the reader the feels…making us emotional and happy and sad….this makes for a great book and kept me completely engrossed in the book
I LOVE LOVE LOVE that this is a series where we have met all of the characters, where we get to still see them and experience their lives as they move forward, getting looks into what they are doing now with their loved ones….and of course where they always put each other first. This is a wonderful family type saga where the reader gets vested and we want to know more because we have fallen in love with them and just can't let them go because they are now family to us too….Abbi has done this so well and I hope hope hope we get more because I am definitely not ready to let go! <3
♥READ THE SERIES♥
Book 1 – Fallen Too Far
Book 2 – Never Too Far
Book 3 – Forever Too Far
Book 4 – Rush Too Far
Book 5 – Twisted Perfection
Book 6 – Simple Perfection
Book 7 – Take A Chance
Book 8 – One More Chance
Book 9 – You Were Mine