Happy Release Day to Alice Clayton and her new book RUSTY NAILED!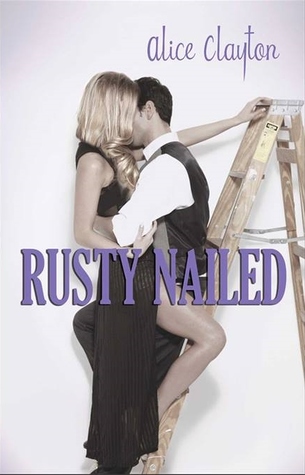 In this sequel to Wallbanger, the second book in the Cocktail series, fan favorites Caroline and Simon negotiate the rollercoaster of their new relationship while house-sitting in San Francisco.
Playing house was never so much fun—or so confusing. With her boss on her honeymoon, Caroline's working crazy long hours to keep the interior design company running—especially since she's also the lead designer for the renovation of a gorgeous old hotel on Sausalito. So with her hotshot photographer boyfriend gallivanting all over the world for his job, she and Simon are heavy-duty into "absence makes the heart grow fonder" mode. Neither has any complaints about the great reunion sex, though! Then Simon decides he's tired of so much travelling, and he's suddenly home more. A lot more. And wanting Caroline home more, too. Though their friends' romantic lives provide plenty of welcome distraction, eventually Caroline and Simon have to sort their relationship out. Neither wants "out of sight, out of mind," but can they create their own happy mid-ground cliché?
USA TODAY bestselling author Alice Clayton delivers another delicious, frothy cocktail of a book, shaking up her characters, stirring in laugh-out-loud humor, and serving sizzling romance straight up!
This is book 2 in the Cocktail series and is the sequel to Wallbanger so if you have not read Wallbanger stop reading this review and go 1-click Wallbanger, the story of how Simon and Caroline fall in love; it is a well written book that has some very laughable moments and it is the book that allowed me to open my heart to Simon.
This review will contain some Wallbanger spoilers so be warned.
Rusty Nailed takes the reader into Caroline and Simon's relationship. The prologue of this book pulls the reader right in as they get glimpses of Simon and Caroline through the first year of their relationship. But this book is more than just how Simon and Caroline make it work as it takes the reader deeper into the character of Simon.
I love loved this aspect of the book that takes the reader further into Simon's mind and the effects his past had on him.  In book 1, we learned that Simon lost both his parents while in high school. Rusty Nailed explores how that affected Simon and his trip home to Philadelphia touched my soul, truly allowing the reader to better understand Simon and in the end, it was a wonderful way to bring Simon from the man unwilling to commit in book 1 to the man that book 2 ends with.
And the man book 2 ends with is a man I was more in love with than ever before. Simon in Rusty Nailed proved to me he was fully committed to Caroline, committed to being with her in whatever form their busy lives will allow.
OK speaking of busy lives, that brings me to Caroline, she is young decorator when we meet her in book 1 and in book 2 she is a woman whose career is in full swing. I adored the use of Caroline's career to push her, to push her to look at what she really wants out of life. I loved watching these two professionals find a balance, a balance that worked for them. Everyone's relationship does not need to be the same but it does need to work for them, watching Caroline and Simon make their place in the world made my heart happy. Wallbanger and Pink Nightie Girl work to find a balance, work to make time for each other and work to carve out a happy that works for them!
Speaking of relationships, the reader does get to see Jill (Caroline's boss and friend) and Benjamin (Simon's childhood friend) along with Mimi and Sophia (Caroline's friends) and Ryan and Neil (Simon's friends). The use of Mimi and Ryan's on track relationship and Sophia and Neil's troubles allow the reader to see how when three sets of friends fall in love, life can be complicated but again its about each finding what works for them.
In a fun and true to Ms. Clayton's prior book, the readers get some wonderful moments with Clive! I so loved the moments with Clive and Simon!
Rusty Nailed is a wonderful story about how you make it work; and again I love how the world did not stop just because Caroline and Simon fell in love!
The epilogue was ….Wow, the harem is back …and done in such a masterful way I was not mad but smiling in the end… crazy cute. Well Done, Ms. Clayton!!!!
I am very excited for Last Call, a new book coming in January 2015 also about Simon and Caroline (http://amzn.to/1puMLCG)
And I am very much looking forward to Screwdrivered (Cocktail #3) about Viv Jackson a character we meet in this book!

Alice Clayton is a novelist with an unholy love for her KitchenAid mixer. Making her home in St Louis, she enjoys gardening but not weeding, baking but not cleaning up afterwards, and is trying desperately to get her long time boyfriend to make her an honest woman. Hi sweetie!!
After working for years in the cosmetics industry as a makeup artist, esthetician, and national educator for a major cosmetics company, Alice picked up a pen (read laptop) for the first time at 33 to begin a new career, writer. Combining her love of storytelling with a sense of silly, she was shocked and awed to be nominated for a Goodreads Author award in 2010 for her debut novels, The Redhead Series.
Alice has penned three novels, The Unidentified Redhead,The Redhead Revealed, and coming soon in November 2012, Wallbanger. She thinks you should purchase them immediately. She's not kidding, not even a little bit. Everyone needs some comedic erotica in their lives. She is hard at work on the third book in The Redhead Series, set to release in Spring of 2013, continuing the saucy and sexual escapades of everyone's favorite couple, Jack and Grace.
Additionally, Alice loves spending time with her besties on Not Your Mother's Podcast, make sure you check them out at notyourmotherspodcast.com or over on iTunes. 3 women rushing towards their forties still acting like teenagers. A saucy little mix of sex, love, relationships, pop cultural, celebrity gossip and All Things Jake Ryan.
Alice enjoys pickles, Bloody Mary's, 8 hours of sleep, and a good pounding.
Finally Alice would also like all her readers and listeners to help her convince Mt. Alice that the only other thing that would make her truly happy is finally bringing home a Bernese Mountain Dog. She is totally serious. And done talking about herself in the third person…
Other Books in the Series
Book 1 – Wallbanger

Book 2- Rusty Nailed