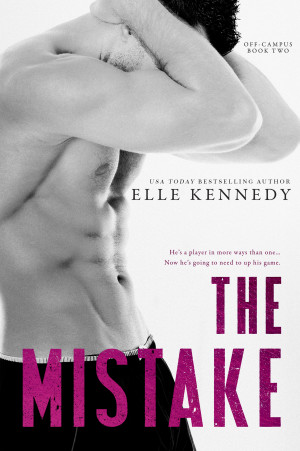 The Mistake

by Elle Kennedy
on April 28, 2015
Buy on Amazon
Goodreads


He's a player in more ways than one…

College junior John Logan can get any girl he wants. For this hockey star, life is a parade of parties and hook-ups, but behind his killer grins and easygoing charm, he hides growing despair about the dead-end road he'll be forced to walk after graduation. A sexy encounter with freshman Grace Ivers is just the distraction he needs, but when a thoughtless mistake pushes her away, Logan plans to spend his final year proving to her that he's worth a second chance.

Now he's going to need to up his game…

After a less than stellar freshman year, Grace is back at Briar University, older, wiser, and so over the arrogant hockey player she nearly handed her V-card to. She's not a charity case, and she's not the quiet butterfly she was when they first hooked up. If Logan expects her to roll over and beg like all his other puck bunnies, he can think again. He wants her back? He'll have to work for it. This time around, she'll be the one in the driver's seat…and she plans on driving him wild.
Happy Release Day to Elle Kennedy and her new book THE MISTAKE – this is Logan's story!!! Enter the FLASH GIVEAWAY below for a chance to win an ebook copy of this book – winner to be announced in TWO DAYS! Good luck!
We met John Logan in book 1, The Deal and I couldn't wait to dive into his story. You see from book 1, we know that Logan is hung up on Hannah, his best friend's (and roommate AND teammate) Garrett's girlfriend and to try and forget her and erase her from his mind, he hooks up over and over again; never really finding that connection that he is looking for.
One night, he mistakenly knocks on Grace Ivers door and they innocently bond over movies and end up kissing. Grace is a good girl; intelligent, a freshman oh and let's not forget, a virgin. She is the total opposite of what he normally goes for yet he is drawn to her, her innocence and her good-natured personality.
Time and time again, the reader will watch as John struggles with what he is feeling and I adored being a part of that struggle, knowing what he was thinking when it came to Grace and his growing feelings and emotions.
And then the truth comes to light…that maybe those feelings were nothing more than a distraction and I am heartbroken by the loss and sadness and hurt that is experienced by all.
Will the player realize what his heart is truly after and will he be able to make up for all of his mistakes?
Will the girl be able to forgive?
Of course, I won't tell you! But I will say this…..I absolutely fell in love with John Logan and his determination and the effort he put in to making Grace his #1 priority. Their journey to finding their happy was sweet and fun and above all else heartwarming. Dreams really do come true and the epilogue was complete perfection!
Elle Kennedy is a must click author for me. I love these characters, their bond with each other, the funny bantering and of course that perfect love that puts a smile on my face. Well written and captivating, the Off Campus series is an addictive must read on my list and I can't wait for more!
P.S. As my son plays hockey, I have to say that this is my first experience reading about hockey characters in books (Denise has read many more books). The bond that Ms. Kennedy has created among the players is so true to what I find among my son and his friends and the loyalty and passion about the sport itself really shines and makes me love this series even more!
 ♥READ THE SERIES♥
Book 1 – The Deal
Book 2 – The Mistake