Enjoy a bonus scene given to us by Harper below!
---
4 STARS!!!
Synopsis
Note from the author–This book is intended for a mature reading audience and isn't suitable for younger readers.
Fate hasn't always been friends with Isabelle West. In fact, fate has been a downright bitch.
Isabelle has learned the hard way how hard life can be when fate isn't by your side. It can hand you dreams on silver platters, but it can snatch them right back and hand you nightmares. One thing Isabelle knew for sure fate was consistent with was taking away everything she ever loved.
For the last two years Isabelle has been slowly clearing the clouds of her past. Happiness is finally on the horizon. She has a thriving business, great friends, and her life back. All she has to do is jump over the last hurdle…her ex-husband.
When problems start causing her to fear her new life, and memories that are better left forgotten start rushing to the surface the last thing she needs is a ghost from her past to come knocking on her door.
Axel never thought he would look into the eyes of Isabelle West again, and he wasn't sure he wanted to now. He's carried his anger for so long he isn't sure he can just turn it off, but when he is faced with protecting her and an unexpected desire to have her again, life gets a little more complicated.
How will Axel and Isabelle deal when all their cards are put on the table and everything they thought was true blows up in their faces?
Denise's Review
I truly enjoyed this debut novel by Harper Sloan.  It tells the heart tugging story of Isabelle West, a woman who has not had an easy life.
When the reader meet Izzy, she is shell of her former self having been dealt a series of circumstances that have taken their toll on her soul. Ms. Sloan crafts wonderful supporting characters in Dee, Izzy's best friend and Greg Cage who acts as a big brother to Izzy. Both of these characters help the reader understand the gravity of Izzy's pain.
This story becomes about love lost…. Izzy having lost the man she thought so perfect for her; life without him would never be what it could have been.
Well, enter Axel Reid….when Axel is introduced, this book became can't put me down stuff. I was so anxiously to see how Izzy and Axel would or if they would re-connect. Yes, Axel is the man Izzy thought was lost forever. I will not tell you why Izzy thought Axel was lost to her forever or how they find each other.
I will say I truly enjoyed this second chance love story; I loved that these characters were mature; and the connection they share is one I could feel through my kindle.
Oh the end… so well done; for me it brought these two full circle, showing the sensitivity of this man you will come to adore and a healing for Izzy; a healing only true love brings.
Izzy and Axel's story is one I am excited to see continue as the timeline for this series moves forward with each male from Security Corps getting their own book.
I was truly able to see this author improve her writing skills as the book progressed and I am excited for that to continue was this series releases.
After reading Axel, I dove right into Cage book 2!
I am very much looking forward to each of these men getting their story told.
Bonus Scene
Axel – Bonus Chapter
Naming the Baby

"Are you happy?"
The question seems so bizarre coming from her lips. Does she really doubt my happiness?
"You must be out of your mind, Princess, if you, for one second think I'm not."
I look up and meet her green eyes from where my head is resting on her lap. My fingers are still caressing her swollen stomach, every few seconds getting a solid kick in return. Almost as if my boy is letting me know he feels me.
Every time I look at her and see her body changing with our child, I almost lose my mind. It feels like my heart might burst. This is all part of the dream we had shared all those years ago but I would be lying if I said I wasn't terrified it will all just vanish.
"Seriously, Axel. I can't help but wonder what life would be like if we hadn't lost all those years. I almost feel guilty being as happy as I am, knowing how much we lost."
Without breaking eye contact, I fold myself up and take her face between my hands, "Izzy, no doubt we were dealt a shit hand… to start with. But, we found each other again. Nothing, and I mean nothing, can take this happiness from us.
Me, you, our son, and any other children we have." I press my lips against hers briefly, but with just enough strength that she starts pulling me more firmly against her.
We both laugh when we feel our son kick, feeling his strong kicks against my stomach feel a hell of a lot different than my hands.
"Come here, Princess. This little man needs a name." I go to pull her towards me but pause when I see her bite her lip. "Izzy? What's going on up there?" I tap her temple lightly and smile, knowing whatever is rolling around up there has been weighing heavy.
"I've been thinking…" She trails off and looks away. "I don't just want to name him anything, I don't know how to explain it, Ax. I want his name to have meaning. Something strong that will always remind us of how blessed we are. Does that make sense?"
God, I love this woman.
"Yeah, babe. I get it. I've been thinking the same thing. Hear me out, okay?"
She nods her head a few times, her eyes shining brightly with excitement.
"The other day I was looking up names and came across one I think will be perfect." I pause for a second and wait for her nod of approval before continuing. "So, I found one of those sites that have baby names and their meanings. There was one that means 'God given' and babe, with everything we've been through and overcome, if this little guy isn't a sign of God giving us one hell of a blessing, I don't know what is." In all honest, the second I saw the name I knew, that is my son's name. That is it. I always knew that Izzy was my blessing, my reward for my shit life. But this little miracle we made, that is OUR blessing. Our gift from God for overcoming and surviving everything he threw at us.
"Okay, well? What is it?" She is literally vibrating with excitement. She gets it. I shouldn't have doubted she would.
"Nathaniel" I reply and wait. It's a few seconds worth of her blinking her watery eyes at me rapidly before she lets out a breathy echo, repeating my word.
"It's perfect, Ax. Our gift, Nathaniel."
"One more babe, his middle name, I don't think I need to explain this one but I will. For too many years, I wasn't there to protect you. I wasn't there to pick up the pieces when you needed me either. But, Greg was. Baby, I don't know any other way to honor that than to give Nathaniel one hell of a namesake. What do you think, Nathaniel Gregory?"
At this point I doubt she even registers my words. Tears are falling fast and she is sobbing quietly. But, when through all that, her smile is blinding.
Yeah, my girl got me.
"Nathaniel Gregory Reid. I love it. Our son, our gift, and our blessing." She whispers between choked sobs.
"Love you, Princess."
"Love you too, Axel."

9/15/13
Bonus Chapter for Shh Mom's Reading Review for Axel
About the Author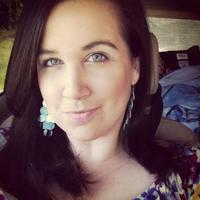 Harper lives in small town Georgia just a short drive from her hometown of Peachtree City. She (and her 3 daughters) enjoy ruling the house they dubbed 'Estrogen Ocean', much to her husbands chagrin. Harper has a borderline unhealthy obsession with books; you can almost ALWAYS find her with her eReader attached. She enjoys bad reality TV and cheesy romantic flicks. Her favorite kind of hero–the super alpha kind!
Harper started using writing as a way to unwind when the house went to sleep at night; and with a house full of crazy it was the perfect way to just relax. It didn't take long before a head full of very demanding alphas would stop at nothing to have their story told.
---
GIVEAWAY
a Rafflecopter giveaway