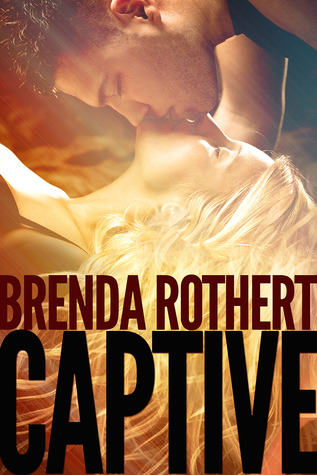 Enjoy an EXCLUSIVE BONUS SCENE below!
---

Two years ago, Jason and Kate Ryker were brought together by grief and bound to one another by love. Now married, they're confronting their fears together.
But heartbreak finds them again, and the ties that bind Kate and Ryke are tested as she struggles against fear and sadness. As a grief counselor, Kate understands all too well the pain of her clients. And while her husband's career as an NHL forward is at an all-time high, he's coping with the frustration of feeling powerless as his wife's hopes slip away.
Kate's unexpected journey sheds light on the fear that imprisons her, and reveals that she is the only one who can set herself free.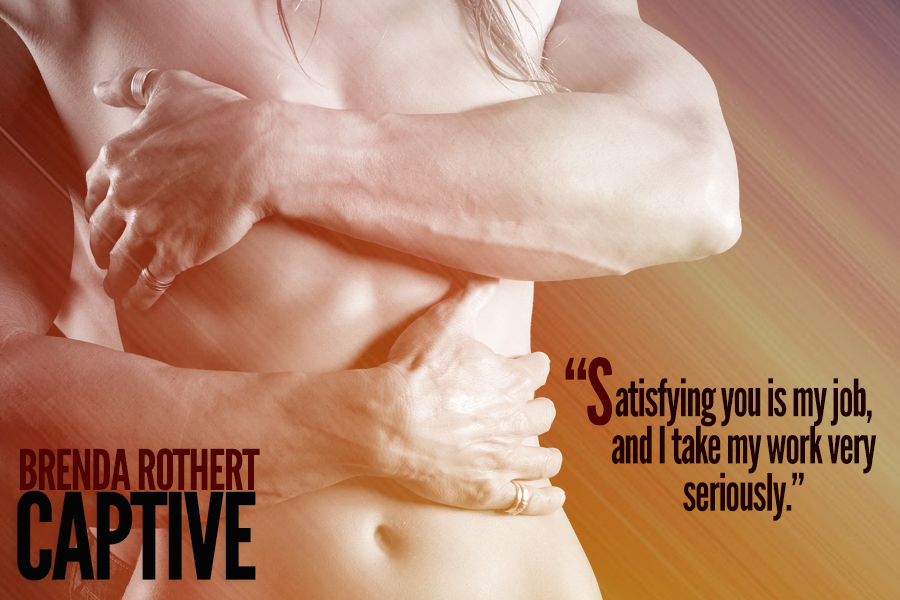 Captive is the story of Jason and Kate Ryker… well Ryke and Kate since this hockey boy lives by his nickname….the book takes place 2 years into their relationship, with them now married.  Their story of meeting and falling in love is told in Bound, so I am going to pause and say if you have not read Bound stop reading this and go 1-click Bound and Captive! Bound and Captive read together tell an adult story of life, marriage and the power of true love.
Picking up Captive was like sitting down with old friends, I was so excited to catch up with Rkye and Kate. The prologue brought a huge smile to my face but within minutes Ms. Rothert has a lump in my throat the size of a hockey puck. I was hooked and this became the kind of book that I did not want to put down as I so wanted Kate and Jason to have their happy!!
Throughout Captive the reader gets a look back at heartwarming moments in the time between the two books, I love how these were weaved into the story especially because at times they were in contrast to the pain the couple was experiencing at the moment. And no I am not going to tell you about the pain or the heartache.
I am going to try very hard to review this wonderful story without spoilers as I want the reader to experience the books as I did, an unfolding of all that life throws at a couple, a couple dealing with their pasts and the life of a powerful and wealthy sports star.
I do want to say I loved many of the secondary characters in Captive, I again fell in love with Luke Hudson, Jason's teammate! In this one, Luke opens up just enough to have me wanting to know him more, oh and he is the king of funny moments as he puts up with Ryke and comes back him with some truly humorous lines!
Yes, I feel like I should add here that Ms. Rothert did a wonderful job with dialogue in this book, not just with Jason and Luke but also with Jason and Kate, happy and sad, loving and argumentative, you will often feel like you are right in the middle of their marriage.
Ok back to secondary characters, this books brings the reader new characters to love, characters who truly contribute to this story line and often times especially with Harmony have a character saying things to Kate that you the reader wish you could. Yes, I adored how Harmony was used in this book (no I am not telling you who she is). And I love loved Melody…. both great characters and you will see why when you read this one! Oh and I want to say Stanley was too cute!
Though there was times Kate frustrated me and even times I found her hard to relate to, her emotions and reactions felt true to the character created, to her character, true to her heart and her life experience. To me that is a sign of wonderful writing.
I am not sure if was possible to love Ryke even more but I did, this supportive and kind man truly showed his wife the meaning of true love and family. His devotion to her and their marriage makes him a man I think any woman would love to "snuggle" up to (yes, you will understand that one when you read the book.)
Captive was such a unique story, it a look into marriage and what it means to be family.
This one is sticking with me as the journey Kate and Ryke takes is powerful, engaging and sometimes hot look into marriage. And in the end brought a huge smile to my face and warmed my heart!
Thank you to Ms. Rothert for allowing the reader to see The Ryker's with a true forever happy!
P.S. I am dying for Edge (Fire on Ice, #3) Luke's story!

Kate

When the color orange caught my eye, I glanced out the living room of our suburban home. The giant truck with the logo of a moving company was at the wrong place. We'd been in our new house for three months now, and every box was unpacked.
AJ cooed from his spot in my arms and I gave him the smile I knew he wanted.
"Hi, baby boy," I said softly. His caramel colored eyes were focused on my face. My son was a lot like his daddy – he loved my undivided attention.
Melody scooted in next to me to gaze out the front curtain.
"Are we moving again?" she asked, looking up at me.
I shook my head emphatically. "Not for a long time, sweetheart. I think that truck is at the wrong house."
I smoothed back her shining, wheat-colored hair. We'd gone to a salon yesterday so she could get a haircut that matched her best friend Shelby's. With the ends of her hair just above her shoulders, she looked much older and more polished. I'd fought my sadness at seeing my little girl growing up because the hair cut was all she'd asked of us for her sixth birthday.
"Mommy!" Melody squealed and her feet bounced up off the floor. "Look!"
When I looked back out the window and saw a delivery man clutching a giant cluster of pink and purple balloons, I smiled. The truck wasn't at the wrong house after all.
Melody threw our large oak front door open before the delivery man reached the front step.
"Miss Ryker?" he asked, smiling. "We have a special delivery for you."
"We?" I glanced back at the truck and saw three other men emerging from the back of it, all carrying giant bouquets of pink and purple balloons. And more followed.
Melody was squealing, her smile lighting up her whole face. I counted the balloon bunches, losing track after 20. This had my husband written all over it.
"Ryke!" I called into the kitchen.
He joined us in the front room a few seconds later, and one look reminded me why I'd climbed back into bed beside him this morning when AJ had fallen back to sleep and Melody hadn't woken up yet.
In just a pair of gray sweats, all the lines of his broad chest and defined shoulders were on full display. The sweats sat low on his waist, his bare skin reminding me he'd pulled them on without any boxers when AJ's cry had broken up our post-sex snuggling. He'd brought our baby boy to lay between us, and just a few minutes later Melody had padded into the room with Stanley in her arms. I loved mornings like this, when our family could enjoy a few minutes of blissful alone time before the day began.
"What's this?" I asked my husband, though there was no question in my tone. His lips quirked up into a smile as he raised his coffee mug to his mouth.
"It's her first birthday with us. I want it to be special," he said.
"Daddy, look!" Melody cried.
"I can't see you! Too many balloons in the way!" he called back. She was surrounded by giant clusters of balloons, all weighted down with sand-filled, sparkly ribbon-wrapped weights.
One of the men passed Ryke a clipboard and he offered a quick smile before signing it.
The man started to turn away and then stopped, hesitating. "I'm a big fan, sir," he said.
"Thanks, man." Ryke extended his hand for a handshake. "You got kids?"
"A four-year-old and a seven-year-old. Both boys."
"I'll set you up with some good tickets to a game," Ryke said. "Just call the front office."
"Really?" the man grinned. "That'd be great."
"Hey, thanks for making my little girl's day." Ryke opened the wallet that I hadn't even seen in his hand. "How many of you came today?"
"Uh . . . seven, sir."
Ryke peeled off several bills and handed them over with another handshake. When the men had all left, my gaze wandered back over to my husband. His dark hair was spiked, reminding me how frantically he'd made me pull it earlier.
I could tell by his smile he knew what I was thinking. He squeezed my ass and winked at me.
"Daddy!" a tiny voice called from inside the clusters of balloons. "Come find me!"
Ryke crawled into the mess of strings and girly balloons on his hands and knees, and the growling, squealing and giggling noises coming from the two of them made me shake my head and look down at AJ.
"They're so funny, aren't they, peanut?"
When Ryke burst through the balloons with Melody on his back, I followed them into the kitchen. My mouth dropped open when I looked at the clock.
"We have to get dressed and ready! The party starts at noon, and there's still a lot to do."
My mom and Dale arrived a few minutes later and Dale carried AJ around the house while we all finished up preparations.
"Wow! That's gorgeous!" Mom called from the front door. I walked up to see what had arrived. Two women clad in white were carrying in a giant, three-tiered cake that was fit for a wedding. It was adorned with pink and purple frosting flowers and a pink 'M' sparkled from the top tier.
"Jason Ryker, what is that?" I asked my husband when he appeared next to me.
"Our daughter's birthday cake."
"It's a little over the top, don't you think?"
When I looked over, he was shaking his head. "Nothing's too good for our little girl, baby."
"But . . . we don't want to spoil the kids, Ryke."
He waved a hand at me dismissively. "She deserves this."
I couldn't argue that point. Our daughter had survived the worst before we adopted her. And the look of pure joy on her face – the way her eyes widened and her mouth dropped open – told me my husband was right. It was okay to remind her that she and AJ were our world. After all, this was the first birthday cake she'd ever had, from what she could remember of her earlier years.
"Just tell me a pony isn't being delivered next," I said, arching my brows. Ryke said nothing and I craned my neck to look at him.
"Not . . . delivered, exactly," he said.
"Ryke! You can't get Mel a—"
"Shh!" He placed a finger over my lips. "It's a surprise!"
I gave him a look that said really? He grinned at me sheepishly.
"It's not forever," he whispered. "Just for the kids to ride during the party."
I was about to argue but my will to do it disappeared when the blond version of my husband walked in our front door. He was tall, wide and muscled, and his happy smile reminded me how much we'd all missed him.
"Uncle Luke!" Melanie cried, running to him. She jumped into his arms and wrapped herself around him.
"Sweetie, careful, he's hurt," I reminded her.
"Nah, I'm okay," Luke said. "Happy Birthday, Miss Melody!"
He'd set a box wrapped in sparkling silver paper beside him, curling pink ribbons spilling down its sides.
"You brought me a present?" Melody asked, reaching for it when Luke set her down.
"Course I did, it's your birthday, little lady."
"It's so pretty! Did you wrap it?"
Ryke and I both smiled and looked at Luke, who was clearing his throat.
"He probably had it wrapped at the store, Mel," I said.
"No, actually, a . . . friend helped me with it," Luke said. His expression was different than I'd ever seen on Luke. Was that . . . shyness? I was about to probe, but Ryke stepped forward and embraced his friend in a back-clapping hug.
"How's Rockford, man?" Ryke asked.
"It's good," Luke said. "It's really good."
"You coming back soon? How's the knee?"
"I don't know. I'm better, but I've still got work to do. I'm just glad to be playing again."
Melody tugged at the bottom of Luke's shirt impatiently. "Can I open my present, Uncle Luke?"
"Not til the party starts," I said. "You'll have lots of presents to open then."
Her squeals and jumps made us all smile. "This is the best birthday ever!" she cried.
It was for me, too. Seeing my daughter showered with love and attention felt even better than my own birthdays ever had. I never understood a mother's love for her children until I became one. Ryke, Melody and I had all been through a lot before finding each other and becoming a family with our sweet little AJ. None of us took days like this one for granted. I couldn't get upset with my husband for spoiling our daughter, because we knew all too well how fragile the gifts of life and love were.

Brenda Rothert started her writing career as a print journalist. She now writes Romances, some Contemporary and others with a twist of dystopian society and adventure. Rothert lives in Central Illinois with her husband and three boys.
Series Reading Order
Book 1 – Bound