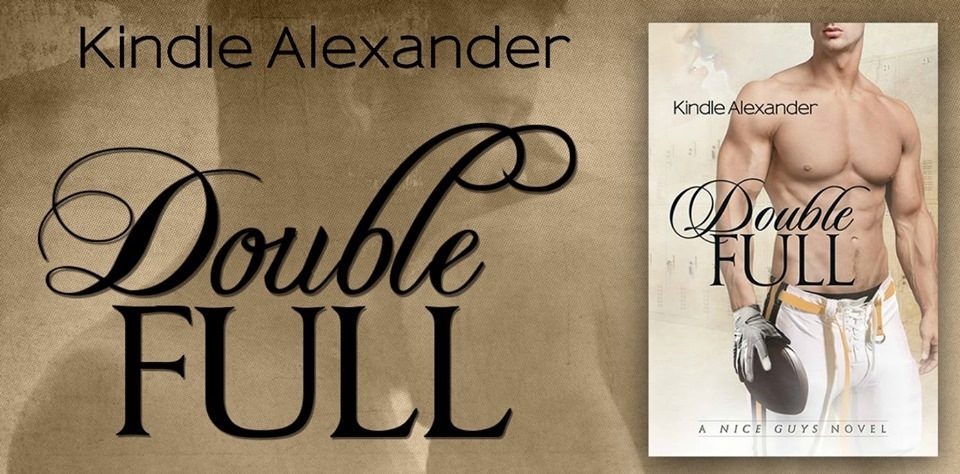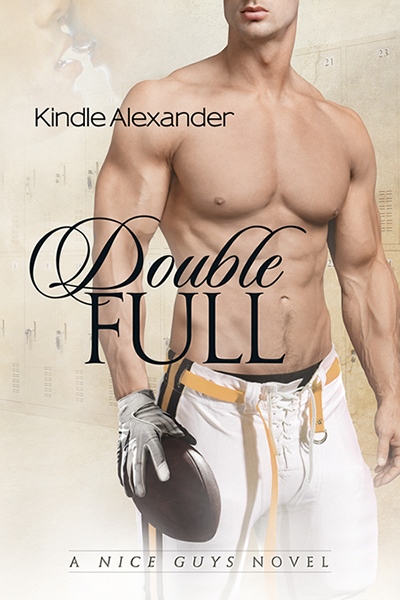 Enjoy a deleted scene written by Kindle below!
---
5 STARS!!!
Synopsis
Up and coming football hero, Colton Michaels, makes a Hail Mary pass one night in the college locker room that results in the hottest, sexiest five days of his young life. However, interference after the play has him hiding his past and burying his future in the bottom of a bottle. While Colt seems to have it all, looks can be deceiving, especially when you're trapped so far in a closet that you can't see your way out. When ten years of living his expected fast-lane lifestyle lands him engaged to his manipulative Russian supermodel girlfriend, he decides it's time to call a new play.
Jace Montgomery single-handily built the largest all-star cheerleading gym in the world, driven by a need to forget a life-altering encounter with a handsome quarterback a decade ago. His reputation as an excellent coach, hard-nosed business man, and savvy entrepreneur earned him respect in the sometimes catty world of competitive cheerleading. When Jace learns of his ex-lover's plans to marry, his heart executes a barrel roll and his carefully-placed resolve tumbles down without a mat to absorb the shock. Can his island escape help him to finally let go of the past and move his life forward?
Denise's Review
This story of all-star all-american quarterback Colton Micheals and all-star cheerleader Jace Montgomery is one that will sit with me for a long-time to come. This was the kind of book that as I forced myself to close my kindle to attend to life, my mind kept drifting back to the story and I anxiously counted the minutes unit I could re-join Colt and Jase.
The prologue of this book grabs your attention with some wicked crazy heat but within just a few short chapters this man will also have a hold on your heart.
Colt is the star-quarterback set to go leave college with high hopes of being drafted into the NFL.  Jase is male cheerleader who never dreamed this all-american superstar was gay, let alone interested in him.  Colt is not only interested, he proves to Jace he has wanted him for a long time; this was too cute!
To me this book asked the question; What does hiding cost you? When you can't be yourself or live in your own skin, is that truly living?
Double Full was a painful journey for these men, one openly gay the other not only in the closet but living a world where coming out could cost him everything.
There were times during this story my heart hurt, literally ached for these men. It was amazing to me that Ms. Alexander was able to make my heart ache for both men at times during this book. The range of emotions she gets the reader to feel in this book truly speaks to what a wonderful talent Ms. Alexnader has for storytelling.
As with her other stories, I adored that Ms. Alexander's characters connected a bit later in life; a time when they can truly understand how rare love is and how much it truly is worth fighting for.
Ms. Alexander not only gave me secondary characters to love but she gave me one to hate. For as much as I adored Dr. Knox, the team physician for Colt's pro-football team; Larry Micheals, Colt's father is a man I think I will loth for some time to come.  Both were truly used not only as part of the story line but also to make Colt and Jace's struggle real.
I really do not want to give away the story line of this book as I feel the reader needs to experience this journey for themselves; it is powerful, engaging and one that will stick with me!
The end of the book truly made me smile; no – the world is not perfect, no – life does not always turn out like you wanted or imagined but happy can come in many forms.
For Colt and Jace, their happy is likely not one either of them pictured but it warmed my heart, touched my soul and truly honored these men's struggles.
Please note you do not need to be a football or sports fan to love this story; this story is about two men and their struggle to find happy.
I truly hope to see more of these characters and to learn more about the trouble that almost cost Colt and Jace everything.
Oh and Ms. Alexander; yes I want to know more about Mitch Knox, Dr. Knox's son!
I am very much looking forward to the release of Full Disclosure book 2 in this series.
I have a new favorite Kindle Alexander book; better yet a new top of my M/M read list recommendation.
Exclusive Deleted Scene
It was early evening and the late autumn breeze rustled the leaves of the large oak trees towering above the small venue inside the Dallas Arboretum. Colt stood at the end of the aisle, nervously fidgeting with the sleeve of his black Brioni tux. He couldn't believe this day was finally here, the day he'd dreamed of since spring break 2003. He was about to marry the man of his dreams, in front of the small circle of their family and friends. Even though they'd had an impromptu ceremony in the hospital, they both wanted those closest to them to witness their union.
Colt smiled to himself as he searched the crowd, hoping to catch a glimpse of Jace in his tuxedo. Jace's mom had been adamant about them not seeing each other before their vows. She'd done more than her part in preparing for today. Her hopes were to make certain they experienced every part of the traditions of the formal marriage ceremony. For Colt, she had openly welcomed him into her family, something he'd never, ever experienced before in his life. They'd become very close over the past few months. Ms. Montgomery accepted him with open arms and made sure he felt like part of the family. She also pushed him just as hard as her son had, never letting him quit during the lowest times of his rehabilitation. And the woman sat like a saint by his side, through many of his A.A. meetings.
When spotting Jace looked like it wasn't going to happen, Colt let his gaze continue to scan the crowd, taking in the faces of those in attendance. Dr. Knox and his wife, along with Coach Atkins and his wife sat right up front. Mitch sat behind them. Haley and the rest of Jace's coaches were all there ready to witness this exchange of vows. Colt stood taller, honored to have such loyal friends surrounding him on this special day. Jace's mother peeked in on him from around the white stone column where he stood waiting and gave him a little wave. Her excitement clear on her face. He gave her a grin and a wink, before she ducked around the corner, preparing to escort her son down the aisle.
Colt couldn't help but notice his father hadn't bothered to show up. Not that he'd been invited; they still had a lot to work out. Their relationship had been strained for a long time and was tested even more so after his father's heart attack. His father still blamed him for that one. Colt was certain Larry Michaels hated the fact he couldn't control him any longer. But whatever, Colt wasn't going to let his father's antics ruin his and Jace's big day. He'd waited far too long for this, ever since his senior year vacation.
His heart fluttered in his chest as the small orchestra began to play signaling time for the services to begin. Colt made his way down the aisle, and took his position to the right of the minister, before turning to face the crowd as he waited for Jace to make an entrance. Why was he so nervous? They'd done this before. Jace was a sure bet. Right? Taking a deep breath he straightened his spine and let his hands drop to his sides, trying to appear casual and relaxed. He resisted the urge to check the ring in his left pocket, making sure it was still there like he'd done at least one hundred times since placing it there.
He couldn't contain his grin when Jace and his mother started down the aisle. The music played softly in the back ground as Jace made his way closer and closer to him. When Jace looked up and their eyes locked, he lost his breath. Jace held him with his gaze, his green eyes sparkling. Damn! His mister was gorgeous! His blond hair and tanned skin stood out against the black tuxedo he wore. The only thing keeping Colt from tackling Jace and helping him out of his expensive clothing was the fact his mother walked beside him. But later, when they were alone he was definitely going to take advantage of his man. Anticipation would only make that moment better.
Jace helped his mother in her seat, and gave her the single red rose he carried, before he made his way to Colt. Jace easily reached for his hand, entwining their fingers together as he took his place next to Colt.
"You're beautiful, Jace," Colt whispered. His heart overflowed with love, pride and devotion.
"So are you." Jace smiled, squeezing his hand as he turned to face the minister. The movement jarred Colt, reminding him why they were there and he turned a moment later, following Jace's lead.
When the minister stepped forward, the music stopped playing. His smile was genuine as he gave Colt a nod, and began the ceremony. "Dearly beloved, we have gathered here today to celebrate love. It is with thoughtfulness and a deep realization of their commitment to each other that Colton Michaels and Jace Montgomery have chosen to stand before you and make their declaration of love and loyalty."
Jace turned back to Colt, and their ten minute commitment ceremony lost its allure to the man standing before him. Colt took a small step forward, separating any distance between them and held tighter onto Jace's hand. Honestly, he never heard the words Jace spoke, but remembered watching his thick, full lips move with each word said. He had no real idea what he said in return, except his prepared vows vanished, and he spoke straight from his heart. The only way he knew he'd got it right was to see Jace's eyes tearing up, and a sweet sentimental smile spread across his face.
Colt lifted Jace's hand, fumbling a little as he tried to slide the ring on Jace's finger. The love he felt toward this man overwhelmed him. To have Jace finally wearing his ring may have been the moment he lost all sense of the ceremony. His emotions were so high, he slid the ring on Jace's finger seconds before he reached up and kissed him. Not a small peck, but a deep, wrap his arms around, slide his tongue in kind of kiss. And Jace kissed him right back.
Based on the cheers, and Jace pulling slightly away from the kiss, Colt realized the ceremony might be done. The minister held a big grin, patting them on the back. Dr. Knox was first there, giving Colt and then Jace a big hug.

***

The small, tucked away hotel Colt chose for their honeymoon was an odd mix for this ultra urban area of Uptown. Never would Jace have thought Hotel Zaza could pull off the quaint feel of Southern France, but as they entered the ornate gates, downtown Dallas faded away. Colt lifted their entwined fingers from the tight grip he'd had on Jace since leaving the reception to place a simple kiss on his knuckles.
"You're mine, cheer boy," Colt said, navigating their SUV to the front of the hotel, stopping in front of the valet who stood ready to park their ride.
"I have been for quite a while," Jace said, and laughed at Colt's moment of clear indecision. To get out of the car meant to let Jace go and Colt stumbled until he finally released Jace's hand.
"Damn, I wanted to get your door!" Colt bounded around the hood, meeting him as he shut the passenger side door. Colt immediately took his hand again, a big grin on his face as he tugged him inside.
"Are you sure this hasn't been too much for you today? You're limping a little," Jace said, after Colt got their suite and headed straight for the elevator, tugging him past the front entrance to the bank of elevators. He was worried his man might have pushed himself a little too much today.
"You aren't getting out of sex tonight," Colt answered a little too loudly. Maybe more loudly than Jace thought as he looked around to see the entire lobby staring at them."It's okay, he's my husband," Colt said, lifting a hand toward the room, showing off his ring as if that made everything better to those around them. "You've made me wait for this and I'm about as horny as a guy can get after seeing you in your tux today. I seriously knew you'd be hot, but damn, Montgomery. Now, I can't wait to get you out of it."
"Oh yeah?" Jace slightly bumped Colt in the shoulder and smirked.
"Yeah." Colt pushed the glossy gold elevator button, and the matching door dinged open immediately. Jace found himself shoved inside, pushed up against the back wall, with Colt descending down on him.
"It's only three floors," Jace got out, only to be silenced as Colt's tongue entered his mouth. The kiss was swift, yet complete and Jace melted against Colt. When the doors opened again, he was completely lost, but the couple waiting on the elevator wasn't, and after several loud throat clearing episodes, an older ladies voice tore them apart.
"Boys, you need to find a room!" The sterns words came from a small, regal looking senior citizen. The tone didn't match the broad grin she gave them. Colt didn't even look embarrassed. Instead he was a little putout as he grabbed Jace's hand, pulling him from the elevator. Jace could only smile, but felt his cheeks heating, no doubt a bright red as they left the elevator.

Colt fumbled with the key for a second before finally managing to get the card inside the lock. He opened the door and pulled him inside. Jace made these reservations weeks ago and planned for the Erotica suite which was fitting what he had in mind. Jace wanted to make this night special for his husband since they'd never had a honeymoon.
Jace's eyes hadn't even had time to adjust before Colt's warm lips took his. Colt's kiss was possessive, full of heat, and Jace submitted, melting into the warmth of Colt's mouth. God he wanted Colt, he loved him, always had. Nothing had ever changed these feelings. Colt was always meant to be his and he had always belonged to Colt.
Jace ran his fingers through the soft silk of Colt's dark hair, deepening the kiss. He tugged Colt tighter against his body, he would never get enough of this wonderful man. Jace tried to put every bit of emotion he felt into that one kiss. Using teeth and tongue, their mouths wielded together as they fought for dominance. Their frenzied aggression only added to the passion of the moment. Neither could keep their hands or mouths off the other. Colt's tongue probed his mouth, swirling, tasting and teasing him. Colt ground his hard cock against his, they both gave a deep moan at the contact. Love, commitment and possession ran deep inside Jace, his knees grew weak. Colt seemed to instinctively know, and gripped his ass, grinding harder into him.
"I want you bad, need you so bad…" Colt gasp against his mouth, desperation laced his words and before Jace knew it his lover had the zipper undone and was pushing his pants and briefs down his thighs. He quickly toed his shoes off to help and stepped out of his slacks. Colt wrapped his fingers around his aching cock and began stroking him from root to tip.
"Ahh fuuck… that feels…" Jace fought for words as Colt fingers tightened on him. He arched his back and thrust into Colt's hold. Jace wanted Colt's rough palm to pump him faster. Colt built the perfect rhythm, stealing his breath and setting his body on fire. Jace was rendered helpless; he couldn't do much more than mumble unintelligible words as Colt worked him. Colt was driving him over the edge and that wouldn't do. The need to be buried inside his husband, claiming him and marking Colt as his was stronger. It took every ounce of strength he could muster but he gripped Colt's wrist with his hand, stopping him.
"Your mine and I need to be in my husband, tonight." Jace rubbed his lips across Colt's jaw, nibbling and kissing his way to Colt's mouth. "I want your ass, Michaels," Jace said against parted lips. He felt Colt shiver at his words. "I wanna fuck you till you can't walk." That earned him a solid approving moan. Removing his hand from Colt's, he slid his open palm over Colt's crotch, and gripped his lover's hard length through the material of his pants. Colt watched him with hooded eyes, the corners of his mouth lifted into a sexy smirk.
"Well, what are you waiting for, husband? You gonna make me beg?" Colt thrust his hips forward into his hand. Oh yeah, the gauntlet had been thrown and Jace would gladly accept that challenge.
"Strip Michaels, I want you naked, just you and me, skin to skin." Jace growled in Colt's ear and gave Colt's dick one last squeeze before stepping away and waiting for his command to be followed. Colt loved to be dominated. Yes, Colt could be aggressive, very aggressive, but only to a certain point. Jace learned early on his big strong quarterback preferred to let him take control. Colt quickly shed his clothing, rummaging through his pants until he pulled out a small silver package of lube and turned to face him. His gorgeous engorged cock stuck out in front of him, hard and ready, pre-come already glistening on the tip. Jace licked his lips at the sight.
"I was hoping we would get a chance to use this at the Arboretum earlier, but the opportunity never presented itself." Colt grinned as he waved the packet of lube in his face. A mischief gleamed in that blue stare, making his cock jerk with anticipation. And he wasn't waiting another second to claim his man. Fuck that!
Jace grabbed the package from Colt's fingers and spun him so he faced the wall. Jace pushed his knees between Colt's thighs, forcing him to widen his stance. He slid a hand down Colt's back, smoothing a palm over his lover's firm ass and around his side to his hip bone. Jace gripped Colt's leaking cock and spread the moisture collecting at the tip with his thumb. As he stroked his man, he placed tender kisses along the back and side of Colt's neck before finally finding his mark and sinking his teeth deep into the spot between Colt's neck and shoulder. Colt's body tensed but Jace continued stroking him exactly the way he knew his husband liked it, fast and hard. Colt moaned and Jace couldn't help but smile as his lover's palms slammed against the wall in front of him.
"I'm gonna make this so good, baby. I promise." Jace reluctantly let go of Colt's cock to open the package of lube. He quickly drizzled a good amount on his fingers and gave his aching length a few strokes, spreading the lube evenly along his length. Jace used the pad of his index finger to tease Colt's tight rim. He massaged and then pressed the tip of his finger past the tight ring of muscle. Jace pushed deep into Colt's tight heat and began working his finger in and out of Colt with purpose. Colt lifted his ass and pressed back against him, making little noises of approval. He watched mesmerized by the sight of Colt fucking himself on his fingers as he added another, scissoring them, stretching Colt. He worked Colt until three fingers sank easily into his heated passage, then he curled his finger, deliberately dragging the tip over his lover's gland, torturing him and eliciting a string of unintelligible words from Colt. Pulling his fingers from Colt's ass he pressed his lips to the nape of Colt's neck and kissed him.
"Damn it, Jace, get on with it! Fuck me!" Colt pleaded, pushing that delicious ass back against his hand.
He anchored his hand between Colt's shoulder blades and pressed, urging him lower. Jace lined up with Colt's rim, and circled the tight muscle with his leaking prick, coating his lover's exposed hole with his pre-come. He tugged Colt's hips back toward him and tilted his own hips forward watching as the head of his cock pushed into his husband's tight heat. Jace moaned at the intoxicating sensation and slowly seated himself deep in Colt's ass in one smooth thrust. Fuck! Jace froze when Colt's hot, greedy muscles gripped him.
Colt knew what he was doing as he relaxed and then pressed against him, quickly clenching his ass, stealing Jace's breath with the move. He swore he heard Colt chuckle. Jace remained still, the tightness and heat threatened to undo him before he even started.
"Move for me…cheer-boy!" Colt rolled his hips, turning to grin at him over his shoulder. Jace forced himself to pull out and shove back in; he gripped Colt's hips, using them as leverage as he worked himself in and out of his husband's tight chute. Jace changed his position, angling himself so he ground against his lover's prostate with every snap of his hips. Colt met him thrust for thrust demanding more. Clearly, the days of Colt needing time were long gone. His lover met him thrust for thrust.
"Fuck yes! Right there baby. Fuck me harder, I'm almost…" Colt's forehead landed on the wall in front of him with a thump.
Jace felt Colt shudder; he never eased up on the pounding he gave, aiming for that sweet spot over and over. He reached forward to grip Colt, working to take them both over the edge. Jace stroked harder and faster, keeping in time with his thrust. He was so close and he knew by the sounds coming from his mister, Colt was too.
"Come for me now." Jace ground out through gritted teeth, pounding into Colt's ass, his fingers digging deep into Colt's skin as he thrust into him.
Colt's ass tightened in spasms around Jace's length and his husband's thick cock pulsed in his palm as Colt's warm essence flowed out over his hand and painted the wall of their hotel suite with creamy ribbons of their lust. The pressure built in his spine, sending his blood boiling through his veins. The musky smell of Colt's orgasm drew his balls up tight.
"Fuck yes!!" Jace couldn't hold back his release any longer, his rhythm faltered as Colt's muscles continued contracting, milking him of his senses. Jace lost his resolve and tumbled over the edge, right along with Colt. He cried out as he filled Colt's ass. He slumped forward, his body weight pressing Colt against the wall, which at the moment was the only thing holding them up. Neither attempted to move while they came back down to earth and their breathing returned to normal. After a few minutes Colt let go of the wall and reached his hand around, cupping the back of his head pulling him in for a tender kiss.
"Fuck…I love you, Montgomery," Colt panted.
About the Author
Best Selling, and newly award winning (whooo hooo!) Author Kindle Alexander is an innovative writer, and a genre-crosser who writes classic fantasy, romance, suspense, and erotica. It's always a surprise to see what's coming next! Happily married with too many children, and dogs, living in the suburbs of Dallas.