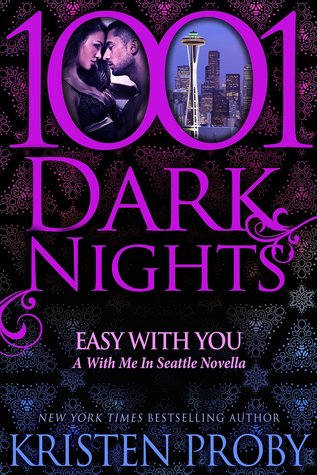 Easy with You

by Kristen Proby
on March 24, 2015
Pages: 120
Buy on Amazon
Goodreads


Nothing has ever come easy for Lila Bailey. She's fought for every good thing in her life during every day of her thirty-one years. Aside from that one night with an impossible to deny stranger a year ago, Lila is the epitome of responsible.

Steadfast. Strong.

She's pulled herself out of the train wreck of her childhood, proud to be a professor at Tulane University and laying down roots in a city she's grown to love. But when some of her female students are viciously murdered, Lila's shaken to the core and unsure of whom she can trust in New Orleans. When the police detective assigned to the murder case comes to investigate, she's even more surprised to find herself staring into the eyes of the man that made her toes curl last year.

In an attempt to move on from the tragic loss of his wife, Asher Smith moved his daughter and himself to a new city, ready for a fresh start. A damn fine police lieutenant, but new to the New Orleans force, Asher has a lot to prove to his colleagues and himself.

With a murderer terrorizing the Tulane University campus, Asher finds himself toe-to-toe with the one woman that haunts his dreams. His hands, his lips, his body know her as intimately as he's ever known anyone. As he learns her mind and heart as well, Asher wants nothing more than to keep her safe, in his bed, and in his and his daughter's lives for the long haul.

But when Lila becomes the target, can Asher save her in time, or will he lose another woman he loves?
We are so excited to be participating in the Review and Excerpt Tour for Kristen Proby's newest book EASY WITH YOU! Happy Release Day Kristen!! xo
Ok first although you may see this book listed some places as With Me in Seattle #8.5, it is completely a standalone.  Ms. Proby masterfully weaves a secondary character from her With Me in Seattle series, Asher (Matt's partner from Tied with Me) into her new Boudreaux series which is set in New Orleans.  So yes, you see characters from both series but this novella is truly about Asher and Lila; everything you need to know about them or those around them to love this story is explained in this book.
The prologue to this story is hot as it is the night Asher and Lila first meet; a night we don't see in Easy Love, book 1 of the Boudreaux series.
Lila Bailey is a college professor and Asher Smith is a police lieutenant and single father.  They have a one-night stand, they don't know each other's last name nor live in the same town so imagine Lila's surprise when the murders on Tulane University campus, her new place of employment, puts her face to face with the man who still centers in her fantasies, the man she thought still lived in Seattle.
The reader can instantly feel the attraction between Archer and Lila and they know that one night is not enough.  For a short story, this book does a good job of developing more than just a sexual relationship; these characters open up to each other and learn to live in each others space; although forced to by the suspense aspect of this book.  I do not want to say more about the plot as watching it unfold is more enjoyable. I will say I loved that the suspense element of this book did not overpower the romance or the developing relationship.
I adored the use of Casey in this story; this little girl stole Lila's heart and mine as well.  Yes, I loved Casey in Tied with Me and I am sure my review says I hoped Asher and Casey get a happy.
Thank you, Ms. Proby for giving Asher and Casey a happy! Yes I hope that as the Boudreaux series develops, we might catch a glimpse or two of them again.


She's so fucking sexy I can hardly breathe.
"I want to fuck you, Lila."
"Oh good." She swallows. "We're on the same page. I want to fuck you too."
"No, sweetheart." I grin and lower my face beside hers. I'm not touching her, but I can feel her. Our skin is almost touching, and I know I'm making her crazy.
I'm making me fucking crazy.
"I'm going to fuck you." I drag my nose along her earlobe and grin when she shivers. "But first, I think we could use something to cool us off."
"Cool us off?" she whispers.
Without touching her, I back away, take her hand and walk to the small wet bar in my room, open a bottle of Patrón that one of the guys at the precinct gave me, slice a lime and reach for the salt shaker sitting on my room service tray from lunch, relieved that I forgot to set it in the hallway on my way out this afternoon.
"Have you ever done body shots?" I ask her. She's watching me closely, her hip leaning against the counter, arms crossed over her chest.
"No." She shakes her head and bites her lip.
"Wanna do them with me?"
"Yes."
"I'll go first." I pull her to me, her stomach against my pelvis, and push her hair over her shoulder. "Tip your head back, please."
She complies, and I lick a short path down the side of her neck, making her breath catch. God, she's so damn responsive. I shake a little salt on the wet spot, then lick it clean, take the shot, and suck on the lime.
Her eyes never leave me. I love that she's not shy.
A Message from Kristen Proby:

Dear readers,

 

As you know, the With Me In Seattle series came to a close earlier this month with the eighth and final installment, FOREVER WITH ME. I've been steadfast in my decision that there would be no further stories from the series, no spin-offs, nothing more. In my mind, it was complete.

 

And I still feel that the Montgomery/Williams families are complete, and I maintain that I'm happy with their happy-ever-afters. 

 

But, I've also heard you when you've said that Asher, Matt Montgomery's partner in TIED WITH ME, deserves to have a happily ever after for himself and his daughter Casey. So, when the lovely ladies from 1001 Dark Nights asked me to participate in their wonderful project, I thought long and hard about whose story it should be about. Seattle is finished, and I've moved on to New Orleans for the new Boudreaux Series… And then it occurred to me: why not do both, and offer a companion novella to each of the series?

 

And so, because you, the reader, has been so insistent that you want to see Asher and Casey find their perfect person, I'm excited to introduce you to EASY WITH YOU. I think you're going to love Asher and Lila's love story this spring…

 

Happy Reading,

Kristen Proby
Follow along the Review & Excerpt Tour Schedule:
March 20
Book Starlets-Excerpt
Hot Guys in Books-Excerpt
Indy Book Fairy-Excerpt
Mick Loves Books-Review
Schmexy Girl Book Blog-Excerpt
March 21
Books Need TLC-Review
Holly's Red Hot Reviews-Review & Excerpt
Cosying Up With Books-Excerpt
March 22
Little Read Riding Hood-Excerpt
Oh My Growing TBR-Review & Excerpt
Ticket to Anywhere-Excerpt
March 23
Made For You Book Reviews-Review
Roxy Kade-Excerpt
Romance Obsessed Book Blog-Review
March 24
Books She Reads-Review & Excerpt
Fangirl Moments & My Two Cents-Review & Excerpt
Mean Girls Luv Books-Review
Shameless Book Club-Review
Shh Mom's Reading-Review & Excerpt
The Literary Gossip-Review & Excerpt
March 25
Romance Addict-Review & Excerpt
Read-Love-Blog-Excerpt
Once Upon A Book Blog-Review & Excerpt
Naughty & Nice Book Blog-Review & Excerpt
March 26
MeReadAlot-Review & Excerpt
Addicted Readers-Excerpt
Book Club Sisters-Excerpt
Books to Light Your Fire-Excerpt
March 27
Battery Operated Book Blog-Review
BookAngelBooktopia-Excerpt
She Hearts Books-Review
True Story Book Blog-Review & Excerpt
I Dare You To Read-Review & Excerpt
March 28
The Book Bellas-Excerpt
Nose Stuck in a Book-Review & Excerpt
Love Affair With Fiction-Excerpt
Bestsellers & Beststellars-Review & Excerpt
Becca the Bibliophile-Review
March 29
As You Wish Reviews-Excerpt
I Heart YA Books-Excerpt
Mrs. Leifs-Excerpt
Once Upon an Alpha-Review & Excerpt
Two Book Pushers-Review
Series Reading Order
Book 1 – Come Away With Me
Book 1.5 – Under the Mistletoe With Me
Book 2 – Fight With Me
Book 3 – Play With Me
Book 4 – Rock With Me
Book 5 – Safe With Me
Book 6 – Tied With Me
Book 7 – Breathe with Me
Book 8 – Forever With Me
Book 8.5 – Easy With You
The Boudreaux Series