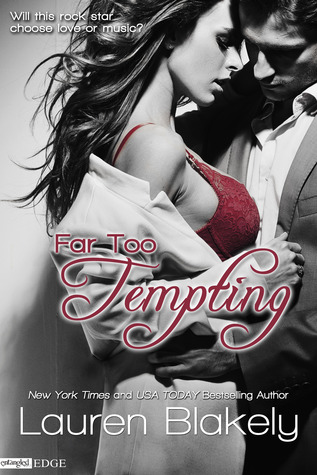 Today we welcome Lauren Blakely to our blog as she celebrates the release of her book Far Too Tempting which releases today.  HAPPY RELEASE DAY!!!
Enjoy a special bonus scene from Lauren below. There are SPOILERS so please do not read until you have read Far Too Tempting!
---
4 STARS!!!
Synopsis
Jane Black has written the breakup album of the century, earning her a Grammy, a huge legion of new fans, and the pressure to repeat her success. Sure, the heartbreak from her husband's unconventional abandonment might have been her inspiration, but it hasn't done her any favors in the dating department. So when Matthew Harrigan, the toughest music journalist out there, asks for an interview, Jane agrees—as long as her personal life is completely off-limits.
British, gorgeous, and way too tempting, Matthew's the first guy Jane's been attracted to since her husband. As she spends more time with him and their relationship heats up, though, so does her writer's block. How can the queen of the break up pen the perfect follow-up when she's seriously in love?
Denise's Review
Far Too Tempting tells the story of Jane Black, a rock star whose fame has come from writing a break-up album. Just as the world is giving her everything she ever hoped so in her career, Jane is faced with real questions many successful professionals face….. Now what? How do I top that? How do I keep success coming?
Matthew Harrigan is not the answer Jane was seeking.  This music journalist is exactly what Jane thinks she does not need, someone that intertwines business and pleasure thus complicating her life.
As Jane and Matthew interact the reader is pulled into their journey, the banter these two start via an email chat sucked me right in. It was witty, sexy and fun.  But as the truth of mixing business and pleasure starts to make itself present, these two will struggle with an attraction that continues to develop.
Oh back to the break-up album; Jane is divorced and has a young son. I am choosing to leave out the nature of the divorce as I think it is best for the reader to experience the why when they read the book. I will say I adored the use of Ethan, Jane's son and the struggles of shared custody is likely something many readers will relate to.
I enjoyed watching this couple bond and found myself truly rooting from them to find the balance between professional turning personal.
Matthew is a character I think readers will adore, a smart sex British man who wants to help the woman in his life succeed and one who is very proud of her.
Ms. Blakley truly immerses the readers in the music world… so it may be a good idea to have iTunes open while reading this one as music was used to make the reader feel and to express the characters emotions.
As Matthew entered Jane's world, pushing deeper into all aspects of her life… the questions arise.. is he there for her? Or to gather information about her?
Well I won't tell you how the battle works out, I will say I truly enjoyed Jane and Matthew's journey to a place there the footnotes count!
Bonus Scene *SPOILER ALERT! PLEASE DO NOT CONTINUE READING UNTIL YOU HAVE READ Far Too Tempting!
Far Too Tempting Bonus Scene from Matthew's POV

One Year Later…

"Almost there."

As we near our destination, Jane stops ogling the scenery through the tinted windows of the town car – even though the view is simply of red and white brick buildings and homes in this section of London – to make a pronouncement: "For the record, I am ridiculously excited to finally see the Abbey Road crossing."

"It's a crime that you've performed in London twice and never stopped by for a visit," I say.

"I know. But it's being rectified today."

"Alas, such is my role in your life. Rectifying all past violations of proper codes and procedures of visiting London as a rock star."

Familiar blocks flash past the windows, like a countdown. I've been here many times, so I know we'll be arriving any minute. I ask the driver to pull over on the next block.

"Absolutely, sir," he answers.

Ethan elbows me, and shoots a crazy grin. "Sir! They all say sir, here."

"But of course. We're in the homeland now. Everything must be proper," I say, teasing Jane's seven-year-old son.

Ethan straightens up, adopting a very serious tone. "Hello. Now I am British. Now I will talk funny."

"So you're trying to say I talk funny?"

"Kind of," he says with a shrug.

I turn to Jane, hold out my hands as if to say what can you do?

"Well, I think it's been double and triply noted that I'm rather fond of your accent," she says, leaning her shoulder against mine. "You know, that whole I'll Objectify You song and all."

I reach for her hand, lace my fingers through hers. I don't want to say much in front of Ethan about the genesis of that song, but suffice to say it stemmed from one of our most favorite activities. A daily practice, if you will. But then, many of the songs on her last album were also inspired by love as well, and many of the tunes on her next one too. She's been writing like a fiend in the last year, and is about to release another album in a few weeks. But before she goes on tour, we're taking a vacation, and her son is with us.

"So what did you think of Hogwarts?" I ask Ethan, as the car idles at a stoplight.

He gives me a funny look. "Was that really Hogwarts?"

"Of course it was Hogwarts," I say, doing my best to remain completely serious. "Doesn't Hogwarts exist?"

"If you say so," he says, but he seems skeptical that Buckingham Palace is a school of wizardry, and I suppose all things being equal, that's a good thing.

The car slows to a stop on the left side of the road.

Jane shakes her head in amusement, her long curly hair framing her gorgeous face. "Still think that's the weirdest thing in the entire world. You drive on the wrong side of the road here," she says.

"And I still find it odd that you Americans manage every day on the right side of the road. Who can even fathom that kind of vehicular insanity?"

The driver walks over to her door and opens it first, and I reach for Ethan's elbow when Jane's not looking. "You ready, mate?"

He nods, a serious look on his face. "I am all set, Matthew."

"You're only doing this because it means The Doctor is going to live with you full time, right," I say with a wink, referring to my dog who Ethan has become incredibly fond of. We regularly take The Doctor for walks in Central Park, and he rarely tires of throwing her a Frisbee. They're a perfect match since she rarely tires of catching one.

"Yes, sir," he says playfully. "But I also think my mom likes you."

"Let's hope she likes me enough."

Then we join Jane at one of the popular tourist spots in London, but yet, I don't think she'll mind that it's a draw. Jane's never seen it before and that's a damn sin as far as I'm concerned.

I watch her take it in, and she's wide-eyed and smiling, and seeing her happy never gets old. Fine, it's a street crossing, but it's more than a street crossing. It's an icon of music history and if there's one thing that thrills my rock star of a girlfriend it's the legends of music.

"Let's reenact it," she declare and grabs my hand, then Ethan's.

I kinda of knew that was coming. It's impossible not to walk in the Fab Four's footsteps, and so what if there are only three of us?

"Wait! We need four," Ethan says, then solves the conundrum immediately. "Let's ask the driver."

So the four us cross Abbey Road, recreating the album cover. When we reach the other side, I am nervous but also throughly ready for what's next.

I nod to Ethan and he takes my iPhone from his back pocket. "Hey, mom. Do you like this song?"

She looks at him curiously, waiting for the notes to reveal themselves. Then the familiar opening sounds of "All You Need is Love" play.

And that means it's my turn.

"I can't think of a better song to express how I feel for you or a better moment to ask you a question I've been wanting to ask for some time." I reach for her hand as her eyes widen, and she clasps a hand to her mouth. "Jane Black, you are the most amazing woman I've ever known, and the last year with you has been the happiest of my life, so I see no reason why every year shouldn't be like that. I am insanely, madly, completely, absolutely and thoroughly in love with you, and it would do me the great honor if you could become my wife."

Then I drop to one knee, and reach for a small velvet box in the pocket of my jeans. I open it, and she's already saying yes. There are tears in her eyes, happy tears on her cheeks, and her arms are around my neck.

I slide the ring onto her finger, and my heart is soaring with her answer.

"Does that mean I'm going to be a baroness?"

I laugh. "I would be delighted to refer to you as Mrs. Baroness Jane Black."
About the Author
Lauren Blakely writes sexy contemporary romance novels with heat, heart, and humor, and her books have appeared on the New York Times, USA Today, Amazon, Barnes and Noble, and iBooks bestseller lists. Like the heroine in FAR TOO TEMPTING, she thinks life should be filled with family, laughter, and the kind of love that love songs promise. Lauren lives in California with her husband, children, and dogs. Her novels include Caught Up In Us, Pretending He's Mine, Playing With Her Heart, and Trophy Husband. She also writes for young adults under the name Daisy Whitney.