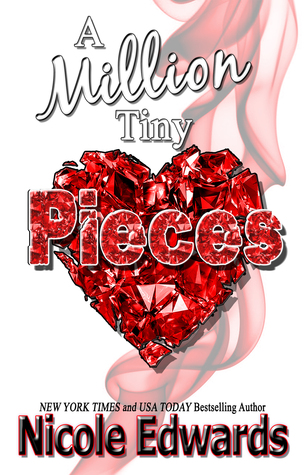 A Million Tiny Pieces

by Nicole Edwards
on January 20, 2015
Pages: 550
Buy on Amazon
Goodreads


Mia Cantrell is happy to be rid of her lying, cheating, ex-husband. With her divorce final, Mia is moving on, grasping the reins of life once more. She's learning to deal with the shattered remains while putting one foot in front of the other, taking control of her own decisions, and ultimately living one day at a time. Too bad the universe has put a hiccup (or two) in her well thought out plan.

Phoenix Pierce is putting the pieces back together after the death of his father. Between his multi-million dollar company, the NHL team he now owns, and the endless supply of women willing to share a bed for one night of uninhibited sex, he finds himself going through the motions. Until he meets Mia. Although he's on a mission to win her, that doesn't solve his problem of the other person he wants… the man he has denied himself for years.

Tarik Marx doesn't think anyone could ever fill the void in his life the way Phoenix unknowingly has. That is until he meets Mia. Thanks to a fractured childhood, Tarik has to face a bigger problem: he doesn't know how it feels to be loved. His past adds additional complexity when Tarik finds himself trying to figure out how he can have them both.

Is it possible for a million tiny pieces to come together again? And if they do, will that make the bond even stronger than before?

Erotic Ménage Romance
Mature Audiences
Wow, this story reminded my of why I love Nicole Edwards books.  In this m/m/f menage, Ms. Edwards masterfully created a world where the reader truly feels that Mia Cantrell, Phoenix Pierce and Tarik Max are destined to be together, all three of them, together and happy.
Phoenix is a multi-millionaire, Tarik his right hand man and Mia, well Mia is the newest owner in the building Phoenix owns.
The relationship between Phoenix and Tarik is epic, part friendship, part bromance and as it continues to develop even more than that! Tarik noticed straight away the Mia was different for Phoenix allowing the reader to understand why after all these years Tarik is now pushing Phoenix.
The friendship these three develop before Ms. Edwards brings the heat in this book had me rooting for them!  Yes, the heat comes and when it does Ms. Edwards does not disappoint; this book is hot!
I adored watching these three date, the time they spend together outside of the bedroom or the living room (oh you will never see Simon Says the same again) allows the reader to feel the deeper connecting developing.
Tarik was so witty and his back story brought a tear to my eye; this character I think may forever hold a place in my heart!
I would be remiss if I did not say that alone time with Tarik and Mia, the alone time with Phoenix and Tarik and the alone time with Phoenix and Mia were all layered, all fit into the story and in the end make this a complete and wonderful story.
Each set of I love you's touched my heart! The end moment with Tarik and Mia brought a tear to my eye and Phoenix and Tarik's special term had me smiling.
In this one, I also enjoyed the use of Pheonix's Mom; this woman truly understands and loves her son for who he is not what she wanted him to be. Makes you wish more people had parents like this.
In the end, the happy these three find had me grinning from ear to ear! Sometimes you need to take the bull by the horns and ensure you get the happy you want and deserve.
I loved the tool used in the end to portray the happy found and if you know me it is a surprise that I am hoping for one more scene.. so fingers crossed that maybe Ms. Edwards will write it!