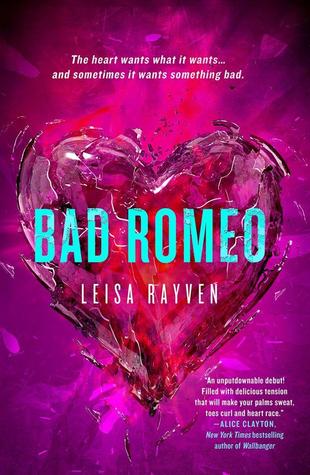 Bad Romeo

by Leisa Rayven
on December 23, 2014
Pages: 417
Buy on Amazon
Goodreads


When Cassie Taylor met Ethan Holt at acting school, sparks flew. She was the good girl actress. He was the bad boy about campus. But one fated casting choice for Romeo and Juliet changed it all. Like the characters they were playing, Cassie and Ethan's romance seemed destined. Until he broke her heart and betrayed her trust. Now the A-list heartthrob is back in her life and turning her world around. One touch at a time.

Cast as romantic leads once again, they're forced to confront raw memories of the heartbreaking lows and pulse-pounding highs of their secret college affair. But they'll also discover that people who rub each other the wrong way often make the best sparks
From the very beginning of Bad Romeo, I was completely captivated and intrigued and couldn't stop reading til the very last page…in short..it was SO ADDICTIVE!
It's no secret that I love the jerk bad boy every once in a while mixed in with my romantic heart throbs and Leisa Rayven gave me that and so much more with Bad Romeo.
So what's it about….
Cassie Taylor is an innocent good girl, always looking to please her parents until the one day that she decides that acting school is what she wants despite their wishes. She is honest, insecure and crazy and I truly enjoyed her character…she really made me smile 🙂
There she meets Ethan Holt; the arrogant, mysterious, handsome but definitely layered with goodness inside bad boy. You see, I know his deal. I KNOW this type of guy. In my mind, he is purposefully mean to her because he likes her and I see it in him; in his protectiveness of her; in the way he treats her and looks at her. Because of his past, he feels undeserving of any kind of love or good treatment. So he can't help but be mean to her; to run away from his feelings and to push her away over and over again.
Bad Romeo is an angsty love story; the push and pull that makes your stomach feel like you are on a roller coaster while your heart is beating wildly in your chest.
The chemistry between Ethan and Cassie is palpable and I enjoy seeing them act it out in the present day in a play that they are co-starring in together after not seeing each other for a couple of years. Similar to the feelings that are still present but that they don't care to admit or express out loud, I felt in the moment with them. The scenes, the acting, and of course the first kiss – everything so magnificently written because I could feel it too – in my heart, body and soul.
The present day Ethan is a real romantic; a true Romeo and wants to fight for their relationship and its such a nice change from the jerk of the past. And I feel for him..I really do because you only ever realize what you have when it's gone.
But of course Cassie's heart was completely broken and she has never recovered from it so has built up a wall to protect herself and her heart from Ethan.
In the end, the email that Ethan sent her melted my heart…and now its Cassie's decision on whether or not it's worth taking that risk again..all in the name of love.
What do you think? Are they strong enough to make it work a second time around?
I have to say that I CAN'T WAIT UNTIL BROKEN JULIET!!!! This was such a well written, enjoyable debut novel from Leisa. I enjoyed the flow, the back and forth between past and present and getting to know these characters on such an intimate basis. I enjoy angst ridden books and this one totally did it for me. The only small thing that bothered me was Cassie's obsession with sex and penises (lol) but besides that I enjoyed every moment on Ethan and Cassie's journey and can't wait to see what's in store for us next. SOOOO WELL done!!! This is a MUST READ and will be on my fave list of 2015!

Enter to win a signed paperback and a tote bag (open internationally) using Rafflecopter below. Good luck!