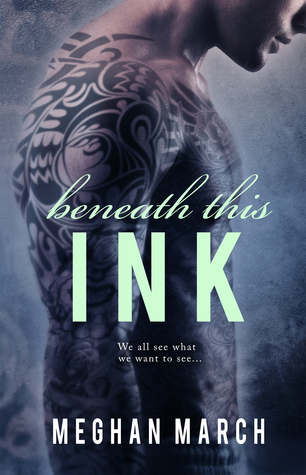 Beneath This Ink

by Meghan March
on February 9, 2015
Pages: 372
Buy on Amazon
Goodreads


I've always known she was too good for me, but that never stopped me from wanting her.

And then I finally had her for one night.

A night I don't remember.

I figured I'd blown my shot.

But now she's walked back into my life, and this time, I have the upper hand. I want my second chance.

Will she be able to see the man beneath this ink?
I have been waiting for Con't story forever and finally had the opening in my TBR to read Beneath This Ink and Meghan March didn't disappoint. I feel after reading this book that Meghan has grown as an author and story teller as this book was even better than the first.
I love second chance love stories and even more so a well written story combined with mystery that will pull you into the book and I devoured this book in a couple of days.
Con Leahy grew up as a foster child and has known Vanessa Frost since childhood. Vanessa growing up in an affluent family and always seemingly having it all. As adults, she is rich and sophisticated and as Con thinks – out of his league. On a drunken night, they connect on a deeper level and he can't remember what happened though he desperately wants to remember the night that he can't really ever forget. And while he doesn't remember, Vanessa does!
So without giving away the mystery behind this story and how these two end up…I will say that I absolutely LOVED the verbal sparring between these two. The reader can literally feel that there is more to these two than either want to admit.
I LOVE Con – his air of danger, his cockiness. He's bold and demanding while Vanessa tries to be prim and proper. Vanessa needs to let loose and live life and Con is that person to help her get to be the person she wants to be.
While Vanessa tries to keep their dealings to business for the sake of her job and position within her company, will Con be able to break down those walls and get the woman he could never forget? Will Vanessa and Con be able to move past their assumptions of each other and give into the chemistry and connection that promise for something more? And when these two come face to face with the danger and secrets that surrounds them, will they come out on top and in one piece?
You will have to read this book to find out!
I love mysteries and even more so I love books that captivate and Meghan March has created another fantastic story with amazing characters that readers will enjoy…If you love tattoo'd bad boys who are more than what they seem to be and a story that will keep your heart racing, then look no further than Meghan March's Beneath This Ink!

♥READ THE SERIES♥
Book 1 – Beneath This Mask
Book 2 – Beneath This Ink