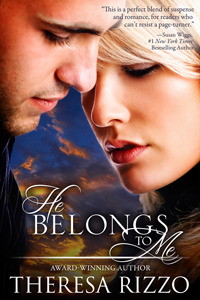 Enter for a chance to win an ebook of this great book below.  Good luck!
---
4 STARS!!!
Synopsis
He Belongs to Me is a love story . . . a tale of betrayal and deception and of a young mother's determination to recover what belongs to her.
Forced to leave her baby and tricked into relinquishing her parental rights, four years later Catherine Boyd is back and she'll do anything to regain custody of her son–even reconcile with the husband falsely accused of killing their son's twin.
All in the name of love for a little boy, generations of pain and tragedy are exposed in a courtroom drama.
Excerpt
All her research said that guys loved it when their ladies drank beer with them and watched sports. Check. They also claimed to love a good, long, relaxing foot massage. Catherine looked at Thomas's big feet.

She was the one with ticklish feet, so no worries there, but would he really enjoy that? She seemed to recall him liking his shoulders rubbed. She used to rub his shoulders and then slide her hands down over his taught chest and nuzzle that sweet spot behind his ear and then he'd flip her over his shoulder onto his lap and they'd make out for . . . She drew in a deep breath to calm her pounding heart. Nope. Better stick with the feet.

Forums claimed that guys loved it. Well, what did she have to lose?

She slid down on the floor and with her back to the couch, she watched the game and stared at his feet for fifteen solid minutes while gathering her courage. Should she ask him, or just do it? When she was sure his attention was glued to the TV, she edged closer. She put her hand flat on the floor, inching it over until it rested next to his bare foot.

Taking a deep breath, she pursed her lips and reached out and grabbed his foot and started massaging the top of it.

"Wha—" He yanked his foot back. She held on and lifted his foot shoulder high so she could get to the bottom, tipping him backwards. If he'd just relax, this would be a whole lot simpler. She pressed her thumbs deep into the arch of his foot.

He tugged on his leg. "Hey. What are you doing?"

She tightened her grip and doggedly rubbed. "Hold still." She pulled his foot closer.

"Let go."

"Hold. Still." She got a better grip on his foot, then resumed rubbing. "You'll like this!"

"Are you crazy? Let go!" He pulled back harder.

"I'm," Catherine pursed her lips and tugged on his foot, "giving," she crawled closer on her knees, "you," pant, pant, "a foot," she raised his foot so she could get to the heel, "massage."

Thomas jerked his foot loose, vaulted to his feet. "Are you crazy? What the fuck's the matter with you?"

Catherine blew the hair from her face and sat back on her heels. "Guys like foot massages. I'm being nice."

Hands planted on his hips, he leaned toward her. "You're being a whack job. What the hell is wrong with you?"

"What's wrong with me? What's wrong with you? You act like you'll catch cooties from my touch." She gestured at the bowl. "Accidentally bump my hand and you'd think I'd poured hydrochloric acid on you."

"Why were you touching my foot?"

"I was giving you a foot massage," she corrected.

"Why?"

"Because I was being nice." Exasperation crept into her tone.

"Why?"

"Why was I being nice?" Her eyes widened at the stupid question. Who doesn't like to be treated nicely?

"Yeah. What do you want?" His eyes narrowed. "Don't think I haven't noticed it all. Making my bed, the coffee, cleaning up after me, cooking, cleaning,—" Touching. "You can just stop."

She frowned, hurt that he'd think she had some ulterior motive. All she wanted was to make it easier. To make them easier. To go back to the time when they'd had fun together and he'd loved her. "Why? Why should I stop being nice? Afraid you'll have to stop hating me then?"

"I don't hate you."

"I'm not denying that you've got reason to hate me, but I'm trying. I'm trying, and you're not helping any." She got off her knees and stood. "I know this, this pretend reconciliation is weird, but you're not the only one who made sacrifices. I turned my life topsy-turvy too.

"I had a life in California. Good friends. A darling home on the beach. A job I loved. I gave up a lot too, to rectify this mess." She threw up a hand for forestall his potential argument. "And I know it's my screwup, but I'm trying." She paused. "What do I want?" She shrugged. "I want you to like me."
Christine's Review
This was a great debut novel by Theresa Rizzo and she is definitely an author to be on the lookout for.  The book was well written and I enjoyed it very much!
Catherine Boyd just graduated college and will do anything to get her son Drew back from her parents.  Her parents had temporary custody of him while she finished her degree in California.  Much to my surprise, because Catherine wants to stay in CA rather than move back home, her parents will not allow her son to live with her – they are controlling and manipulative and I could already sense how much I will hate them!
As a result of this, Catherine must contact her husband Thomas who she has not spoken to in 4 years.  The reason for their separation is heartbreaking – you see when Drew was born, he was a twin.  His brother Robert stopped breathing one night in his sleep.  A lot of painful memories surround this tragedy, and Thomas and Catherine have been a part ever since.  Catherine and Thomas' first interaction after so many years is awkward – I feel bad for them and hope that this couple will be able to rekindle their love 🙁
Catherine and Thomas come up with a plan to get Drew back which involves them pretending to be a happily married couple so that the courts will give them custody again.  Will they be able to put aside all the hurt and pain from the past to get their son back?
I have to admit that it was painful to watch Catherine's attempts at being a wife because Thomas kept her at such a distance.  And while I understand why he did it, I am hoping and wishing that these two broken people will be able to find a 2nd chance at love and be able to be a family again.  They key to this is communication and they have not had much of it over the 4 years and have to start refresh and re-learn how to do this with each other.
I will also insert here that the apple scene in the grocery store had me LOL 🙂
Will this couple be able to come together after all of these years?  Will they see the importance of family and fight for their love and for their only child?
You will have to read this book to find out!
This book dealt with a couple of hard topics that had me near tears as I watched this family suffer.  The court scenes had me on edge the entire time because I was hoping with all my might that the judge would be on their side.  There are some ugly things that come up from Catherine's past that have me HATING her parents while in my heart I also hope that they are able to overcome this together and be a family again.  There are some heartwarming parts too that allowed me to see the hope for their future together.
I don't want to give anything away in this book only to say that it touched a part of me, being a mother and watching this woman want to be with her child so badly.  Children are your future and without them something is missing…I understood that and I felt that pain for Catherine and Thomas.  I also understood from her parents side why they would think that they are doing what's best for Catherine and Drew – though I did feel that some of what they were thinking was because they were trying to make up for the type of parents they were to Catherine growing up.
This is a great debut novel and I highly recommend it to people who are interested in reading about second chances in love and family.  Theresa did a great job writing all the emotions in this book because I experienced them all with the characters and I look forward to seeing what has for us next.
ARC provided by the author in exchange for an honest review.
About the Author
Theresa Rizzo is an award-winning author who writes emotional stories that explore the complexity of relationships and families through real-life trials. Born and raised in Grosse Pointe, Michigan, she now lives outside of Boulder, Colorado with her husband of thirty years.