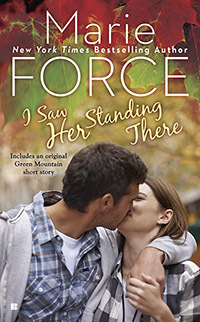 I Saw Her Standing There

by Marie Force
on November 4, 2014
Pages: 400
Buy on Amazon
Goodreads


There's a budding romance on Butler Mountain, but in the hornets' nest known as the Abbott family, keeping a secret is no easy feat…

Colton Abbott and Lucy Mulvaney have a secret. Colton's nosy siblings have begun to put the pieces together, but it's not like Lucy to keep things from those closest to her—especially her best friend, Cameron, who recently moved to Vermont to live with her true love, Will. But Lucy isn't about to tell Cam she's having a fling…with Will's brother.

Flitting between New York and Vermont is exhausting, so Lucy is looking forward to a long weekend with Colton at the Abbott family lake house in Burlington. Too bad Will and Cameron have the same idea, and once Colton and Lucy are caught red-handed (and red-faced), will their clandestine romance lose its appeal or will their secret beginnings be the start of something lasting?

Contains an exclusive Green Mountain short story!
First I love this series, I can't wait to watch each Abbott sibling find their happy. Oh and the Abbott family is real I don't care what you say!
I Saw Her Standing There is the story of Colton Abbott; the Abbott sibling who runs the family sugaring facility from atop his mountain. Yes, Colton is the mountain man, he has lived atop the mountain since after high school, in a cabin without electricity. There are hints of Colton's love interest in prior books but this one confirms it is Lucy, Cameron's best friend from book 1. (Cameron is now living in Vermont with Colton's brother Will)
I loved that Colton evolved throughout this story, the best part is he changed because he wanted to. Lucy never asked anything of Colton. Colton got a cell phone because he wanted to hear Lucy's voice!
Again Ms. Force did an amazing job with the relationships and dialogue between family members. Each has their own unique bond and this book builds on that even more. Colton's heart to heart with Max the youngest was so well done; as was the teasing of a few toward Colton, Will and Nolan, the three men who have found their forever happy with wonderful women who suit them perfectly.
When Colton goes to NYC, Wow, the reason his Dad, the amazing Lincoln Abbott, sends him is hysterical and then the use of that for banter between Lucy and Colton was priceless (I loved the turn about is fair play stance Lucy takes – nope not telling read the book).
On an emotional note, the care Colton pays Lucy during his visit proves this relationship transcends sex and shows that Colton is truly vested.
This book provides the reader the opportunity to visit with the Abbott family, I loved this element, it was like returning home or visiting with friends. Not only do we get to see Will and Cam happy (from book 1) but we get Hannah and Nolah's wedding (from book 2). The wedding was so well done, and be prepared because Hunter's speech will likely bring a tear to your eye as he toasts the groom and his twin sister.
Once again Lincoln and Elmer almost steal the show.. oh wait I should add in this book Molly Abbott, the matriarch did have a wonderful scene with Lucy!
The end of the book was well done, it was a happy that suited both characters, I am curious to see these two in future books in the series as I think they may evolve over time.
And speaking of future books the Green Mountain series is a must read for me!
I am so excited for every Abbott to get a happy along with Gavin, Caleb's (Hannah's first husband lost in war) brother.
Ms. Force has a rare talent; a true artist, she creates a world that pulls the reader right in!
Up next is And I Love Her (Green Mountain, #4) this one is the eldest Abbott siblings Hunter's book and I am very curious to see how Ms. Force works this one out!

♥READ THE SERIES♥
Book 1 – All You Need is Love
Book 2 – I Want to Hold Your Hand
Book 3 – I Saw Her Standing There
Pre-Order Book 4 – And I Love Her