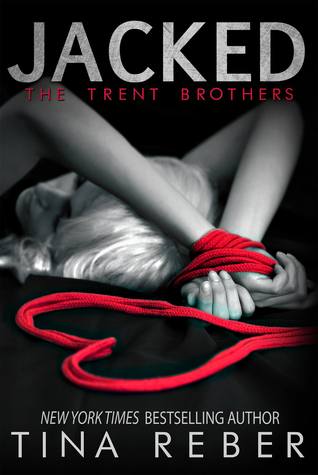 Jacked

by Tina Reber
on December 11, 2014
Pages: 563
Buy on Amazon
Goodreads


We all have skeletons in our closets.

Doctor Erin Novak was only sixteen when she was accused of a crime she didn't commit. Since that moment, she has made it her life goal to pursue emergency medicine, pouring her heart and soul into assuring another innocent life isn't lost to the hands of the wicked.

We all have secrets we've never shared.

Detective Adam Trent has lost control of everything, starting with losing his partner to a punk with a gun and then everything else to the crushing guilt. Now a member of the elite Auto Theft Task Force in Philadelphia, it's his job to be one step ahead of the criminals stealing expensive cars in the city. Too bad the television cameras keep getting in the way of his investigation.

We all have pasts that we can never escape.

A stolen car, a tragic chase, and a traffic stop crosses the fates of these two, tying them together in ways that are unimaginable. As their love and trust grows, so do the enemies that threaten their survival, testing the strength of their commitment. Can true love endure half-truths, past pains, and secrets never meant to be shared?

Some things are just out of our control.

Love Unscripted spin-off featuring Kyle Trent's older brother, Adam.
I picked up Jacked because I loved Ms Reber's 2 book Love series, Love Unscripted and Love Unrehearsed (if you have not read these we highly recommend to 1click) any who I loved her style so I added Jacked to my to read list.
Ms. Reber did not disappoint, I truly enjoyed Adam and Erin's story.  Detective Adam Trent and Doctor Erin Novak are both adults, both successful in their given career and both with pasts and secrets.   I loved their first meeting, it was very unqiue and continues to amp up the energy with each page.  You were also able to feel the sexual tension from almost the moment these two locked eyes
I throughly enjoyed the story that went along with this relationship, the story had a lot of moving parts all of which build into a story that kept my attention as "Cop" and "Doc" navigated the murky waters of their blossoming relationship. Ms Reber masterful intertwining a love story with both characters careers.
Adam is well HOT and when he gets Erin alone he will set you kindle ablaze with lines like this:
"I don't need you to tell me what you like or don't like. I can tell just how your body reacts under my touch to know what gives you the greatest pleasure. Read you like a book, open you at my whim, just waiting, anticipating my perusal. Will I? Won't I? That's not for you to decide. I take those choices away from you, just like I did earlier. Your part is just to feel and enjoy and know with every fiber of your being that I will take you to places you've never been. Touch you in ways you've never experienced." His eyes leveled on mine.
"So to answer your question, Doc, yes, I want to do so much more than just have sex with you."
I really don't want to give away the how these two final come together or what almost destroyed it all as experiencing this journey in the vivid picture crafted by Ms Reber is so worth the read.
I will say the end of this book was so well done; I knew Erin and Adam were meant to be together and that their happy was solid no matter what live throws at them.
I am truly  happy this is the start of a family saga.  I can't wait for Jason, Adam's youngest brother story!  I will not tell you why I am so anxious for Jason but I will say the very very end of this story has hoping his book releases soon!
I am very much looking forward to Amped (Trent Brothers book 2); Jason's story.
♥READ THE BOOKS THAT STARTED IT ALL♥
Book 1 – Love Unscripted
Book 2 – Love Unrehearsed