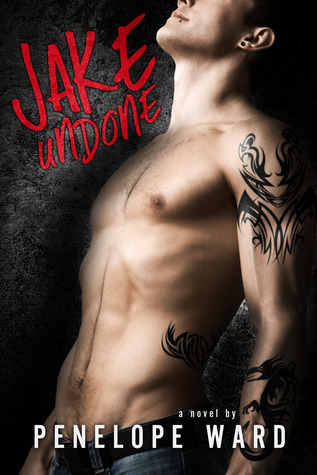 Enter for a chance to win an ebook copy of this book using Rafflecopter below. Good luck!
---

Nina Kennedy was alive…but not living…until she met him.
Planes, trains, heights…you name it, Nina was afraid of it and led a sheltered life ruled by irrational fears and phobias. When she moves to Brooklyn for nursing school, that life is turned upside down, as she develops an intense but unwanted attraction to her gorgeous roommate, who's pierced, tattooed and just happens to be the smartest person she's ever met.
Behind Jake Green's rough exterior and devilish smile, lies a heart of gold. He makes it his mission to change Nina's outlook on life. When he agrees to tutor her, they forge a bet and the stakes are high as Jake forces Nina to face her demons. He just wasn't expecting to fall hard for her in the process.
What Nina doesn't realize, is that Jake has been living his own private hell. Once he drops a bombshell, will their love survive it?
Told in two parts from both Nina and Jake's points of view, Jake Undone is a standalone story and a companion to the novel, Gemini.
This was my first book to read by Penelope Ward and will definitely not be my last.  I am already anxiously awaiting the next book in this series titled MY SKYLAR!
I am IN COMPLETE LOVE with Jake right from the prologue – I adore men who are kind and sweet and compassionate with children so Jake definitely had me at hello.  Especially because this character is a totally smart engineering nerd covered in tats and piercings – what you see isn't always what you get and with Jake, what we got was SO MUCH MORE!
Six years after the prologue happens, we meet Nina who has crazy fears about everything and anything that prevent her from truly living her life.  Nina has moved to Brooklyn to attend college and is moving in with her friend Ryan who she has known since childhood and his two roommates Jake and Tarah.  Nina struggles with her math class and Jake being an amazing math nerd tells her that he will tutor her but for every grade below an A that she receives, she must face one of her phobias and he will be there to guide and support her.
Throughout the book, Jake returns home every weekend…for what we don't learn until later in the book.  But it completely surprised me because it was so unexpected and it made me love Jake even more than I thought I already did.
So while I rate this book a 4, I did struggle for a bit as to what I would rate it.
The things that I enjoyed…
The sexual tension and spark between these characters was definitely undeniable.  I enjoyed the pull that they had towards each other and just wanted to see them work.  I loved Jake immensely – he isn't your typical bad boy – the poetry he wrote and the origami birds he left for Nina melted my heart completely.  Jake proved throughout this book what a caring man he is – he pushed Nina to face her fears though he carried around secrets of his own.  Jake has had to deal with these secrets since a young age and I found this not only very admirable but I found him to be completely loyal too.  When Jake finally allows himself an emotional connection with Nina, I can't help but applaud him because he deserves to live too.  He deserves his happiness.
Things that bothered me some…
Towards the end when I finally think that there will be some happy for these characters, there are a lot of issues that arise where I would have liked to see more communication and talking and even some form of counseling introduced.  There were so many things happening that broke my heart because I really felt that these characters couldn't catch a break and I would have loved for someone to say "Let's seek help  – we need to talk to someone and/or talk to each other!" because I really do think that communication and therapy would have helped with the issues at the end.
Though the story was unique and different, I didn't think that all of these plot twists and issues were necessary for this to be a good book.  I think it would have totally stood on its own without everything that happened at the end.
The ending of this book made me really happy as it was the perfect ending for a couple who have endured so much.  It was definitely a hard journey with many obstacles but I was glad to have enjoyed the ride.  Life is too short to doubt and have questions and to wait around and suffer.  From this story, the message we can take away from it is to always communicate!
I enjoyed this book and will definitely read MY SKYLAR when it releases as this character really touched my heart.  <3

Penelope Ward grew up in Boston with five older brothers. She spent most of her twenties as a television news anchor, before switching to a more family friendly career.
Penelope lives for reading books in the new adult genre, coffee and hanging out with her friends and family on weekends.
She is the proud mother of a beautiful 9-year-old girl with autism (the inspiration for the character Callie in Gemini) and a 7-year-old boy, both of whom are the lights of her life.
Penelope, her husband and kids reside in Rhode Island.
She is currently working on her third novel and loves friend requests from readers!
---


a Rafflecopter giveaway

Series Reading Order
Book 1 – Gemini